Stephen Malkmus' music has always seemed obsessed with subject of influence, though Malkmus' own influences can difficult to pin. Early Pavement, for example, has been derided as carbon copying The Fall (which to me is one hell of an indie rock injustice), but Malkmus strikes me as more of a Gordon Sumner than a Mark E. Smith. Someone whose almost demonic indifference was never part of the act, rather it underpinned a projected dopey innocence. Besides: just because he was making confrontational low fi anti-punk doesn't mean Malkmus was trying to make confrontational low fi anti-punk. The middle earth folk melodies of acts like Led Zeppelin and Hawkwind, and the thunder-bolted guitar tones of Jimi Hendrix have always lurked just below the surface of every release associated with Malkmus' name. Wig Out At Jagbags, then, is a comment on artistic idolatry; an album fixated on turning progressive rock into trigger-happy punk. Well, what else is new?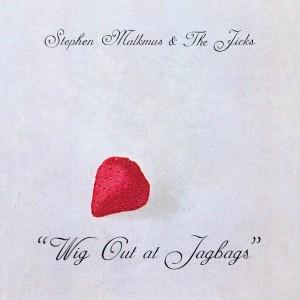 Wig Out At Jagbags has a promising start: "Planetary Motion" is excellent, though it's so perfectly tuned to the task of opening an album that I honestly can't even imagine what I would think of the song if it had appeared anywhere else in the track list. "The Janitor Revealed" has some great allusions to "Stairway to Heaven"; subtly reminiscent of the time "Rattled by the Rush" took on the "Dancing Days" riff. Here, however, Malkmus digs a little deeper; everything is down to a vocal quirk that Malkmus executes gracefully. "Lariat"is a workhorse, but its reliance on indie pop functionality is subtle and suave, worked right into Wig Out's organic mysticism.
I like almost everything about the way Wig Out At Jagbags has been designed. Wig Out At Jagbags is clever, composed, and Malkmus' self-possession has reached a level of 'not giving a fuck' that poses no threat to the chance that he's made an effort. Malkmus has also pulled the greatest of punk rock reversals by letting himself grow and mature without ever seeming to age. The 47 year old is definitely speaking to his own generation, not mine, but he does so with such an exuberant disposition, so prone to some long-lost teenage colloquium ("it was Mudhoney summer, Torch of Mystics, double bummer"), that you could easily match his enthusiasm with that of Pavement's stellar discography.
But intent doesn't necessarily translate into content. Wig Out At Jagbags is, for better and worse, a much more tempered affair than Mirror Traffic. Nothing on Wig Out comes close to the refreshing incisiveness of "Tigers"; at the same time, the album never hits the various nadirs that Mirror Traffic enjoyed fooling around in. A good five to seven of Wig Out's tracks are the kind of stuff that you wouldn't necessarily change the station to avoid, but you probably won't remember them either. This is not Malkmus' worst album by any means, and that almost works to his disadvantage. Wig Out At Jagbags isn't his most anything album. This album is a great example of Malkmus' musical energy, but also the pitfalls of his appetite. What could have been an absolutely stellar EP is a half-great album. Double bummer.

3.5 / 5 bars