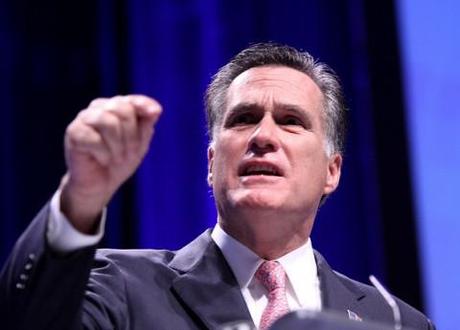 Mitt Romney: Mitt the Ripper? Photo credit: Gage Skidmore, http://flic.kr/p/9itUtP
Never mind sudden surges, policy gaffes or allegations of sexual harassment: The Republican presidential nomination race is all about the rise of the super PAC. The "super political action committees" exploded into the media consciousness after comedian Stephen Colbert  launched a spoof presidential bid to flag up the phenomenon.
There is currently a $5000 limit on donations to a presidential candidate's campaign.  However, after a Supreme Court ruling, super PACs "can accept as big a check as a donor wants to write. They can spend it advocating particular candidates, too. The caveat is they are not supposed to directly coordinate with the candidate in question. Wink, nudge, know what I mean?", explained Peter Grier at The Christian Science Monitor. What's more, donors can contribute to both the candidate's campaign and to the super PAC .
As Grier pointed out, super PACs are not just confined to the Republican Party – there's a super PAC focused on getting President Obama re-elected. But the committees are drawing particular attention in the current GOP race for their role in financing televised attack adverts.
Mitt Romney is a serial killer. Colbert launched his super PAC in June 2011, after gaining approval from the Federal Elections Committee. Now that the comedian is "exploring" a presidential bid, he has, in accordance with the rules, "given up" the super PAC, which was renamed The Definitely Not Coordinated With Stephen Colbert Super PAC.  In an apparent satire on recent anti-Romney attack ads launched by a Newt Gingrich-supporting super PAC, The Definitely Not Coordinated With Stephen Colbert Super PAC (also known as Americans For A Better Tomorrow, Tomorrow)  brought out its own video branding the Republican frontrunner a serial killer. "He's Mitt the Ripper", runs the voiceover in the ad, which urges voters to stop Romney before he "kills again."

Super PACs affect elections. "The top three spenders in South Carolina have all been super PACs, led by Restore Our Future, a Mitt Romney–allied group, at $2.1 million", reported Alex Altman for Time's Swampland blog. Altman said that the figures show "the impact superior financing can have on a candidate's fortunes" and pointed out that, in several cases, super PACs have spent more on media ads than the candidates' own campaigns. According to Altman, the cost of media campaigning affects where the GOP candidates are choosing to compete, with Romney targeting costly Florida while Ron Paul targets "smaller, cheaper states like Nevada."
Super PACs: Damaging Republicans? "Meet the three billionaires who could drag out the GOP presidential primary, bloody up front-runner Mitt Romney and weaken the odds of defeating President Barack Obama: Sheldon Adelson, Foster Friess and Jon Huntsman, Sr," wrote Kenneth P. Vogel at Politico. Vogel reported that the billionaires are contributing vast sums to anti-Romney super PACs, which could lead to "a long and damaging primary".
Super PACs: Dangerous? The super PAC phenomenon is "a dangerous development with no solution in sight", said a Washington Post editorial. According to the editorial, the main concern is that a candidate may feel indebted to a super PAC donor, which would be a serious problem is he or she reached the White House: "The risk of corruption in candidate-specific super PACs is as great as the size of supporters' checkbooks." What's more, the editorial said, there is an issue of disclosure surrounding the identities of super PAC donors.
Santorum super PAC swipe. Social conservative GOP candidate Rick Santorum has called for Romney to ask a super PAC that supports him to remove a recent attack ad, reported The Los Angeles Times: "For Gov. Romney's super PAC to go out and lie to the people of South Carolina that I want to grant felons who are in prison the right to vote, that is simply wrong, factually incorrect", said Santorum. According to The Los Angeles Times, Santorum has used negative ads in previous campaigns but is now insisting he will "keep it above board" ahead of the South Carolina primary.