New to little Indiana? Subscribe for free to my RSS feed. Thanks for stopping by!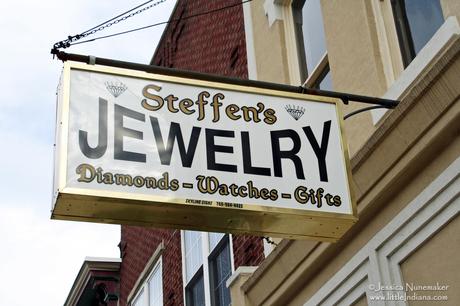 Steffens Jewelry Store in Rensselaer, Indiana
Rensselaer, Indiana
When was the last time you experienced a friendly browsing experience while shopping for jewelry?
Steffens Jewelry in Rensselaer, Indiana
There are rows and rows and rows of sparkling diamonds. More than just diamonds, however–there's rows and rows of all sorts of other shining loveliness!
Sterling silver, titanium, tungsten, stones of all kinds–well, you'll find them here at Steffens Jewelry. Sure, the dazzling diamonds in this family-owned business are stunning. But what gets me every time? The estate jewelry!
I love things that have a history–even my wedding band has the initials and year of a couple from 1930 on it. Steffens Jewelry has a phenomenal selection (i.e. things I'd love to wear!) of estate jewelry in all sizes, shapes, and colors.
Indiana Jewelry Store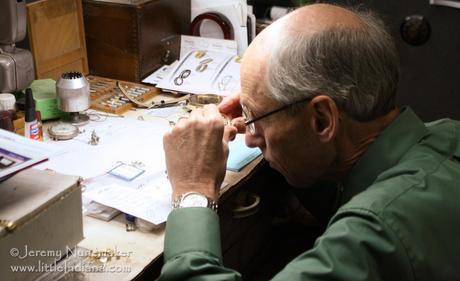 Rensselaer, Indiana: Steffens Jewelry -- Repairs in Progress
Small town or not, there's a whole lot to love about Steffens Jewelry. Not only is it a family business, but Roger repairs jewelry himself!
As a registered watchmaker, jewelry, and diamond-setter, Roger is able to do repairs in-store.
Roger and his wife, Vicki purchased the family business back in 1986. You could say they know their stuff!
For 55 years Steffens Jewelry has been Rensselaer's hometown jeweler.
A Rensselaer Staple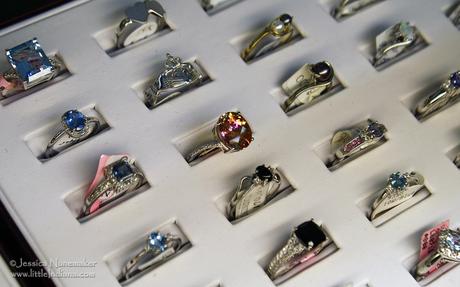 Rensselaer, Indiana: Steffen's Jewelry Store
Since they buy gold, diamonds, and coins, the inventory is always changing–and is so much fun to browse.
Steffens Jewelry has all the sparkly, shiny pretty things you'd expect at a big city jewelry store–but with the friendliness and prices you'd expect from a small Indiana town!
You'll never think "mall" when it comes to fine jewelry again.
Go There
This is a name you can trust. You won't want to miss this Jasper County treasure! Just make sure to tell 'em that little Indiana sent you.
Find Steffens Jewelry images and other pictures in Indiana on my Flickr Photostream.
Steffens Jewelry
217 West Washington Street
Rensselaer, Indiana 47978
219.866.8781

View Larger Map
little Indiana: Where to Stay, Play, and Eat in Small Towns in Indiana. Discovering Indiana's best small towns! Now get little Indiana on your Kindle.
Targeted. Relevant. Affordable! little Indiana advertising.