Don't Stop Living - Jonny Blair - a lifestyle of travel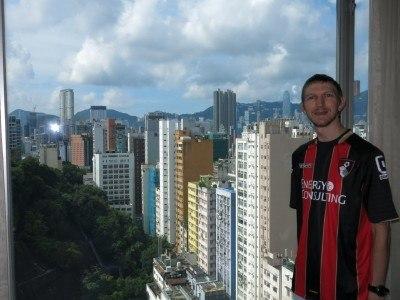 Staying at the City View Hotel, Yau Ma Tei, Kowloon, Hong Kong
It's a beautiful world sometimes and we need to pinch ourselves and remind each other of this, more often than we do. As I backpacked my way through the streets of Hong Kong back in May 2011, I had no idea what effect this city would have on me. While on that journey back in those non-halcyonic days, I lived it up at night and went for a cheap hostel. As a slightly older backpacker, the weary cockroach-dodging life is no longer the one I crave, at least not on a regular basis. So it was time to see life in Hong Kong from a more elaborate perspective, with a bit of luxury and just maybe, some peace and quiet.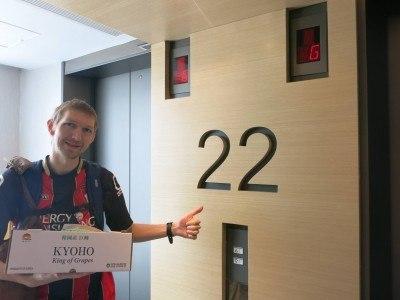 Floor 22 at the City View Hotel, Yau Ma Tei
It was time for an experience in an exquisite four star hotel in Kowloon. Kowloon is the sprawling city where China meets "the West". Officially Hong Kong doesn't have a "capital", but if it did, then it should be Kowloon. Memories came flooding back about my days working in Tsim Tsa Tsui as a barman, and as a teacher in Tsuen Wan and Yuen Long.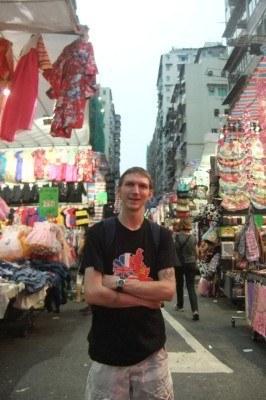 Backpacking in Hong Kong – markets of sprawling Mong Kok – Kowloon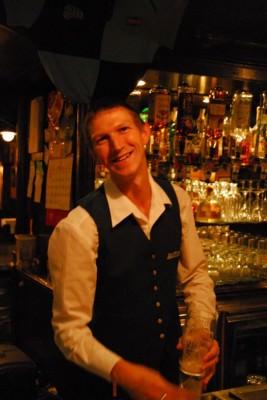 Early days in Hong Kong working as a barman in Delaneys – Tsim Sha Tsui – Kowloon
This time, in 2015, the lonely backpacker in me returned to Hong Kong again and I headed to Yau Ma Tei in Kowloon to enjoy a night in the City View Hotel. It was the name of this hotel which attracted me to it – I wanted a room with a view and it was my girlfriend's birthday weekend (Travelling Hong Kong Girl) so we decided to tour her home city for a few days, staying in Yau Ma Tei and Mong Kok. I checked into the City View Hotel while my girlfriend was still in China with work, and was immediately able to relax here. I've highlighted my main reasons why this is the best hotel in Yau Ma Tei. It was a perfect base for us and it's the perfect base for you in Kowloon too. I will write separately about our time touring the nearby areas of Yau Ma Tei and Mong Kok, two districts which offer so many different attractions away from the backpacking holiday making touristic "top sights of Hong Kong" circuit.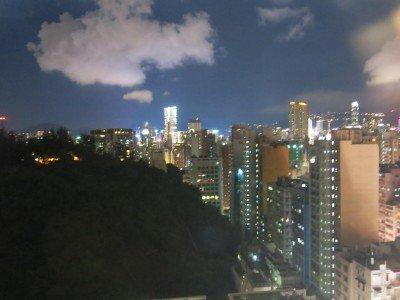 Night fall from the City View Hotel, Yau Ma Tei, Hong Kong
1. Room with a View
Firstly the City View Hotel lives up to its name. Here we were on the 22nd Floor, in room 2286, on a recently refurbished floor of the hotel, which dates back to 1966 on this site when it was a YMCA run hotel. We had splendid views all round.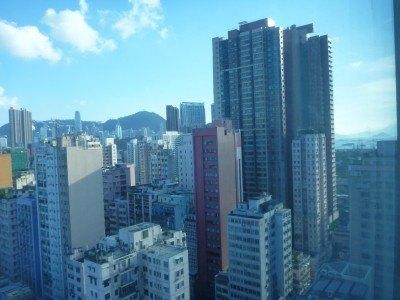 Downtown Kowloon from my room window
I was immediately loving the view from our massive window. We could see to the east side of Kowloon out the left, in front of us was King's Park and the pulsating hub of Nathan Road and in the distance the modern skyscrapers of Hong Kong Island delve their way up to the distinctive Peak building, behind which lies Stanley and the golden sandy beaches of Hong Kong. It's a perfect view to relax in, and those with binoculars will love the endless places they can look at.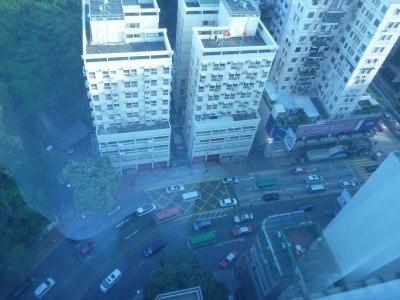 The view down from our room onto Cameron Road in Yau Ma Tei
My girlfriend was equally impressed by the view, which takes something for a Hong Kong girl, as they are used to viewpoints over skyscrapers. The majority of the country's residents live in skyscrapers.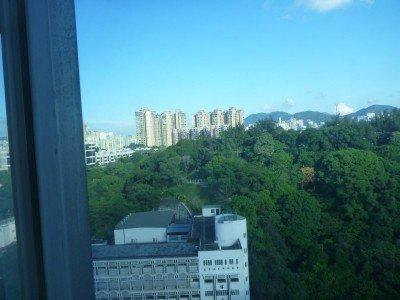 Kings Park and out to the eastern side of Kowloon
2. Green, Eco Friendly Hotel
In a city that uses so much electricity and water, how cool that the City View Hotel has become a member of Earth Check, whose motto is "think green, stay green". With recyclable materials, organic products in some of the room fridges and a carefully maintained water supply, this is a good spot for those Eco-friendly lovers.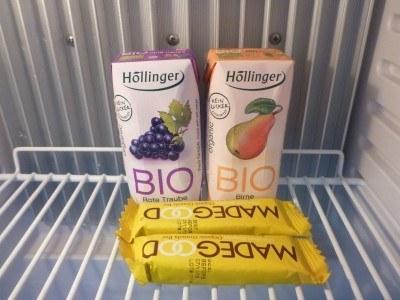 Organic drinks and cereal bars
Don't forget to recycle as much as you can on your travels. We want to keep the earth clean and tidy and help the next generations.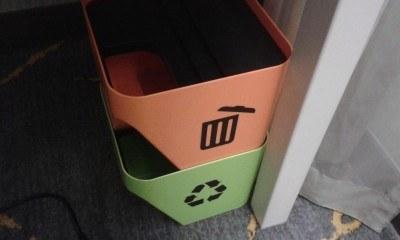 Recycle bins in the room
3. Fast WiFi in the Room
You've probably heard my WiFi moaning from hotels in China, Iran and Myanmar before (in some cases – no WiFi at all for miles). I'm a working traveler these days and as a professional travel blogger, I rely on being online to support my travels through writing, advertising and sponsorship. Well, Hong Kong is well connected for internet and City View provide free and fast WiFi use in every room as well as having fast WiFi in reception. You can also find the City View on Instagram, Twitter and Facebook:
City View on Facebook
City View on Twitter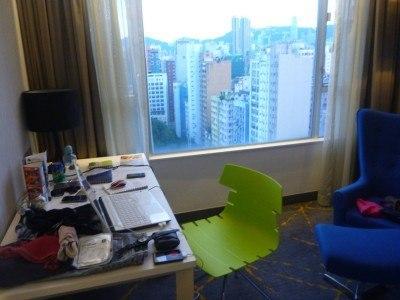 My blogging desk in the City View – fast WiFi
4. Superb Breakfast
The City View has a choice of two breakfast restaurants, the City Cafe on the First Floor and Amazing Restaurant on the Ground Floor.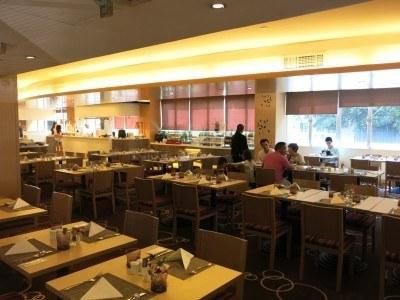 The City Cafe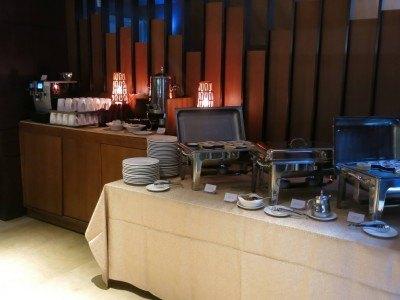 Amazing Restaurant
The range of breakfasts in both restaurants is different, the choices are vast and the experience is superb. Amazing caters for a more refined style however and included slow cooked salmon and fresh orange juice so we went for that. The City Cafe has a better range of vegetables and bread & pastries.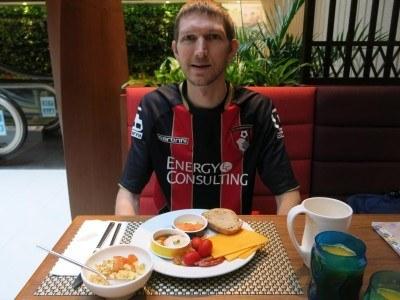 Enjoying breakfast in Amazing Restaurant
Here are some photos from our superb breakfast at Amazing Restaurant which included delicious slow cooked salmon, Japanese soba, tasty Canadian ham and freshly squeezed orange juice.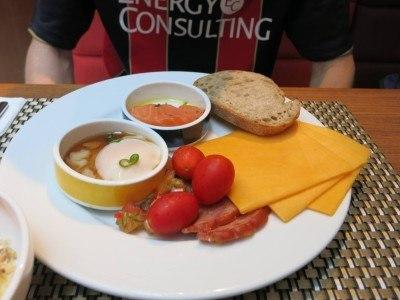 Breakfast in Amazing including Canadian smoked ham and slow cooked salmon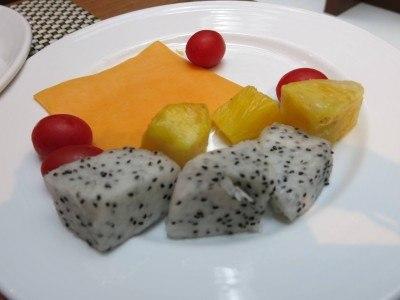 Fruit selection in Amazing including dragon fruit, cherry tomatoes and pineapple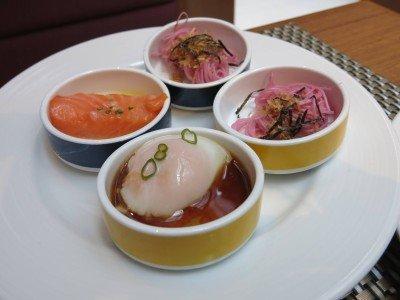 Salmon, Japanese Soba and Boiled egg in Amazing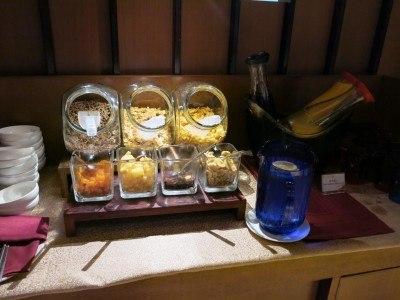 Selection of breakfast cereals in Amazing
5. Surprise Birthday Cake
When I booked my stay here at the City View, I alerted the staff that it was also my girlfriend's birthday. This worked a treat for her, as within minutes of her arrival in the room, a knock on the door came and the staff lit up a birthday cake for her, with a personal message!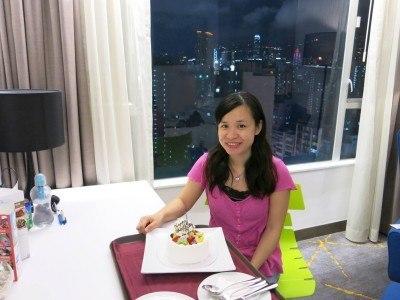 Surprise birthday cake for Panny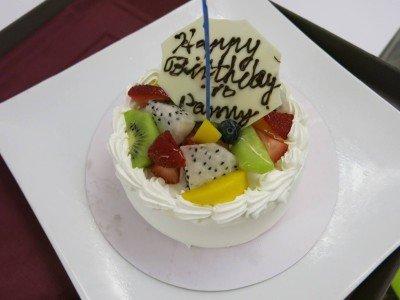 Panny's special birthday cake
6. Location in Yau Ma Tei
The City View has a huge advantage with its location. It is one of the closest Hotels to Yau Ma Tei MTR (Metro) station, is a 2 minute walk from Nathan Road (Hong Kong's "golden mile") and a 5 minute walk from arguably the best wholesale fruit market in Asia. From Yau Ma Tei Metro station, use exit A2 for ease, but exit D is also just around the corner.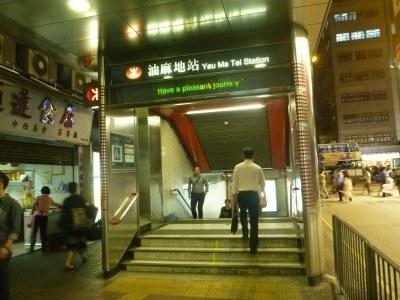 Yau Ma Tei MTR station – round the corner
It was our wake up call at 5am to visit the fruit market that remains a highlight from my time in Yau Ma Tei, which I have written about in my article called 24 hours exploring Yau Ma Tei.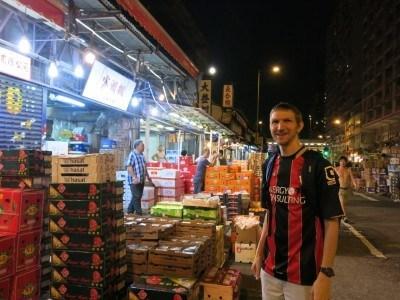 Touring the fruit market in Yau Ma Tei, long before dawn
7. Smiling Staff
Having worked in a few hotels down the years including the Heathlands Hotel in Bournemouth, I'm always wanting good customer service and attention from the staff. It's something I can tell in an instant from many years on the hospitality trade. I'm greeted on my entrance with a smile. Check in is fast and informative and the waiters and waitresses in the restaurants are dressed impeccably and with a good knowledge of the hotels' facilities.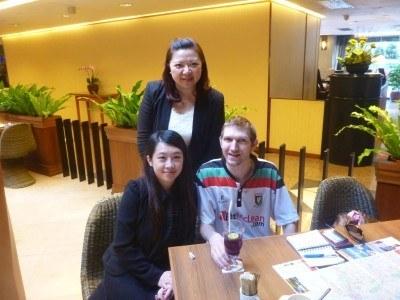 Winnie and Angie – Smiling staff at the City View Hotel in Yau Ma Tei, Hong Kong
8. In Room Smart Phone
A true bonus about the City View Hotel is that each room comes with a smart phone. I was really surprised about this and apparently it's the "cool new thing". So I started to have a play with the phone! It contains information on Hong Kong, it's connected to the internet and the biggest thrill of all is that it is of course an actual mobile phone. In the Premium rooms, calls from the phone that are made to USA, China and Singapore are entirely free. What a bonus.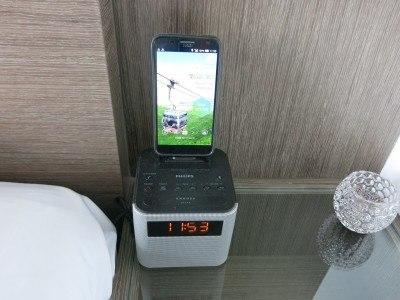 An in-room Smart Phone at the City View
You can also take the phone out with you round the town – perfect if you are meeting friends or business partners in the city and are only here for a few days – no need to buy a sim card or pay high prices for international calls. I had a play with the phone and reckon I could get addicted to Smart Phones if I spend more time using them.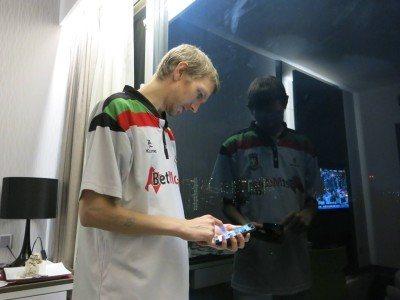 Getting to grips with the in-room Smart Phone
The Smart Phone here in the City View Hotel is also a City Guide, doing your work for you and showing you where the top sights are.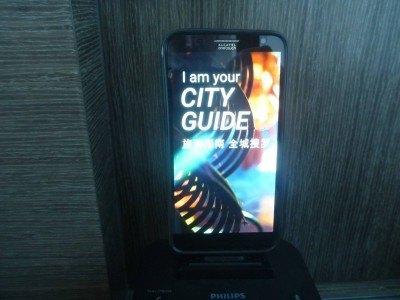 The Smart Phone is also a city guide
9. Gym Access
I'm personally not a huge fitness freak but for anyone coming to Hong Kong, by staying at the City View, you get full use of the gym in the adjoined YMCA part of the building. It's a huge gym with all the usual things you need.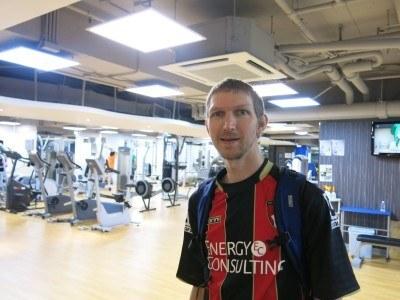 Checking out the gym
10. Swimming Pool Access
Hong Kong can get hot, sweaty and tiring. The heat of the Asian sun sends a constant stream of sweat down your spine. So after a walk round the city, chill out in the swimming pool and saunas.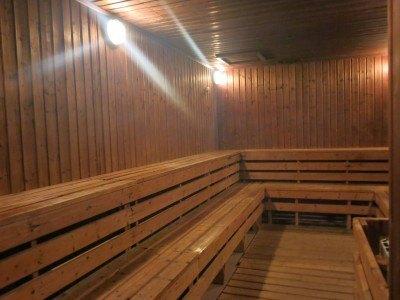 Female sauna at the City View Hotel
The Swimming Pool is also part of the YMCA complex on the hotel grounds, just show your room card for free entry.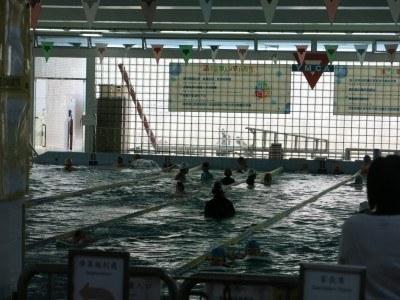 The swimming pool for use of City View guests
Our time at the City View Hotel in Yau Ma Tei has been one of our favorite hotel experiences in recent years, so I'd definitely recommend staying here. Here are the details for booking the magnificent City View Hotel in Yau Ma Tei, Hong Kong:
City View Hotel Website
Address: 23 Waterloo Road, Yau Ma Tei, Kowloon, Hong Kong
For enquires or reservations, please call: (852) 2783 3888
 or email to [email protected]

Here are some videos from my time staying in the City View Hotel in Yau Ma Tei, Hong Kong:

Original article: Staying at the Magnificent City View Hotel, Yau Ma Tei, Kowloon, Hong Kong

©2015 Don't Stop Living. All Rights Reserved.