Hey friends–Happy Friday!  I miss you guys!  I have been a really bad blogger, I mean, this is my first post of the week

 I have been trying to catch up on my reading of all your great blogs, but I must admit I am falling severely behind.  Work has been killing me now that I am the only product marketer on my team. I am doing all the patient, HCP, and digital marketing for my team right now and I currently have over 30 projects in different stages. To say I'm a bit overwhelmed is an understatement.  But, what does help with my stress levels is a good workout. I have one more day of my 30 day challenge and will recap it soon but I also got outside for a little bit and did my first run outside in a VERY long time. It was glorious.
I typically run very early in the am when it's still dark out and I've never worn anything reflective.  Bad Sara, I know!  It's dangerous in the early morning (or late evening) hours when it's dark out, so when I was given the opportunity to review a reflective vest from Bestvisible I jumped at the chance.
DISCLAIMER: I was provided this vest free of charge in exchange for an honest review of my experience with the vest. All opinions are of course, my own and 100% honest.
When I received the vest, I opened it and at first glance it looked very durable and it was super light. When I first put it on, I laughed because it was SO big. Like even big for my 6'4, 225 lb husband. Thankfully, it has adjustable straps that are super easy to adjust and I was able to get a snug fit within seconds.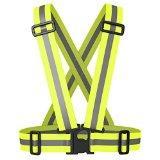 My thoughts on the features:
It provides maximum visibility: This vest offers maximum visibility in the dark. It has 30% broader reflective stripes than most other vests and offers 360% degree visibility with its yellow stripes.
Comfort: The vest is easily adjustable using the adjustable straps and ergonomic buckle to fit men and women of all sizes from xs-xxl. It has an elastic stretch band that allows for a great fit around your torso and it doesn't ride up, which is key for me and I also liked the extra wide straps that didn't dig into my shoulders when I ran. It's super lightweight and I didn't even notice I was wearing it while running, which is another big plus. I also liked that I can use it under bulky Winter attire or with just a tank or t-shirt. I tried both and it was comfortable both ways.
Ease of use: It took me less than 10 seconds to adjust the size of the vest for a customized fit. It is also a clip-on vest vs. an over-the-head vest so it's extremely easy to take on and off. I hate when I have to struggle out of clothes, especially when I am sweaty, but this is a breeze, you just hit the release button and you're done.
Excellent, sturdy quality: The vest material is very heavy-duty and the buckled closure is solid, not flimsy like you see on other snap in closures.  I am confident that this will be a very long-lasting piece I add to my running accessory arsenal.
Multi-functional: This vest can be used not only for running, but walking or riding your bike. I love to be able to rationalize multi-functional purchases at home–how about you??

Excellent Customer Service: They have a satisfaction guaranteed policy.  they offer a "No questions asked, money back guarantee" in case their product doesn't live up to its expectations. You can't get much better than that!
I took this vest for a test run in the pitch black, literally there was NO light anywhere and I didn't use any flash on this photo just so you could see that the straps are visible with no light outside.  Clearly, to get the true reflective qualities, light has to reflect off it (like a car light, house light, etc.) but you get the idea. I am very confident that oncoming cars saw the vest's reflection well in advance of when they would have seen me if I wasn't wearing the vest.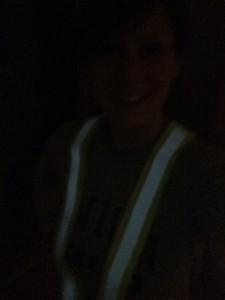 I wasn't able to run long enough due to early morning meetings to show you the view when the sun began to rise but as you can see in the pitch black, it is visible!  Moving forward, I will be using this vest anytime I run when it's dark out, I can't believe I have gone this long without doing so.  Let's all stay safe in the dark–okay?  If you are interested in getting one of these great vests, they are on sale at Amazon right now for $12.99!
Have a great weekend my friends!
—————————————————————
Question of the day
Do you run, bike, walk outside with a reflective vest? Blinking lights? Other safety items?