Over the years, swimwear has progressed from prudish protection to fashion statements that expose skin in stylish and attractive ways. New and revived beachwear tricks balance functionality with sex appeal every year. In 2016, designers are featuring a fun assortment of creative approaches to show off your figure in and around water. Today's multitude of possibilities means everyone is sure to find delightful options for various occasions.
Balconette Tops
Structured tops ensure much greater support than flimsy triangles. Combining flattering styling and comfort, they eliminate sagging and slipping concerns. Women's swimsuit trends 2016 will make famous include balconette tops like this floral bikini with highlighted seams. Designers also pair reinforced upper halves with high-waisted lower pieces to create retro looks.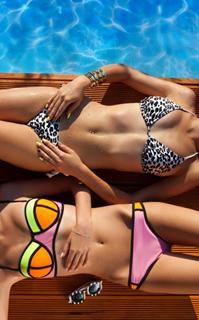 Tankinis
If you prefer more coverage than bikinis and greater freedom than one-piece looks, try tankinis. They feature tank-style swimsuit tops over regular bottoms. Tailored to hide your midriff area, they show less skin. Separate sections aren't as confining as some single-piece designs. Browse Swimsuit Direct's strapless, ruched, fringed, skirted, and many other tankini swimsuits in popular colors and patterns from subdued to vivacious.
Moroccan Looks
Mix textiles and colors to reflect Morocco's vivid geometric tiles and rugs. Hot combinations include fuchsia stretch terrycloth, blue honeycomb-textured spandex, oranges with yellows, and reds with pinks. This woman's blue and white one-piece stunner represents print swimsuit trends replicating treasured Moroccan decor.
Exotic
Ethnic-inspired Incan and South African swimsuits declare boldness in radiant colors and exotic patterns. Tropical and island prints in cheerful shades set the mood for active fun or lazy lounging.
"Baywatch" Cuts
Remember the 1980's basic high-cut bathing suits of "Baywatch" fame? They're back! Look for smooth maillot updates going from lifeguard red to intense neons, metallic sheens, and awning stripes.
Strapless Maillots
Retro looks are the rage this year with one-piece suits getting flashback makeovers. A major trend for maillots is going strapless. Wrapping belts around waists glamorizes timeless floral patterns.
Halter Necks
Anyone who likes halter shirts or dresses will love one-piece or two-piece swimsuit versions in assorted colors and patterns. Necklines vary with high ones being ideal for women who prefer not to accentuate cleavage.
Super Deep Backs
Some swimsuit backs feature cuts so deep, they expose lower-back cleavage. While this daring reveal may not be everyone's thing, celebs are flaunting this sexy spectacle in red-carpet fashions. Wearing a cover-up until you can stay in waist-deep water may help you adjust to this deep-dipped style gradually.
Sporty Chic
The athleisure trend is holding its focus on functional comfort — even for swimming. Add bright color blocking, and surfing suits become chic. Designed for easy movement, active options resembling sports bras are confident ways to avoid embarrassing wardrobe malfunctions.
Preppy Nautical Styles
Traditional patriotic and primary tones are enduring mainstays. Clean, classic swimwear featuring solids, color blocks, and thick stripes in various combinations exude yacht-club prestige. Decorative details like zippers, buttons, ties, and bows salute celebrated nautical traditions.
Sophistication
Colors and patterns are maturing into sophisticated looks. Gemstones influenced rubies and emeralds that are replacing brighter shades. Coupling premium fabrics with sleek fits and tasteful coverage in one-piece styles shows that swim fashions have grown up with class.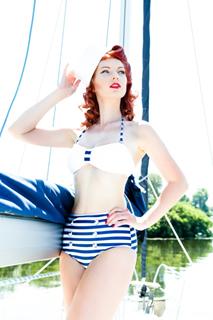 Creative Cutouts
One-piece swimsuits with cutouts like monokinis are clever ways to conceal more zones than bikinis. Extra material or strings connect upper and lower areas across mid-sections, enhancing silhouettes. Side cutouts tend to follow and flatter the female body's natural curves, mimicking hourglass contours. Edgier options remove unexpected asymmetrical shapes. The bonus of not shifting while diving means you can't lose your bottom piece accidently.
Mix and Match
Two new bikinis will double your fashion options. Choose complementary colors and patterns so you can mix tops and bottoms into different combinations. Then hit the beach four weekends in a row in a unique look every time.
Disco Crochet
Designers are crossing flower children with disco divas to conceive crochet swimsuits in psychedelic colors with nostalgic vibes. Reminisce with see-through panels, vibrant rickrack trim, and embroidered edging.
Lovely Lingerie
Emerging from candlelit bedrooms to sunlit pools, lingerie adornments are claiming public notice. Swiss dots, sheer panels, scallops, and lace borders are trending. Lining attractively placed keyholes with translucent or filigree fabrics creates sexy looks that aren't too skimpy. You'll feel feminine in soft, sweet pastels that convey romance.