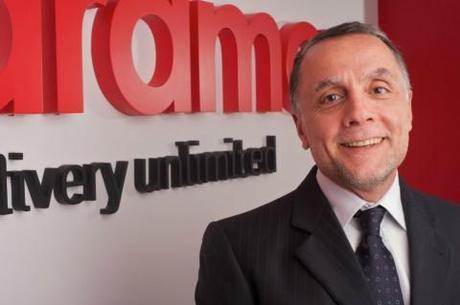 Jordanian entrepreneur and investor Fadi Ghandour. (Photo: 500 Startups)
In 1981, Fadi Ghandour returned to Jordan shortly after graduating from George Washington University in Washington, DC. He took a job at a rental car company in Amman, but at twenty-two, Ghandour was restless. His family was in the airline business – his father Ali Ghandour founded Royal Jordanian in 1962 – but Fadi could not wait to let his own passion for entrepreneurship take flight. In 1982, Fadi started Aramex and offered to deliver packages in the Middle East on behalf of global courier services – Airborne Express, Emery, and Federal Express.
As a neutral handler for these competing global players, Fadi and his partner Bill Kingson learned from the very best on how to grow their company. Over the next thirty years, Aramex navigated a region marred by political risks and labyrinthine bureaucracy, and grew to become the largest and most respected courier company in the Middle East and North Africa (MENA) region. Now, Aramex has more than 10,000 employees in over 60 countries with a reported $17.5 million in profits in the second quarter of 2012.
In his new book Startup Rising, author Christopher Shroeder describes Fadi Ghandour as "the [entrepreneurship] ecosystem builder" in the Middle East. Indeed, Fadi was a pioneer who saw opportunities in unexplored markets. Back then, there was no private equity or venture capital.
When the Internet and email were introduced, Fadi became the first to invest in the first all-Arabic portal Maktoob in the region, because "there is no wasta in the internet" – wasta being the Arabic word for the system of elite connections in politics and business that is prevalent in emerging markets such as the Middle East. Because of technological breakthroughs such as the Internet, entrepreneurs were able to commercialize their ideas before regulations caught up. In 2008, Yahoo! Bought Maktoob for $175 million.
Startup Rising is perhaps the first major portrait of the startup scene in a region that is often deeply misunderstood. It is inspiring and personal. (Shroeder, an internet entrepreneur himself, has befriended many entrepreneurs featured in this book through the Young Presidents Organization). It describes the desire of young people to have social impact through their business ventures. It also tells the story of how businesspeople have used technology, such as mobile phones, social networking websites, and solar panels, to work around cultural barriers and institutional challenges.
Despite civil strife and political instability, more and more people want to start their own businesses. In fact, the Global Entrepreneurship Monitor found that in 2012, in the midst of political turmoil, 88 percent of Tunisians viewed entrepreneurship as a desirable career choice. Most importantly, the book attempts to map out the entrepreneurship ecosystem in the region.
Shroeder sees three groups of people shaping the MENA entrepreneurship ecosystem:
Investors – businesspeople who provide seed financing, mentorship, business networks, and access to technical services, such as HR and legal advice;
Conveners – individuals who connect entrepreneurs with each other to exchange ideas, share experiences, and discuss lessons learned;
Recognizers – organizations that hold business competitions and celebrate great ideas.
The investors, conveners, and recognizers are often inspiring business people who have already created successful companies and paved the way for future entrepreneurs to pursue their dreams. They are engaged in their societies, because they feel a sense of national pride and a desire to level the playing field for all businesses to compete.
As Arif Naqvi, a private equity investor and founder of Abraaj Group, argued, "Inclusiveness doesn't come naturally to human beings, but in a storm when the waves are up all boats must rise, not just the strong ones." At the end of the day, inclusiveness is a good business model.
Despite the message of inclusiveness in Startup Rising, Shroeder paints an incomplete picture of the ecosystem by neglecting a crucial fourth group: policymakers. Public policy and institutions directly impact the environment that entrepreneurs operate in, and Shroeder himself points to a few institutional challenges: corruption, indecipherable customs regulations, cultural resistance to investing in startups, poor address systems, lack of secure online payment options, and restrictive Internet laws.
Entrepreneurs know best what challenges they face. Rather than working around the system with technology, they must engage policymakers and participate in public-private dialog and other forms of advocacy. Institutional reform can alter the ecosystem drastically. In CIPE's special report "Creating the Environment for Entrepreneurial Success," private sector experts from around the world share lessons learned on effective ways to engage policymakers to improve the entrepreneurship ecosystems.
In the end, Shroeder sees two forces at odds with each other: entrepreneurs who are building the ecosystem from the bottom-up and Arab governments, "the top-down entrenched powers' desire to control their societies' agendas." Perhaps Shroeder is right. The ecosystem looks like a tug-of-war between the governments' restrictive regulations and the entrepreneurs' problem-solving companies.
If the state continues to stifle innovation, Shroeder argues, entrepreneurs will let go of the rope and move their capital and talent abroad. But rather than seeing the state as an inhibitor to doing business, Shroeder and Arab entrepreneurs should view public institutions as part of the solution. They must engage and educate policymakers, who can help build the legal infrastructure that protects property rights and regulations that secure online payments. Entrepreneurs can also collectively advocate for greater access to finance, since less than 10 percent of the population has credit cards.
The reality is that the MENA market exhibits enormous potential. Over 100 million people are under the age of fifteen, and around 93 percent of the young and tech-savvy population have mobile devices. Furthermore, smartphone penetration in the region is projected to grow up to 39 percent by 2015.  Entrepreneurs like Naqvi and Ghandour see the Internet and mobile commerce as the future driver of economic growth, job creation, and globally competitive firms. Why then would entrepreneurs want to leave the Middle East?
Ricky Chen is Program Assistant for the Middle East & North Africa at CIPE.