Hello everyone,
Today I shall talk about these lipsticks which I have had in my collection and was sent to me as a part of a beauty subscription box. With a large influx of brands every month we do have much more options in makeup and to add to that we have celebrities in Bollywood starting their own makeup brand. One such celebrity is Sunny Leone. She started her own makeup brand StarStruck which does have a variety of makeup products. Today I shall be talking about the StarStruck Intense Matte Lip Color in this post and my experience of the same.. If you would like to know  my thoughts please keep on reading.....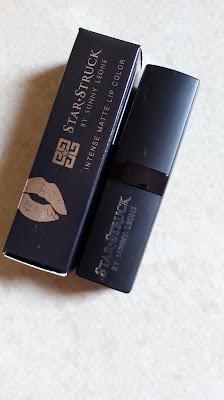 Ingredients:Shea Butter and Jojoba OilBeing a celebrity makeup brand I expected an ingredients list.. disappointed!!!!
Price: 799 for 4.2 gm product
Shelf life: 2 years from date of manufacture
Shades available in the range: 13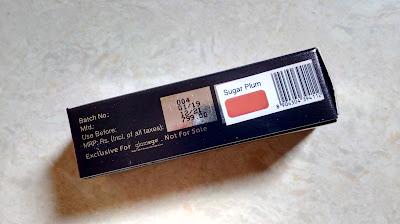 The lipsticks come in a black cardboard box. The lipstick tube is black in color and the name of the lipstick is mentioned at the bottom. However one needs to take note of the expiry date before getting rid of the box.
SUGAR PLUM is a muted dusky plum color with brown undertones.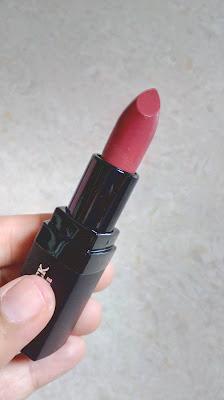 CHERRY BOMB is a beautiful cherry red color with pink undertones.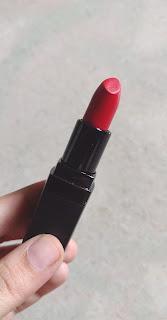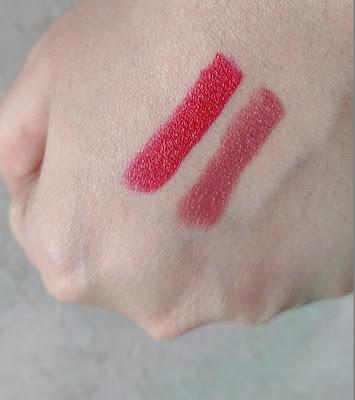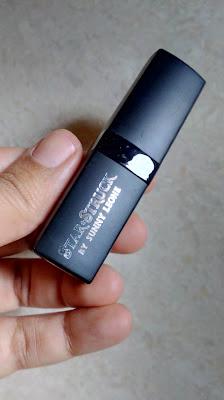 The lipsticks as the name suggests is not matte but  has a creamy and buttery consistency.It smells like cupcakes. In my opinion using a lip liner with this lipstick would be ideal. The lipstick is richly pigmented and glides effortlessly on the lips. To be honest I do like the formula but what I do not like is that they are not long lasting. The deeper shade may stay longer but the lighter ones fade away quickly due to the creamy formula. Now I do use creamy lipsticks from other brands and they are not heavily priced like this one which would make not repurchase these lipsticks again. Let's face it we all want inexpensive makeup so for me this lipstick and its formula is not ground breaking. Also this is a Made in India and manufactured by the same company which do formulate makeup for a ton of other inexpensive brands hence I am disappointed by the pricing but usually this tends to be the case with other celebrity makeup brands.

To sum up everything judging the lipstick with all factors kept in mind is worth trying if you do not mind the price but for me it is a pass considering I have so many amazing inexpensive brands that I could try.
MLWM rating: 3.5/5
Did you find this review useful??? If yes please comment down below would love to hear from you.
Until next time.. Take care xoxoNATASHA