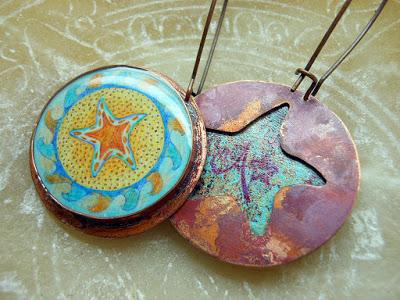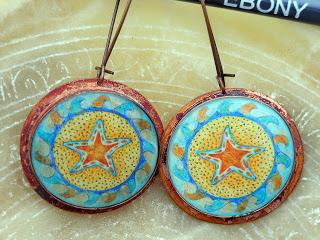 Starfish in the Waves Copper Resin Earrings
We love the sea at Alone Star. This summer we found live starfish in the waves along a Gulf coast beach that inspired these earrings.
 
The drawings are created with richly colored prismacolor pencil and topped with a dome of clear resin that despite its tough durability, gives a water effect. All is contained within handmade copper bezels.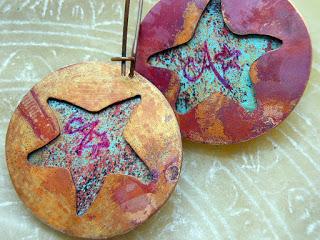 The contrast of the blue colors in the drawings against the wild, crazy colors of the heat-treated copper bezels makes for a lovely complementary scheme. I have become hooked on the color surprises that come from heated copper. These bezels are polished before but not after soldering to preserve the lovely, rustic, natural colors. Coated paper, sealed with clear acrylic, peeks through the starfish cutout on back. 
These unique earrings measure near 1.38" x 2.38" (from top of the oversized kidney earwire to bottom). Each earring weighs 7g or 0.25oz. Sans earwires, all created and handmade by Shauna Sopel. 
For sale on our Etsy shop - https://www.etsy.com/listing/208642385/starfish-in-the-waves-copper-resin #handcraftedjewelry #silversmith #metalwork #alonestarjewelry #texasjewelry #beachjewelry #southwestjewelry #leatherjewelry #turquoisejewelry #copperjewelry