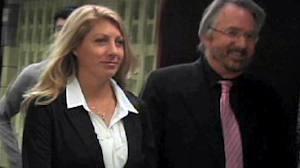 I read this Huffington Postarticle about a teacher who was fired because she had been in porn movies.  Stacie Halas was fired because she had been in pornographic films before she became a teacher.  Halas says she was in porn movies for a nine month period when she became financially strained after her boyfriend left her.  She had stopped making such films before she decided to become a teacher.
She appealed to the courts that her personal past shouldn't impede her from working at the school.  Judge Julie Cabos-Owen said such a past matters in an age when technology makes porn easy to access and hard to bury.

"Although her pornography career has concluded, the ongoing availability of her pornographic materials on the Internet will continue to impede her from being an effective teacher and respected colleague."
Halas was fired in April from her job as a science teacher at Haydock Intermediate School in Oxnard after online videos of her in porn were discovered by students and teachers.  Student claims that the teacher was moonlighting as a porn star were initially dismissed after school officials said they couldn't find any images of her on the Internet – but they were using the school's computers, which don't allow access to porn.  Teachers then showed administrators downloads of Halas' sex videos from their smartphones.
Judges believe her effectiveness in the classroom had been compromised.
My take:
Yes, her effectiveness could potentially have been compromised.  I just don't think she should be fired for something she did before she became a teacher.  I think this is an invasion of privacy.  At what point do we stop shaming people for their pasts?
I also would like to know why no one brought up why middle school children were looking up porn in the first place.  Isn't that the better question?
Why were her colleagues looking up her videos?  Isn't that a bit perverted? 
Maybe I'd feel differently if I had children.
So I ask you:
Should she have been fired?
Email: [email protected]
Twitter: @adrakontaidis & @talkrealdebate