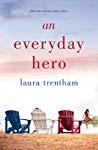 An Everyday Hero by Laura Trentham
Published by St. Martin's Griffin on February 4, 2020
Genres: Friendship, Women's Fiction
Pages: 336
Format: ARC, eBook
Goodreads
Buy on Amazon



From award-winning author Laura Trentham comes an emotionally layered novel about redemption, second chances and discovering that life is worth fighting for.
At thirty, Greer Hadley never expected to be forced home to Madison, Tennessee with her life and dreams of being a songwriter up in flames. To make matters worse, a series of bad decisions and even crappier luck lands her community service hours at a nonprofit organization that aids veterans and their families. Greer cannot fathom how she's supposed to use music to help anyone deal with their trauma and loss when the one thing that brought her joy has failed her.
When Greer meets fifteen-year-old Ally Martinez, her plans to stay detached and do as little as possible get thrown away. New to town and dealing with the death of her father in action, she hides her emotions behind a mask of bitterness and sarcasm, but Greer is able to see past it and recognizes pieces of who she once was in Ally. The raw and obvious talent she possesses could take her to the top and Greer vows to make sure life's negativities don't derail Ally's potential.
After Greer is assigned a veteran to help, she's not surprised Emmett Lawson, the town's golden boy, followed his family's legacy. What leaves her shocked is the shell of a man who believes he doesn't deserve anyone's help. A breakthrough with Ally reminds Greer that no one is worth giving up on. So she shows up one day with his old guitar, and meets Emmett's rage head on with her stubbornness. When a situation with Ally becomes dire, the two of them must become a team to save her—and along the way they might just save themselves too.
I am always super excited when publishers offer me the opportunity to join in on a blog tour — especially when I already know I love the author and even more so when I've already read book #1 in a series!! Today's post is exactly one of those opportunities and today's book is An Everyday Hero by Laura Trentham.  (See review on book #1, The Military Wife – click HERE.) 
I'll be honest with everyone here – I already knew I loved this author because I've read (and reviewed) three of her other books in addition to The Military Life: (1) Leave the Night On (review HERE); (2) When the Stars Come Out (review HERE); and, (3) Set the Night on Fire (review HERE).  All of them have been awesome, so of course, I couldn't wait to read An Everyday Hero.
I had assumed that this book was a continuation of the first, but as it turns out, this story is set in a different location and different characters.  What's the same is the fact that there are issues of being in the military and other life issues that are central.  The book is a standalone and comes to a successful and hope-filled ending. 
Ms. Trentham brings readers a novel with well rounded protagonists, Greer Hadley and Emmett Lawson, who are facing relevant and modern problems, and showing readers who they are handling those struggles with grace and conviction.  The topics of death, loss of a parent, anxiety, addiction, and the obvious problems associated with returning from the war and service, were honestly and carefully discussed.
The story is mostly set in Madison, Tennessee, which is a small town near Nashville. The author shares the story of the life of a musician/songwriter, and the life of a recently returned military vet trying to recover from his injuries.  An Everyday Hero explores the powerful nature of healing through trust, love and music. 
"An anchor weighs you down. Keeps you in one place. Why would you want to be with someone like that? You should be with someone who encourages you to fly."
I loved how the various issues were addressed and the story kept your attention and was entertaining from beginning to end. I loved the characters and how the families adapted as Greer matured and found a new way to incorporate music in her life, Emmett found his place in the world, and how happy Ally became. This is a story of second chances and hope.  There are great secondary characters in the story and the setting itself makes this a riveting story, with a perfect happy ending.
Wanna catch an excerpt before you pick up your copy?  Click HERE.
You can buy your copy at MACMILLAN, AMAZON, BARNES & NOBLE, BOOKS-A-MILLION, INDIE BOUND and POWELL'S.

---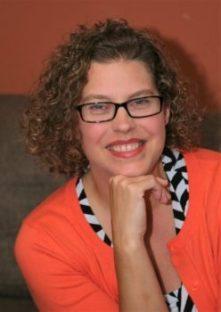 An award-winning author, Laura Trentham was born and raised in a small town in Tennessee. Although, she loved English and reading in high school, she was convinced an English degree equated to starvation. She chose the next most logical major—Chemical Engineering—and worked in a hard hat and steel toed boots for several years.
She writes sexy, small town contemporaries and smoking hot Regency historicals. The first two books of her Falcon Football series were named Top Picks by RT Book Reviews magazine. Then He Kissed Me, a Cottonbloom novel, was named as one of Amazon's best romances of 2016. When not lost in a cozy Southern town or Regency England, she's shuttling kids to soccer, helping with homework, and avoiding the Mt. Everest-sized pile of laundry that is almost as big as the to-be-read pile of books on her nightstand.
---
Thanks to the author, Ms. Laura Trentham, St. Martin's Press and NetGalley, for the opportunity to read an advance copy this book.  I was not required to write a positive review and the thoughts expressed here are my own. 

~ ~ ~ ~ ~ ~ ~ ~ ~ ~ ~ ~ ~ ~ ~ ~ ~ ~

It would be great if you would stay connected with me!! You can follow me on Twitter @DebiL1611, like me on Facebook at 2014 and Beyond, circle me on Google+, follow me on Tumblr, Instagram and Bloglovin', subscribe on YouTube, or connect with me on LinkedIn and Pinterest.

Please make sure to visit my homepage and subscribe to my blog for more great posts on running, fitness and lifestyle topics as well as food, product, music and book reviews, and more!