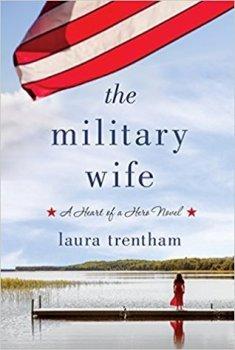 The Military Wife by Laura Trentham
Published by St. Martin's Griffin on February 5, 2019
Pages: 352
Format: ARC, Paperback
Goodreads
Buy on Amazon



An emotionally layered novel about family, loss and what it means to be a military wife.

Harper Lee Wilcox has been marking time in her hometown of Kitty Hawk, North Carolina since her husband, Noah Wilcox's death, nearly five years earlier. With her son Ben turning five and living at home with her mother, Harper fights a growing restlessness, worried that moving on means leaving the memory of her husband behind.

Her best friend, Allison Teague, is dealing with struggles of her own. Her husband, a former SEAL that served with Noah, was injured while deployed and has come home physically healed but fighting PTSD. With three children under foot and unable to help her husband, Allison is at her wit's end.

In an effort to reenergize her own life, Harper sees an opportunity to help not only Allison but a network of other military wives eager to support her idea of starting a string of coffee houses close to military bases around the country.

In her pursuit of her dream, Harper crosses paths with Bennett Caldwell, Noah's best friend and SEAL brother. A man who has a promise to keep, entangling their lives in ways neither of them can foresee. As her business grows so does an unexpected relationship with Bennett. Can Harper let go of her grief and build a future with Bennett even as the man they both loved haunts their pasts?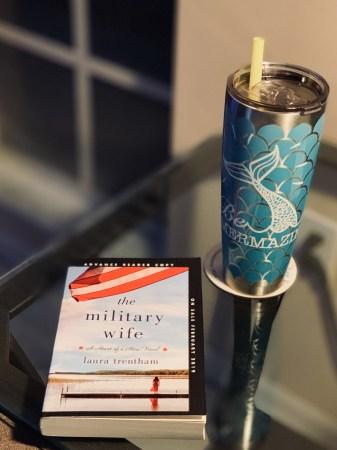 I am always super excited when publishers offer me the opportunity to join in on a blog tour — especially when I already know I love the author!! Today's post is exactly one of those opportunities and today's book is The Military Wife by Laura Trentham. 
In a crazy stroke of luck, I actually won an advance reader's paperback copy of this book and it was actually autographed by Ms. Trentham. Of course, once this photo was taken I placed this book with my other prized possessions, and I chose to read the NetGalley version instead to keep the paperback nice and crisp LOL.
I'll be honest with everyone here – I already knew I loved this author because I've read (and reviewed) three of her other books: (1) Leave the Night On (review HERE); (2) When the Stars Come Out (review HERE); and, (3) Set the Night on Fire (review HERE).  All of them have been awesome, so of course, I couldn't wait to read The Military Wife.
So on to the story…… This book is the first in Laura Trentham's new contemporary romance series called A Heart of a Hero. 
I'm sure you could probably tell that The Military Wife  is centered around the main character, Harper Lee Wilcox, who has lost her husband as he served in the military.  Harper is now a single mom raising her young son, Ben, but she's starting to feel lost and doesn't have the passion in her life to keep her mind off losing her husband.  She has spent the past five years grieving for her lost husband and lost chances.
Harper travels to visit her friend, Allison, who is another another military wife. Allison was Harper's support when she lost her husband.  They begin discussing various ideas to open a business that might be able to improve the lives of military wives.  Harper discovers the kindness of one man who changes everything as his small gesture gives her everything she has been longing for, and that second chance she so desperately needs.
The chapters alternate between past and present, giving readers glimpses into their lives before Harper's husband's death, and then a present day view, which provides an intense look at life after the devastating loss of her husband. These alternating chapters allow readers to meet Noah, watch Harper and Noah fall in love, and then see them living a real life of Noah's deployments. I can only imagine their story is similar to the story that many families face in reality everyday. 
I appreciate that the author brings up the topic of the importance of family and friends, and emotional help and support they can provide. I would highly recommend this novel for those readers who enjoy a beautifully crafted and thought-provoking story.  I would even go as far as to say that this is the best Laura Trentham book I have read to date! 
---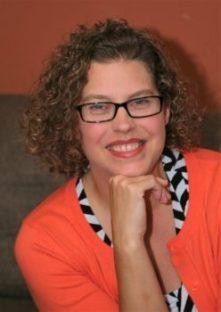 An award-winning author, Laura Trentham was born and raised in a small town in Tennessee. Although, she loved English and reading in high school, she was convinced an English degree equated to starvation. She chose the next most logical major—Chemical Engineering—and worked in a hard hat and steel toed boots for several years.
She writes sexy, small town contemporaries and smoking hot Regency historicals. The first two books of her Falcon Football series were named Top Picks by RT Book Reviews magazine. Then He Kissed Me, a Cottonbloom novel, was named as one of Amazon's best romances of 2016. When not lost in a cozy Southern town or Regency England, she's shuttling kids to soccer, helping with homework, and avoiding the Mt. Everest-sized pile of laundry that is almost as big as the to-be-read pile of books on her nightstand.
---
Thanks to the author, Ms. Laura Trentham, St. Martin's Press and NetGalley, for the opportunity to read an advance copy this book.  I was not required to write a positive review and the thoughts expressed here are my own. 

~ ~ ~ ~ ~ ~ ~ ~ ~ ~ ~ ~ ~ ~ ~ ~ ~ ~

It would be great if you would stay connected with me!! You can follow me on Twitter @DebiL1611, like me on Facebook at 2014 and Beyond, circle me on Google+, follow me on Tumblr, Instagram and Bloglovin', subscribe on YouTube, or connect with me on LinkedIn and Pinterest.

Please make sure to visit my homepage and subscribe to my blog for more great posts on running, fitness and lifestyle topics as well as food, product, music and book reviews, and more!