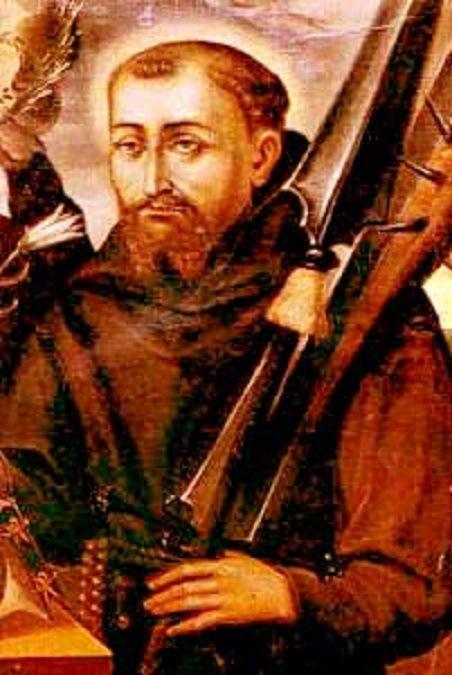 Today, the Universal Church celebrates St. Fidelis of Sigmaringen, the "poor man's attorney," who was also a courageous martyr for Our Lord Jesus Christ and His Church.
Fidelis was consistently generous and kind to the poor and the needy. If he saw someone who needed clothes, he would see to it that they received them. He practiced the spiritual and corporal works of mercy, pleasing Our Lord, who is Love and Mercy Itself!
He was born in 1577, given the name of "Mark Rey," with his religious name being "Fidelis". He became a lawyer, and in this vocation, he upheld the oppressed by taking their cases and litigating them, being given the nickname, "the poor man's lawyer." Fidelis had no use for the injustice, hypocrisy and corruption exhibited by those in the legal profession. Accordingly, he decided to become a priest, to give himself totally to Our Lord and His Church, wherein he entered the Capuchin Order joining his brother, George.
Fidelis became a guardian of a friary, and in this capacity, he continued to serve the needy and the vulnerable; he cared for many soldiers who were sick and wounded.
Fidelis was appointed to be in charge of a group of Capuchins who preached against the Calvinists and Zwinglians in Switzerland. He was successful in his preaching, but was accused of opposing the independence of the peasants from Austria. Fidelis planned to go to Seewis to preach, but was advised by his friends and colleagues not to do so as it would be too dangerous. Fidelis went anyway, but on his way back he was caught by a group of armed men and was murdered.
St. Fidelis was canonized in 1746 and was the first martyr to be recognized by the Congregation for the Propagation of the Faith established in 1622.
Our Lord told us that he would vomit the lukewarm out of his mouth, as souls who are lukewarm He finds most repugnant. Clearly, St. Fidelis' very life showed his intense love of the Triune God. He said: "Woe to me if I should prove myself but a halfhearted soldier in the service of my thorn-crowned Captain."
We thank you dear St. Fidelis for your wonderful example of bravery, love, persistence and fidelity, whilst all the while making sure that you served God with all of your heart, mind, body and soul.
St. Fidelis, pray and intercede for us!
With love and respect,
Joan
Sources of research: Vatican website; EWTN website; Franciscan media