I'm not a great one for saying 'told you so', but sometimes it nicely sums up the situation.
The other day I was worried that the fun of the Olympic Torch(/cheese grater)'s visit to Edinburgh might be somewhat snuffed out by the cynicism that so often is levelled at London 2012 here; but I also thought that when the time came Edinburgh would shine. And it did – the sun even graced us with its presence (the sun always shines on the righteous, you say? Why thank you…). Edinburgh did itself proud. The crowds lined the streets, cheered and waved as the flame was brought through the capital.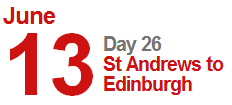 Day 26 of the torch's epic 8,000 mile journey round the UK was always likely to be important to me – it was from St Andrews to Edinburgh; the two places I've called home. Starting in St Andrews' United College Quad and finishing up at Edinburgh Castle, it's rather special. I think most people will agree that it has produced some of the most iconic images yet seen on the relay (here's the BBC's highlights, if you haven't seen them). Being welcomed to the third oldest University in the English speaking world, standing on the most famous golf course in the world, cycling the flame across the Forth Road Bridge, with the Forth Rail Bridge in the background, standing on the steps of the beautiful Hopeton House; and of course running through the gothic buildings of Edinburgh before lighting the caldron at the Castle. That's quite a day by most accounts, even if you are a cheese grater bound for Ebay.
I'm a bit gutted that I didn't get to see the torch, but sadly it couldn't be helped. I don't think my absence was particularly noticed though, the crowds packing the streets and the Castle Esplanade are testament to local spirit, and certainly showed the city's passion which clearly lurks under the scepticism. They also managed to portray Edinburgh as a beautiful city, not as a bit of a building site, which I think it quite an achievement.
My highlight of the day, however, has to be this image, which has graced pretty much every story I've seen about this leg of the torch's journey. It is a group of local school kids running down the beautiful West Sands beach in St Andrews recreating the famous scene from Chariots of Fire on the very beach it was filmed. Quite fitting, I'm sure you'll agree.
I have never missed the town as much as I did when I saw this photo yesterday.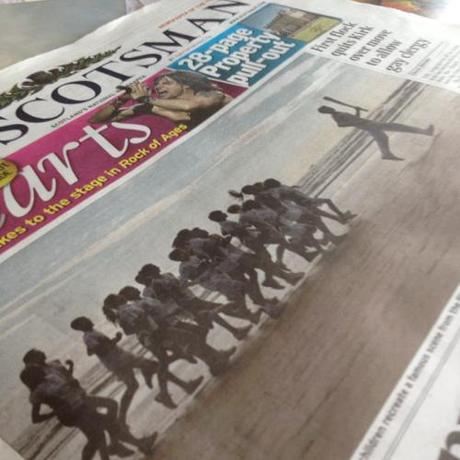 The cover of this morning's Scotsman