BEAUTY
❤ ❤ ❤ ❤ ❤ ❤ ❤ ❤ ❤ ❤ ❤ ❤ ❤ ❤ ❤ ❤ ❤ ❤ ❤ ❤ ❤ ❤ ❤ ❤ ❤ ❤ ❤ ❤ ❤ ❤ ❤ ❤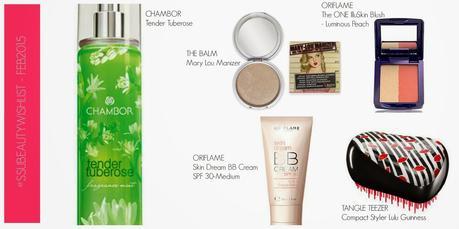 #SSUBEAUTYWISHLIST
is a series on products related with beauty, makeup, skincare, fragrance, hair care, nails etc. There are a lot of products that I crave for month by month and thought it would be a good way to tell everybody what I am digging into and why! What if it triggers your fancy too! There is one
style edit series
too for the same purpose and I plan to keep doing these series going forward because it will keep my shopaholic-self sane and my money sorted.
A glowing complexion, sculpted cheeks and pin-up girl's hair with an alluring scent is what is on top of my Beauty Wish List this month.
When I read that
CHAMBOR launched new body mists(BUY)
, I almost jumbled because not only they are affordable but also the notes sound promising. A little expensive than
STREAX body mists that I tried last month
,yet I would love to own it, test it and see how good they are.
I don't have much time to make my skin glowing by folowing a tight regime (
I bow for all those creams and moisturizers that claim to make you glow! and there has been one of many that actually does it!
)But the quickest way to add that glow is to add a highlighter. For that one purpose,
The Balm's Mary Lou Manizer
gives you that glow or as beauty vloggers say!!
I love blushes and this blush by
Oriflame The ONE Illusion Skin Blush in Luminous Peach is dual-toned
to act as blush and highlighter or bronzer. And for all that we gotta have a fine base and I think
Oriflame BB Cream might give a smooth base and medium coverage
.
I am not a comb person (I know you read it quite a lot when I talk about
Hair Care Products on SSU
), but, since the day
my baby girl
has learned pulling things she plays with my hair a lot which makes knots in my hair - very painful, specially when you are trying to detangle. Bharti of Crazy-Pop-Lock wrote a review about Tangle Teezer that made me a convert, I now want to invest in hair combs.
This tangle teezer with lips is so cute + it makes me smile
!
Q - Tell me your beauty wish list and why that product is on your list?
Let's connect  :
EMAIL | FACEBOOK | TWITTER |  GOOGLE+ 
HAPPY SHOPPING!!
Disclosure Policy
.