MEN
❤ ❤ ❤ ❤ ❤ ❤ ❤ ❤ ❤ ❤ ❤ ❤ ❤ ❤ ❤ ❤ ❤ ❤ ❤ ❤ ❤ ❤ ❤ ❤ ❤ ❤ ❤ ❤ ❤ ❤ ❤ ❤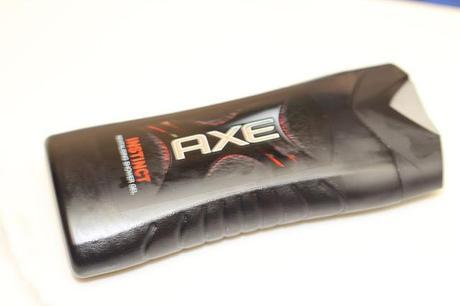 Finding shower gels in a super duper cool, refreshing and unique scent and the one that stands out on all aspects of shower gel is a difficult task . It is more difficult when there are a lot brands with all shiny claims. But we won't know until we use some. So, we decided to give "AXE Instinct" a try so we can bring you an array of shower gels for men and also the best ones. The question is if it stood out on our test drive and did it make us happy?
CLAIMS
Axe instinct is a revitalizing shower gel with new improved fragrance. Axe Instinct Shower Gel containing a fragrance made up with raw, virile ingredients to charge up the animal magnetism inside a man. Axe Instinct Shower Gel is made especially for men. It combines a revitalizing fragrance with a lather enhancing formula for every man's primal instinct. [Goodlife.com]
PRICE
INR 180 for 250 ml
AXE Instinct Revitalising Shower Gel
is a gel based shower gel that
lathers
well. It bursts refreshing scent as soon as you apply it. Leaving your body supple, cleansed and fragrant, not causing skin dryness is the best bait of this shower gel. However, V thinks that this shower gel doesn't smell as refreshing as Cinthol (Alive is Awesome) Energy Shower Gel. He wants his shower gel to make him feel fresh for hours and that "Instinct" doesn't do.  Though I think Cinthol also doesn't make the fragrance last longer for more than an hour, but I agree that "
Energy
" is more refreshing than "
Instinct
".
Instinct is not one of those shower gels that makes skin sticky and takes plenty of water to clean. When I say plenty, that means more than we usually use to wash off shower gels.
If you are not too finicky about your shower gel making you smell fresh throughout the day, then you can give Axe Instinct a shot. But if you want to know any other brand that V and I would like to suggest then it has to be Cinthol only because of their "Alive Is Energy" collection. Alive is energy is priced at Rs 150 for 200ml while Axe is Rs 180 for 250 ml.
V and I are not fond of AXE deodorants and found shower gel to be average but likeable. Let us try out more AXE shower gels and see if they smell same like AXE deodorants. Almost everybody says that AXE deodorants smell alike and most of other deodorants for Men.
INGREDIENTS of Axe Instinct Revitalising Shower Gel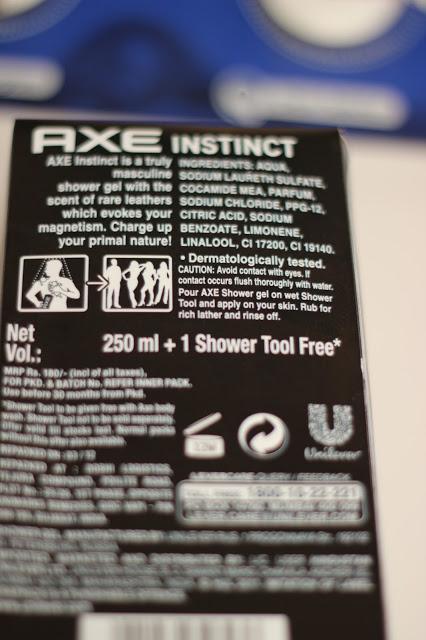 SUMMARY
❤

Gel based shower gel.
❤

Refreshing fragrance but stays for less than an hour.
❤

Lathers really well.
❤

Doesn't make skin dry.
BUY AXE Instinct Revitalising Shower Gel
@Goodlife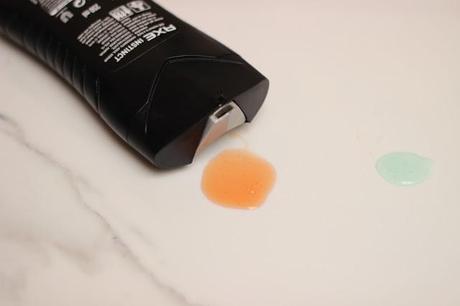 - Is there any shower gel that you are fond of, that smells refreshing and scent stays for longer? Tell us in comments.

FACEBOOK  
   TWITTER      INSTAGRAM     
GOOGLE+