HOME $ GARDEN
 ❤ ❤ ❤ ❤ ❤ ❤ ❤ ❤ ❤ ❤ ❤ ❤ ❤ ❤ ❤ ❤ ❤ ❤ ❤ ❤ ❤ ❤ ❤ ❤ ❤ ❤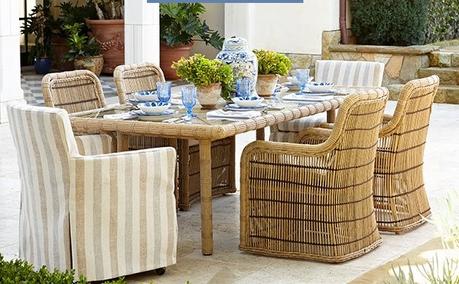 Ever wanted to set-up a corner in your house that tells your story, how you carefully picked everything from flea markets and now want to showcase them, but in an organized form?
Here is this inspirational outside area that is perfect for family and friends time with glassware, plants and earthy feel to it. Do you see "mix and match" of different home items that work together? My favorite thing in the whole look is placement of blue glassware with earthy tones of straw/wicker chairs and table.
Shop
affordable range of outdoor furniture online.
Source: www.horchow.com
For The Shopaholic In You
What do you love the most about this dining area?
Never miss A Post

  :
NEWSLETTER | FACEBOOK | TWITTER |  GOOGLE+ 
Disclosure Policy
.