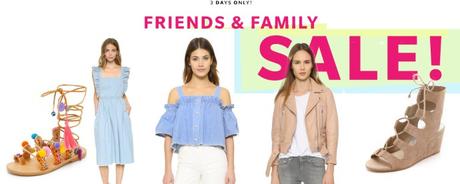 Spring is in the air people!! It is official. This weekend was the first weekend I was out without a jacket on during the day...ok well almost, I had a light denim jacket, but everyone around me was in t-shirts, so I think it is safe to say the warm weather is here to stay.
I'm finally getting around to swapping out the heavy wool sweaters in my closet for light cotton everything and I have a permanent smile across my face that only comes with the happiness of Spring sunshine ....life is good. As a side note, I thoroughly apologize to my friends and family in Toronto, as I noticed that it SNOWED again this week. This actually brought a tear to my eye because there is a very good chance that I will be moving back to Toronto for a year and that next Spring I will be in a parka instead of a trench coat...but more on this in the following months!
The Need for New
As much as I'd like to tell you that I love everything in my closet and that I have a ton of clothes that I can't wait to wear now that the weather has warmed up, the truth is I'm tempted, (oh so tempted), to inject my spring style with a few new pieces. Truth be told, I have already bought a few new fantastic pieces for Spring including a pair of Dolce Vita nude colored real suede gladiator wedges (find them here), a short denim skater dress (I styled it here in colder weather), a long denim colored, sheer blouse I'll be sharing with you tomorrow, and 10 or so other pieces I've been hoarding, just waiting for the right moment and occasion to wear them.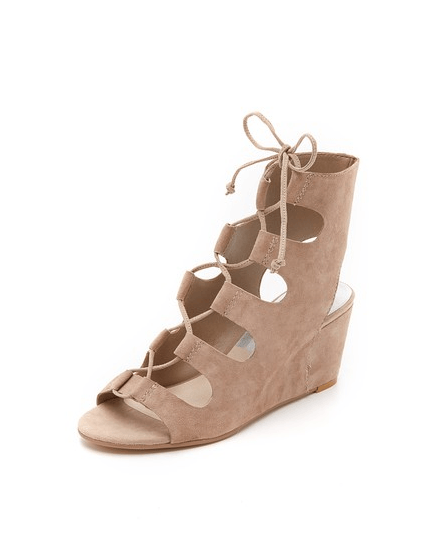 The thing that has me really exited this season is that there are a few trends that are actually *new*, fresh, "never before seen" that I am coveting with my whole heart. From off the shoulder denim to pon pons, I predict that this year's Spring and Summer styles will have women feeling feminine again and having a lot of fun with fashion.
So I thought I would share not only what I've been spending my pennies on, but also 4 trends to get you ready for pedicures and showing some skin. All of these items are from Shopbop.com and tomorrow begins their FRIENDS & FAMILY sale event and it is MASSIVE, you can save an additional 25% off all sale and regularly priced items by using code " INTHEFAM " at checkout. The sale starts tomorrow and will last through April 7th 11:59 PT time, only THREE DAYS of massive sale goodness.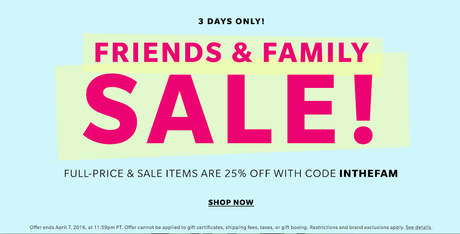 4 Fresh SS2016 Trends to Buy Now
The Pon Pon Sandal
If you are as obsessed with Instagram as I am you have probably come across a few brands making waves for their innovative use of colorful pon pons. Many larger designer brands have followed suit and this summer the newest trend is PON PON SANDALS.
Colorful, vibrant and ready to have a good time, they are a stark contrast to the austere black and white minimal sandal trends that have dominated summer footwear over the last few seasons and I am HAPPY TO WELCOME the trend, which is like wearing a little bit of joy on your feet.

From left to right : Aquazzura Flat Sandals // Aquazzura Heel Sandals // Edgardo Osorio x Salvatore Ferragamo // Elina Linardaki
The Light Denim Ruffle
DENIM! Enough said. This spring and summer is a return to fashion's most revolutionary and versatile fabric - DENIM. I'm particularly found of the lighter washes from chambray to stone wash (that has a fun 80s retro feel to it). Some of the common themes with denim are palazzo pant jumpsuits, peasant dresses, off the shoulder and ruffles.
The ruffle is a fun way to incorporate a very flattering and forgiving cut while also showing a big of skin (hence the off the shoulder, oversized ruffle tops I've included in the mix). Paired with skirts and summer heels this can easily be a day to date night look, that keeps its casual coolness.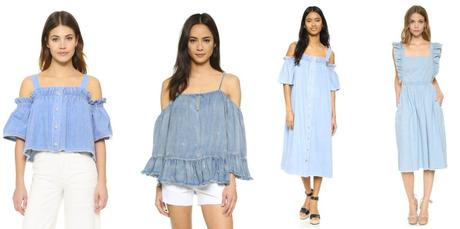 From left to right, click to shop : Denim Off The Shoulder Top // Off The Shoulder Ruffle Top // Ruth Pinafore Dress // Denim Off The Shoulder Dress
The Return of "Nude"
The following two trends are dedicated to one of my favorite fashion movements recently...the return to nude! From the blush leather jacket to the buff suede sandal, both of these trends focus on lightening up leather.
Personally, I have never bought into the whole rock and roll motorcycle trend of black leather...everything, which has dominated major fashion markets like Paris and L.A. over the last 7 years. As much as I believe that black is slimming, I also find that it is intimidating, limited and not at all comfortable or complementary in the summer time.
The Nude Gladiator Lace Up Sandal
This trend has captured my heart and I've actually recently bought the Dolce Vita pair of sandals featured here, which are incredibly comfortable and really lengthen the leg. The Gladiator trend will be going strong right through to Spring/Summer 2017, so don't worry about the investment!
I personally love the wedge option because I find that flat gladiator shoes shorten the legs and cut the ankle at an awkward point adding weight to legs instead of slimming them. The problem with a "heel" is that it is relatively impractical for most women to wear everyday, hence the GLADIATOR WEDGE. In a nude color it elongates, gives height and in ontrend!

From left to right (click to shop directly) : MICHAEL Michael Kors Sofia Flatform Sandals
// Schutz Ruthie Gladiator Wedge Sandals // Dolce Vita Louise Sandals // Loeffler Randall Hana City Sandals
The Blush Leather Jacket
Dear blush leather spring jacket, you are "rocker chic" cool, but as delicate as a summer rose. You have the staying power of a standard black leather jacket (like the one I've owned for almost 20 years and still love), but you are also fresh, new and oh so versatile.
Wear this with a t-shirt, jeans and a pair of the nude gladiators and you have yourself an outfit worthy of being called a Spring-Uniform!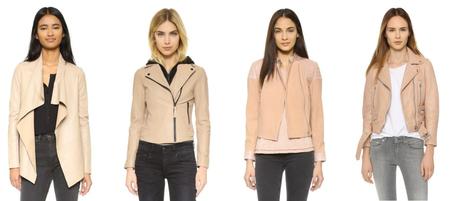 From left to right : Gretal Leather Jacket // Mackage // J Brand // Acne Studios
If these trends have your heart pumping in excitement don't waste time the Shopbop sale starts tomorrow and only lasts for three days and don't forget to use code INTHEFAM at checkout!