Several times already I have blogged about Sripada Srivallabha (1320-1350) – how I came into contact with his biography, a visit to his birthplace and a few other instances; the first post, on November 27, 2014, was about "Lord Dattatreya – Adventurous Encounters".
Now the German translation of the book, "Sripada Srivallabha Charitamrutam – Biografie eines Dattatreya-Avatars" has just been published and a multi-language website, sripada-srivallabha.org, has been launched. In this blogpost I will tell you a bit about how things developed.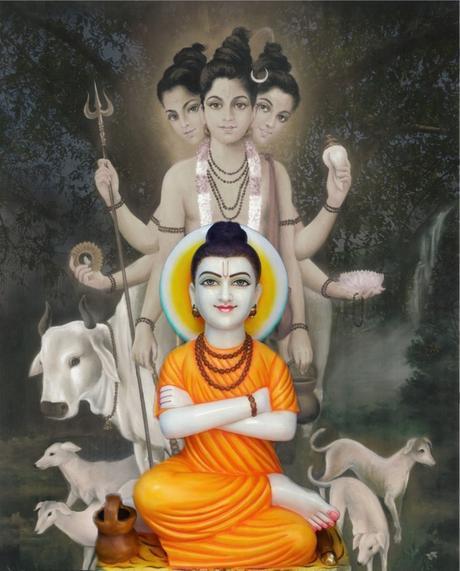 October 2014, Lakshmi, an IT specialist from India, had brought me in contact with Sripada's biography, and she later helped getting the translation and publishing rights. I found a soft-copy of the book on the web and later got the paper version. When I read the English text for the first time, I was like electrified. However, it quickly became clear that it is not an easy read for Westerners – the Indian publication is full of unknown terms, concepts and names. To unlock this intriguing world for occidental readers, it would need some aids. I decided to add footnote explanations – but how to get the information?
January 2015, I met Ravee in India. I knew this young engineer from the time when he had studied in Germany. When I mentioned the book he immediately declared that he wanted to help providing definitions for unknown expressions. He didn't know the book before but he was thrilled to hear about Sripada's birthplace Pithapuram – his father was also born in the same town. Ravee was of great help, furthermore I searched in Wikipedia and in other online sources.
When I spoke to Robert, a friend from Spain, about the translation project, he said at once, "Don't you think that a Spanish version would be good?" – "Oh yes!" And so he started as well. Later, Sébastien from New Caledonia joined for a French translation – since years he is doing the French versions of the Lunar Messenger.
To enable the translations and the proof-reading (also for other languages in the future), I first had to create a Word document in English containing the complete text with all the adaptations (spelling harmonization, explanatory footnotes, appendixes, forewords etc.). Soon I noticed the need of a commented index of all the many persons mentioned in the book – sometimes different individuals have the same name or the same persons are called by different names… And from the very beginning of the work, I had the idea of creating a multi-language website for introducing the world of Lord Dattatreya and his avatars to Westerners: sripada-srivallabha.org.
Quite soon after starting the translation there was a series of incredible "coincidences": Ravee came to know that the then "official" English publication of the book I had was incomplete – quite a number of pages were taken out, for whatever reason. The very day I started e-mailing Ravee, his mother, without knowing about the translation work, came home with a copy of a complete English translation published in their home town Tadepalligudem (this version has now been published by the Samsthanam, the temple at the birthplace of Sripada, as the new "official version"). Soon I also got these copyrights.
Simultaneously Robert came into contact via Facebook and Whatsapp with Srinivas, an Indian from the US, whose friend in Hyderabad was doing another English translation from Telugu (still unpublished). And Srinivas then provided me with the texts of  the ongoing work. I was thrilled and thought, wow, what a guidance!
A great situation – but what to do with three versions varying in style and wording? I compared the different translations as per comprehensibility, clarity of expression and number of unexplained terms used. All had certain strengths. I then decided to continue on the basis of the "official version" but wherever indicated I did adaptations on the basis of the two other translations, including all the missing texts: I tried to translate with a good flow but stay true to the sense of the book. While working on the German translation I simultaneously was fusing the three English versions to a new enriched text version.
The German translation got ready last summer. Then followed a lot of proof-reading and editing work, together with friends from Kulapati Editions of the World Teacher Trust (WTT) Germany and others. I wondered how well the typo gremlins can hide in a text. But in the end, I hope, we send all of them to the digital nirvana.
In parallel, I was working on creating the website to inform about Dattatreya, this grand cosmic teaching principle, and to give a better understanding about Sripada,  his life and teachings and his further incarnations, which impressed me so much. There was a warm support for the project from Sri Kumar and other friends. An international team of helpers and translators formed – from Argentina, Brazil, France, Germany, Mexico, New Caledonia, Spain, Switzerland and the United States. All were well qualified and very enthusiastic.
For the technical part and the design we used the existing WTT website, with minor modifications. Friends shared images related to Dattatreya and Sripada. Together with my own and some public domain images the illustration structure and the image editing could be done. Then the translations dropped in. Two friends helped creating the web pages.
Now, on the occasion of the celebration of Dattatreya's anniversary (Sagittarius full moon, 13 December), the WTT is launching the website in five languages: English, French, German, Spanish and, very soon Portuguese: www.sripada-srivallabha.org, at the same time with the German book.
And what is it all about?
In the 14th century, Lord Dattatreya took birth in South India as Sripada Srivallabha. The knowledge about this gorgeous incarnation which lasted only 30 years got nearly completely lost. However, Sripada was reborn two more times, one time as Narasimha Saraswati (1378-1459) and another time as Swami Samartha ( – 1878). There are much more traces of these lives. Through the three incarnations, Dattatreya established a way of life where Synthesis of Wisdom is followed in daily life. There are more persons who are worshipped as avatars of Dattatreya – I concentrated just on the three major ones mentioned in the book.
During Sripada's lifetime, a biography was written but, as decreed by him, the work would be kept secret until the thirty third generation of his maternal grandfather. The book came to light in 2001 through a person of this line. It was first published in Telugu and has then been translated into several languages. The "Sripada Srivallabha Charitamrutam" is an extraordinary book about this first incarnation of Lord Dattatreya in the present age. In an exciting and entertaining way, it gives an insight into the fascinating biography of Sripada, his sportive plays, teachings, prophecies and miracles. The book provides a feeling of being in his very presence and participating in the events:
"I will remain in a subtle form in every place where My biography is devotedly read."
"Don't think that Sri Charitamrutam book is a mere book. It is a live stream of a glorious consciousness." – Sripada
And as predicted centuries ago in the original text, the "Sripada Srivallabha Charitamrutam" has now been published in German, by the World Teacher Trust Germany. The German edition (624 pages) contains a foreword by Dr. K. Parvathi Kumar and is enriched with 21 images, many footnote explanations and a commented register of persons.
You can buy the book in book-stores, at Amazon.de or via Syntropia.de And you can download here the book for free.