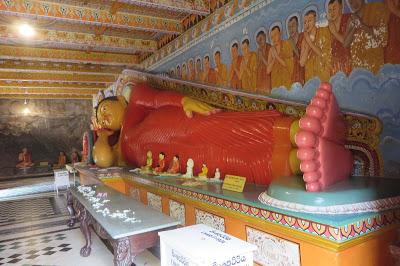 Reclining Buddha at Anurhadapura
My friend and fellow children's book writer Gretchen Woelfle recently returned from an exciting 16 day cycling trip in Sri Lanka. Here is the second of two installments she wrote about her trip. 

Legend has it that the Buddha visited Sri Lanka three times during his lifetime. History offers no evidence, but Buddhism did arrive in the 3rd century BCE. And the Pali canon – the Buddha's teachings that were transmitted orally for four hundred years – was first written down in Sri Lanka around 30 BCE. Today 70% of the population are Buddhists. (The other 30% are Hindu (Tamil), Christian, and Moslem.)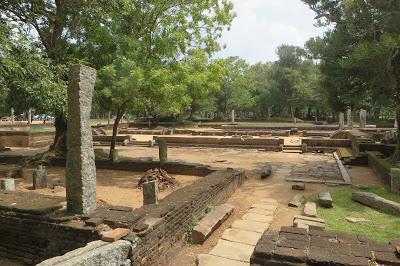 Monastic ruins at Anurhadapura
A cutting of the Bodhi tree, under which the Buddha became enlightened, was allegedly brought to Sri Lanka, and today that tree is venerated in the World Heritage site at Anuradhapura, an ancient capital. Our group circled the Sri Maha Bodhi (the sacred tree), each of us offering flowers to a monk and receiving a blessed string bracelet. We then cycled through the vast site to see restored monastery foundations, stupas, temples, and sculptures.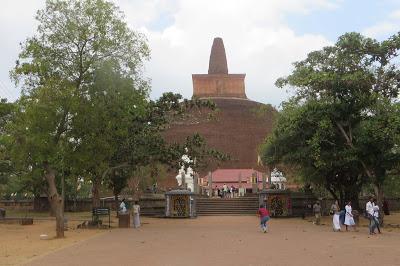 Abhayagiri Stupa at Anurhadapura. Built in 1stcentury BCE, restored in 1997
Stupas are solid dome-like structures. The important ones hold hidden relics of holy monks and teachers. Devotees circumambulate the stupas, chanting, meditating and leaving offerings.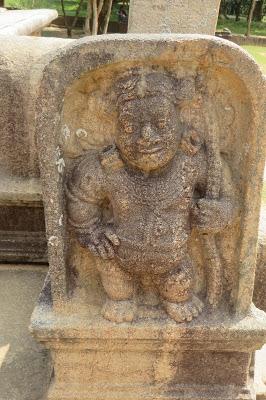 Images of dwarves were seen as guardians of sacred items
Our group saw only a few of the countless historic temples in Sri Lanka. We hiked into the forest to the ruins of the Ritigala monastery complex where an orange-clad monk addressed a group of devotees.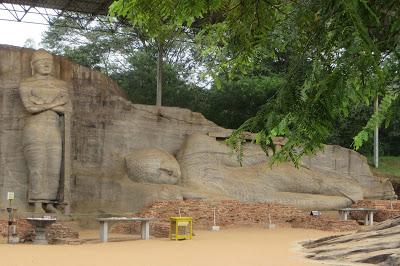 Sculptures carved into a cliff-face at Polonnaruwa
We cycled to Polonnaruwa to the restored ruins and two enormous Buddhas carved into a cliff-face, my favorite artworks of the trip. These sites are more than tourist destinations; they remain pilgrimage sites for Sri Lankans.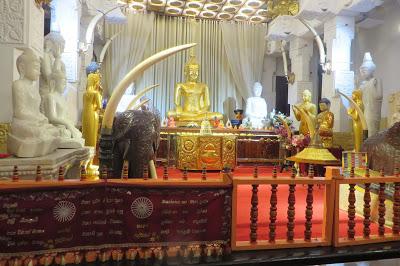 One of many altars at the Tooth Relic temple in Kandy
The city of Kandy contains the country's most precious relic – an alleged tooth of the Buddha, kept in a golden casket in the fabulously ornate temple. Each evening monks open the doors to reveal the casket while drummers perform in a courtyard below.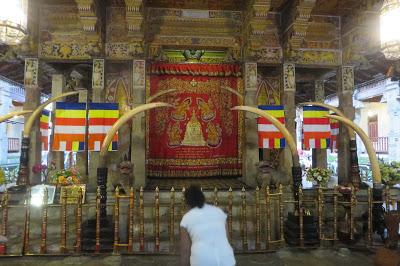 Behind the curtain lies the precious Tooth Relic of the Buddha
Many other rooms contain an abundance of sculptures and paintings of the Buddha. Marble, gold, and painted images abound.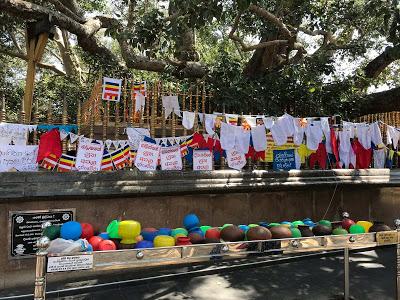 Offerings left at a Bodhi tree at Kataragama
The temple at Kataragama honors Buddha and the Hindu gods Ganesh and Shiva. Buddhists make offerings at another cutting of the Bodhi tree and Hindu priests perform daily pujas. Even on an ordinary week-day the site was filled with the faithful. An extravagant summer festival draws huge crowds. All through the country we cycled past modest village temples, tiny roadside shrines, and small altars in shops and cafés.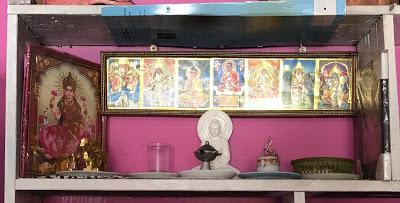 Small Buddhist shrine in a café
Sri Lanka has recently emerged from a thirty-year bloody civil war which pitted the Hindu Tamil Tigers against the Sinhalese Buddhist government troops, and current riots between Buddhists and Moslems threaten the peace. Sampath, our Buddhist guide (whose entire life has been touched by war), recounted stories of his best friend and neighbors who were Tamils (Hindus). As with so many conflicts, the causes are political, rather than personal. One can only hope that the tolerance exhibited at the Kataragama temples will win out in the end.
Intrepid Travel offers eight tours of Sri Lanka, from two to fifteen days.
https://www.intrepidtravel.com/us/sri-lanka
Book recommendations:
The Rough Guide to Sri Lanka
Romesh Gunesekera, Noontide Toll. A novel of contemporary linked stories of the lingering impact of the civil war.
Romesh Gunesekera, Reef. A compelling coming-of-age novel about a servant boy (1960s-90s).
Leonard Woolf, Growing: An Autobiography of the Years 1904-1911. Before he met Virginia, Woolf spent these seven years as a British bureaucrat in (then) Ceylon.
Leonard Woolf, A Village in the Jungle. This 1913 novel is a powerful but gloomy portrait of village life.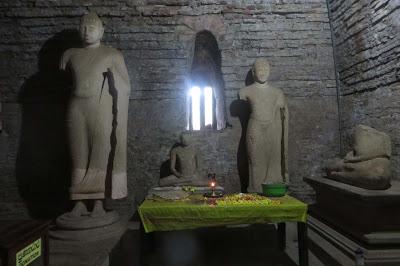 Restored shrine with ancient sculptures and fresh offerings