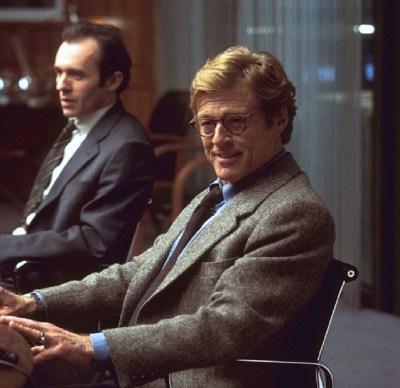 Robert Redford as Nathan Muir in Spy Game (2001).
Vitals
Robert Redford as Nathan Muir, shrewd CIA case officer
Langley, VA, April 1991
Film: Spy Game
Release Date: November 21, 2001
Director: Tony Scott
Costume Designer: Louise Frogley
Redford's Costumer: David Page
Background
After Brad Pitt spent roughly the first decade of his career being compared to Robert Redford, Tony Scott's Spy Game paired the two actors as a world-weary CIA officer and his idealistic trainee.
The bulk of the action is set in April 1991 as the Cold War is whispering its final breaths and the world's intelligence agencies begin looking for a new paranoia to exploit. Agent Tom Bishop (Pitt) has gone rogue, and his mentor Nathan Muir (Redford) is called in on the last day before his retirement to lend a helping hand to the new generation of overseers.
Harker: If these walls could talk, huh? All this history, I envy you.
Muir: Then bag your job, you can be just like me.
Harker: No, really. The debt this country owes you guys…
Muir: Chuck, are you gonna dance with your hand on my ass all night, or are you gonna make your move?
Luckily, Muir's instincts don't fail him as he spends the next 24 hours outwitting the chiefs' attempts to let Bishop fry. Spy Game channels the great Three Days of the Condor from Redford's similar attire to his shared suspicion of intelligence networks. His paranoia isn't unfounded, as he keenly warns his assistant while making covert preparations: "When did Noah build the ark? Before the rain."
What'd He Wear?
When Robert Redford was cast in Spy Game, he was no stranger to the role of a rugged and resourceful CIA operative; his portrayal of Joe Turner in the definitive '70s espionage thriller Three Days of the Condor has been praised by many (including BAMF Style!) for his iconic style. In the 1975 film, Redford played a bookish researcher working for a CIA deep cover office in New York City. His attire consisted of a herringbone tweed sport coat, blue chambray shirt, knit necktie, blue sweater, and jeans… as well as a natty pair of glasses.
Nearly 30 years later, Redford returned to service with The Company as veteran case officer Nathan Muir. Though certainly not the same character (although that does lend itself to some fun conspiracy theories…), Muir's wardrobe is almost certainly a nod to Redford's earlier role. As a dressier, more "office-appropriate" version, Muir ditches the jeans and sweater, but the rest of the outfit is damn near similar – right down to the striped knit tie.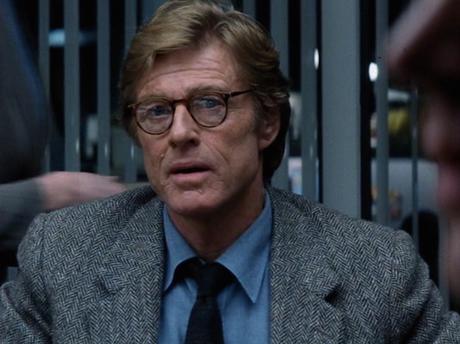 Muir's comfortable, understated look makes him look unassuming enough to fool the CIA brass questioning him on his last day.
Muir and Condor both sport a nearly identical herringbone tweed sportcoat, although the details of Condor's jacket had been more influenced by '70s fashions. The different contexts of the two films demonstrate the versatility of the herringbone tweed sport jacket.
The black and white herringbone on both jackets is large-scaled, differentiating the pattern as herringbone even from a considerable distance. Muir's coat is single-breasted with moderate notch lapels, and the left lapel has a buttonhole. This buttonhole and all others on the jacket have been stitched with a brown thread.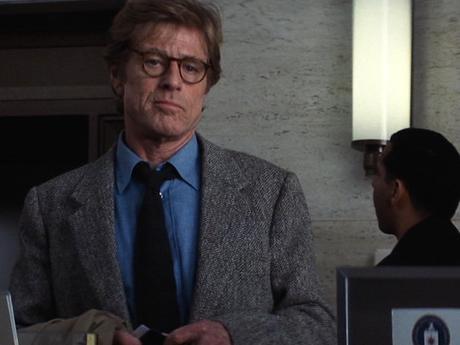 Muir's jacket is slightly oversized, evident by the width of its slightly padded shoulders on Redford's frame. The front has a low, 2-button stance with two black leather cluster buttons. The four buttons on each cuff are smaller versions of the black front buttons.
Both Condor's and Muir's sportcoats both have welted breast pockets and straight hip pockets, although Condor's hip pockets have visible outer flaps while Muir either tucks his in or doesn't have flaps at all. The only other major difference is that Muir's jacket has double rear vents and Condor's has a long single vent.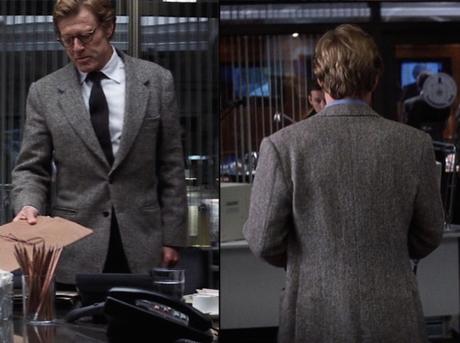 Since the actual CIA office likely has a more stringent dress code than the "literature society" in Three Days of the Condor, Muir shows up at the office wearing charcoal blue trousers instead of Condor's jeans. The trousers appear to be plain front with a single dart on each front side to give them more room over the hips and a slightly higher rise extending above both sport coat buttons. The trousers have straight side pockets and jetted rear pockets that each close through a button.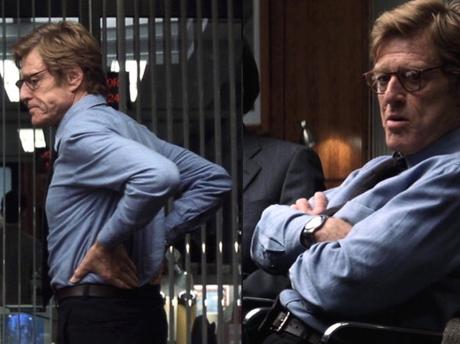 Muir struts around the office during an interrogation.
Muir wears a dark brown textured leather belt through his trouser loops, fastened in the front through a rectangular steel single-prong buckle.
Muir wears a blue dress shirt with a soft, casual texture that evokes the chambray snap shirt Redford wore three decades earlier in Condor.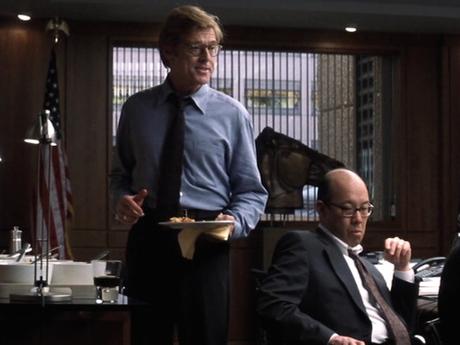 Lunch!
Muir's shirt has a large collar with a moderate spread the he wears unbuttoned throughout the day. The shirt has a large fit with the shoulder seams falling well below each shoulder. The long sleeves, which close with one button on a rounded cuff, extend past his wrists as well. Each sleeve gauntlet also closes with a single button.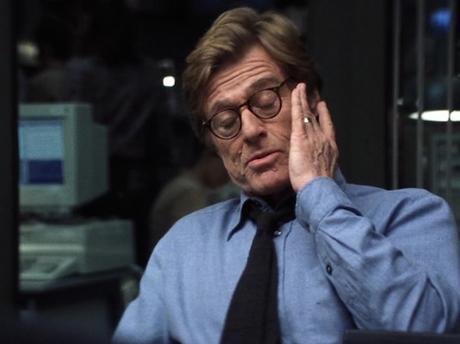 The front of the shirt has a large patch pocket, and it closes with dark blue plastic buttons down a placket. The back of the shirt has a straight yoke across the top with a box pleat down the center below the loop.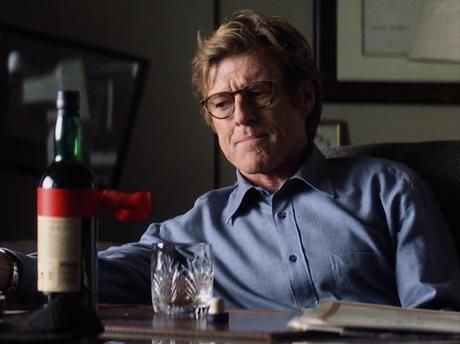 Muir settles in with a bottle of Scotch for a long night at the office.
Muir's dark wool knit tie is subtly striped with dark navy and olive brown horizontal stripes of the same width. The tip of the tie is pointed unlike the many flat-bladed knit ties worn by Sean Connery as James Bond.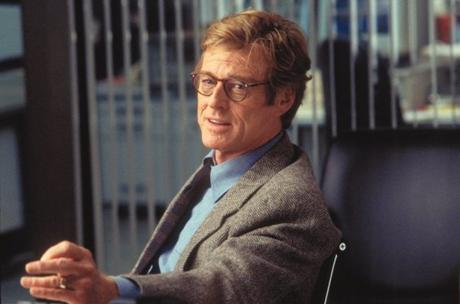 A production photo of Robert Redford offers the best lighting for deciphering his tie.
After his overnighter in the office, Muir pulls a Draper and whips out a backup shirt. This second shirt is off-white with white buttons, a top-stitched breast pocket, and rounded button cuffs.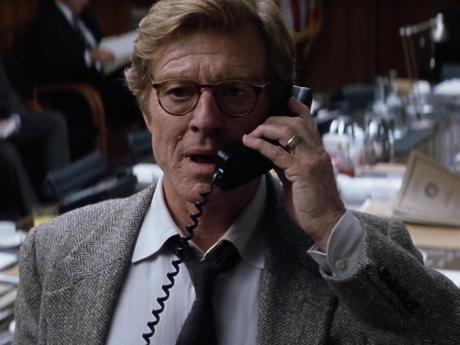 "Operation Dinner Out is a go."
Under both shirts, Muir wears a typical white cotton sleeveless undershirt.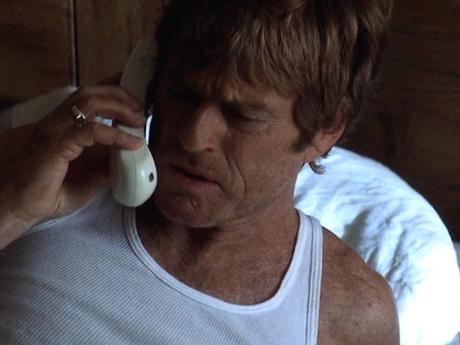 Muir spends plenty of time on the phone, doesn't he?
Muir wears a pair of dark brown leather cap-toe bluchers with thin dress socks in a dark color, possibly charcoal but probably black.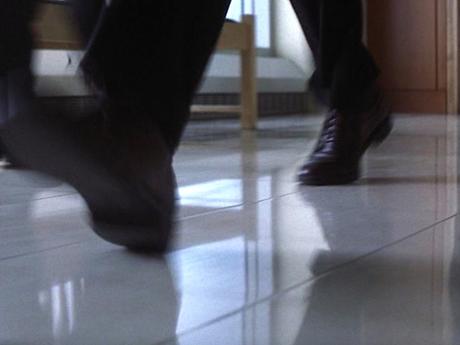 Muir rolls into the office wearing a knee-length trench coat, a springtime outerwear standard. When he leaves the CIA building for the last time, we get a glimpse of the inner lining that appears to be the signature Burberry tartan plaid, consisting of a black and white check on a tan ground.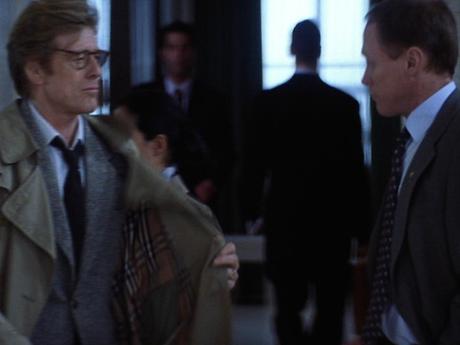 Checking out.
Whether it's Burberry or not, Muir's raincoat is made from a dark khaki-colored weatherproof fabric, likely cotton gabardine drill. The front is double-breasted with large, edge-stitched lapels and a loose belt around the waist with three D-rings on the back. Muir's coat also has the front and back storm flap, button-down epaulettes over raglan sleeves, and buckle-strap cuffs that differentiate the trench coat from any old raincoat.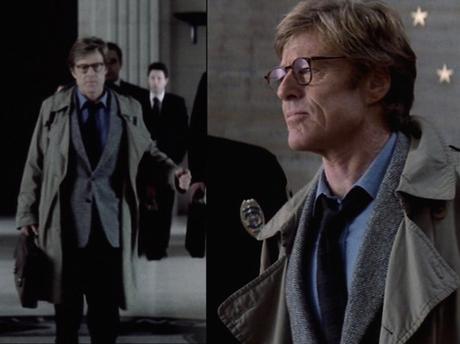 Muir's open trench coat and loosened tie add a cheeky, devil-may-care attitude to his businesswear.
Muir's tortoise-framed Oliver Peoples "Riley" eyeglasses are anachronistic through most of the film as OP wasn't founded until 1986, but they would be appropriate for these scenes set in 1991 as very suitable frames for a savvy, analytical spymaster.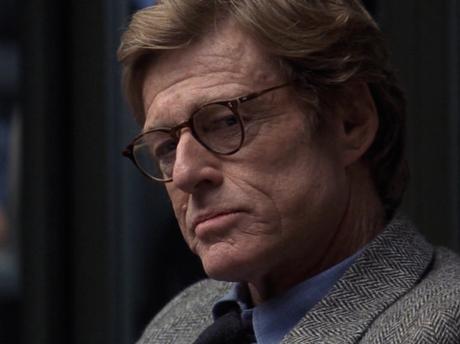 Muir's eyes look far more shrewd and calculating through the lenses of his Oliver Peoples specs.
To combat the sun, Muir dons a pair of equally timeless Ray-Ban aviator-style sunglasses with large gold metal frames. Ray-Ban currently offers the RB3025 L0205 Aviator Classic with dark green lenses for a cool $150.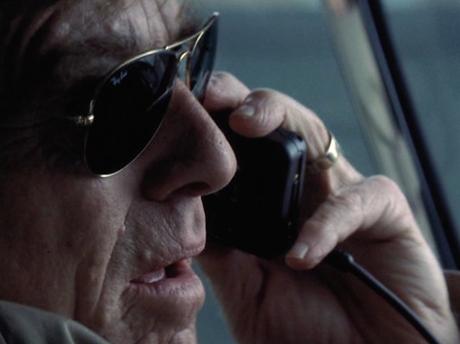 Yet another phone for Muir!
Muir's wristwatch is a 41mm stainless Victorinox Swiss Army Officer's 1884 with a white dial, firmly secured to Muir's right wrist on a stainless link bracelet.
Muir lets his accessories shine while enjoying his morning coffee.
Muir wears two rings. The third finger of his right hand sports the standard silver ring given to Redford by a group of Hopi Indians in 1966 that has featured in most of the films he's made since. A gold wedding band adorns the ring finger on his left hand, symbolizing both his actual marriage and the three additional fictional marriages he used for cover stories.
Go Big or Go Home
As he earlier told Bishop: "Technology gets better everyday. That's fine, but most of the time all you need is a stick of gum, a pocket knife, and a smile."
Spy Game puts plenty of focus on generations. The CIA top brass is comprised of ultra-reactionary conservatives looking to protect their agency and their reputation; Bishop represents the "new breed" of quixotic visionaries putting principles before power. However, both find themselves totally at the whim of Muir, the only character truly able to adapt to both generations as he blends modern tech with old school tactics and style.
Muir's commute finds him behind the wheel of a sporty '68 Porsche 912. The classic car predates all of the action in the film – including flashbacks – but he's still plenty comfortable on his cell phone while sitting in the driver's seat. (Interestingly, the phone Muir uses is a Nokia 2100 series, which wouldn't even be introduced on the market until 1994… three years after the film is set. IMDB is also quick to note that CIA headquarters' windows and walls were designed to block radio transmissions, thus rendering Muir's handy cell phone into a glorified paperweight by the time he gets to the office.)
Still, it's the old-time spy tricks that give Muir his edge around the office. It isn't a supercomputer that he relies on when blowing his life savings to save his buddy, it's a fresh bottle of single malt Glenlivet given to him as a retirement gift. And the simple act of leaving behind a pack of cigarettes allows him to get his hands on the files he needs.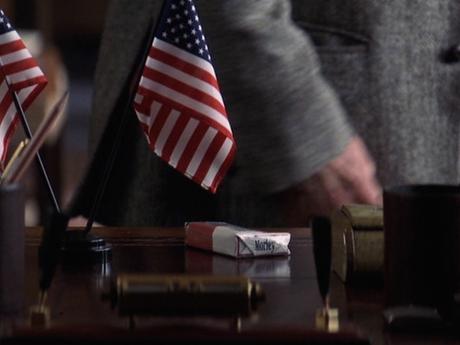 The twerpy assistant should have been tipped off that Muir was up to something given the fact that Morleys don't actually exist.
As Muir says: '"Feels good to break a rule now and then."
How to Get the Look
Love the Condor look but your office doesn't allow denim? Dress it up with a pair of slacks instead of jeans, and you'll be hoodwinking those heartless CIA directors in no time!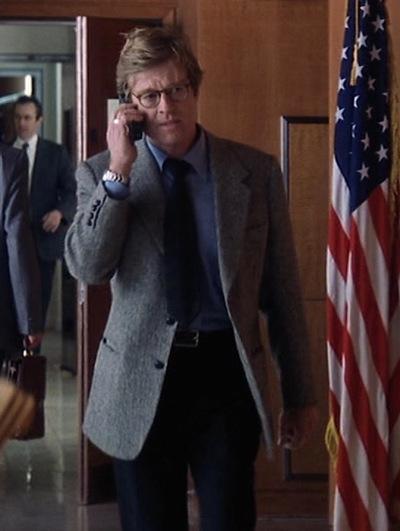 Black-and-white herringbone tweed single-breasted sportcoat with notch lapels, 2 black leather cluster button front, welted breast pocket, jetted straight hip pockets, 4 black leather cluster button cuffs, and double rear vents
Charcoal blue darted plain front trousers with straight on-seam side pockets, jetted button-through rear pockets, and turn-ups/cuffed bottoms
Blue chambray dress shirt with large spread collar, breast pocket, button cuffs, and center rear box pleat
Dark navy and olive brown horizontal-striped wool knit tie
Dark brown textured leather belt with rectangular steel single-claw buckle
Dark brown leather 5-eyelet cap-toe bluchers
Black dress socks
White ribbed cotton sleeveless undershirt
Dark khaki Burberry cotton gabardine drill double-breasted belted trench coat with button-down epaulettes, raglan sleeves, handwarmer pockets, and single rear vent
Victorinox Swiss Army Officer's 1884 wristwatch with stainless 41mm case, white dial, and stainless link bracelet, worn on right wrist
Silver Hopi Indian ring with black imprint, worn on right ring finger
Gold wedding band, worn on left ring finger
Oliver Peoples "Riley" tortoiseshell-framed eyeglasses
Ray-Ban RB3025 gold-framed aviator sunglasses with dark green lenses
Do Yourself a Favor and…
Buy the movie
.
The Quote
If I'm walking into a shit storm I wanna know which way the wind's blowing.
Footnotes
Since I spend so much time comparing Redford's look in Three Days of the Condor with that in Spy Game, how about you have a look for yourself?