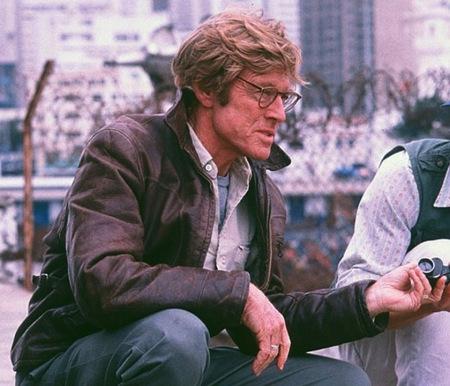 Robert Redford as Nathan Muir in Spy Game (2001).
Vitals
Robert Redford as Nathan Muir, shrewd CIA case officer
Beirut, Summer 1985
Film: Spy Game
Release Date: November 21, 2001
Director: Tony Scott
Costume Designer: Louise Frogley
Redford's Costumer: David Page
Background
Robert Redford finally teamed up with his spiritual successor Brad Pitt in the 2001 action hit Spy Game, directed by Tony Scott. Redford played Nathan D. Muir, the veteran CIA operative who took rookie Tom Bishop (Pitt) under his wing. Muir's cynicism eventually clashes with Bishop's idealism after nearly ten years on the job, and the two split after a morally disastrous mission in Beirut during the Lebanese Civil War.
The conflict in question that caused the rift in Muir and Bishop's relationship is known as The War of the Camps (حرب المخيمات), roughly setting the action depicted to summer 1985. Bishop has been undercover in the area as a photojournalist named "Terry", although his romance with the mysterious Elizabeth Hadley has been more than just a cover. When Muir arrives, he sees the danger in Bishop's budding relationship, and his ultimate solution to meet the mission's ultimate goal drives the two men apart.
In an interesting case of life reflecting art, the film had to move its production from Israel due to the escalation of the Israeli-Palestinian conflict in the fall of 2000, and the "Beirut" scenes were instead filmed in Morocco.
What'd He Wear?
Muir arrives in Beirut wearing a dark brown leather jacket constructed of a rugged cowhide that looks as well-traveled as Muir himself. Although likely vintage (or at least made to look so), it is classically styled with a comfortable fit and large shirt-style collar. It closes down the front with a dark brass zipper, and the cuffs are plain with no buttons, zips, snaps, or other frills.
The taciturn Muir.
Muir's leather jacket is very distinctive, particularly with the front yokes. Both sides have stitching extending horizontally from above the armpit before curving halfway across the jacket and falling vertically down each front panel of the jacket. In addition to the yoke, the left front panel of the jacket has a welted breast pocket that closes with a zipper. The jacket also has two slanted hand pockets above the waist line.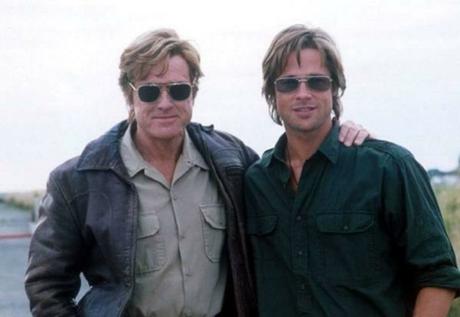 A photo of Redford and Pitt on set before Pitt's character leaves Beirut for another mission. Note that they are dressed differently here; Muir's clothing is much more military-inspired with his khaki service shirt and aviator sunglasses.
The back of the jacket is also distinctive with its self-belt, cinched rear waistband, and thin adjustable leather straps on each side that close with a small steel buckle.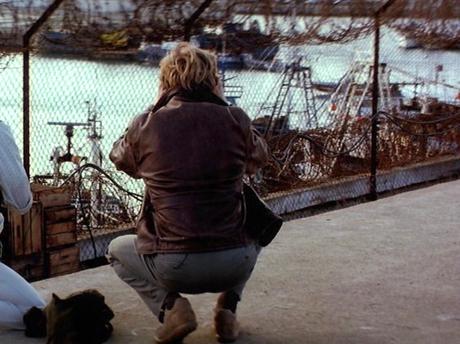 Muir's jacket is seen primarily in the Beirut scenes, but he is also briefly seen wearing it while training Bishop in Berlin in 1976, backing the thought that his rugged jacket has traveled with him for at least nine years.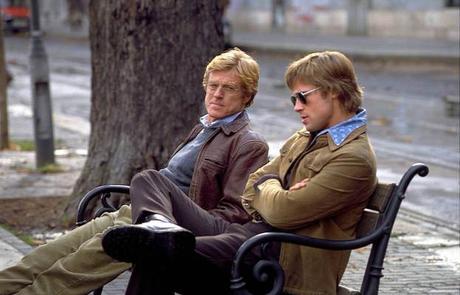 Muir and Bishop in Berlin.
America Suits has a replica available for around $130, but the site offers no photos or testimonials about the jacket in addition to the scanty description, so I can't testify as to whether or not it's an accurate replica.
Muir layers two shirts under the jacket. His base layer is a heathered gray cotton short-sleeve t-shirt, worn as an undershirt. Over the t-shirt, he wears a tan cotton utility shirt that buttons down a front placket.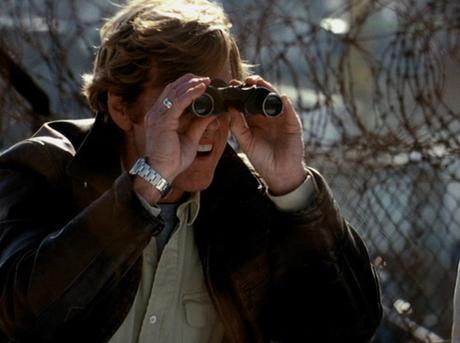 Sometimes, it's more efficient to just wear a pair of glasses.
Muir's utility shirt has a slim spread collar and large patch pockets on the chest that close with a buttoning flap. Edge stitching is present throughout the shirt from the collars and the pocket flaps to the placket and the rounded button cuffs.
Muir tucks both shirts into a pair of olive gray double reverse-pleated trousers with a medium rise. The trousers have on-seam side pockets and two jetted rear pockets that each close through a dark brown button. The bottoms are plain-hemmed with a short break to ease his movements as he darts in and out of destroyed buildings on his way to breakfast.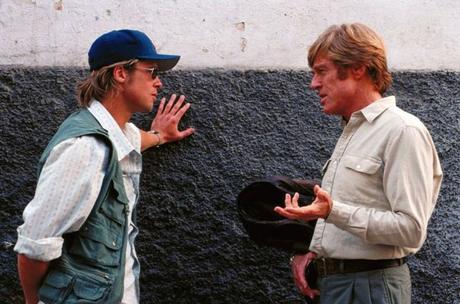 Another behind-the-scenes shot of Pitt and Redford, likely discussing what it's like to be a badass.
Distressed leather is clearly the basis of all of Muir's accessories. His belt is thick well-worn brown leather with a large rectangular dulled brass clasp.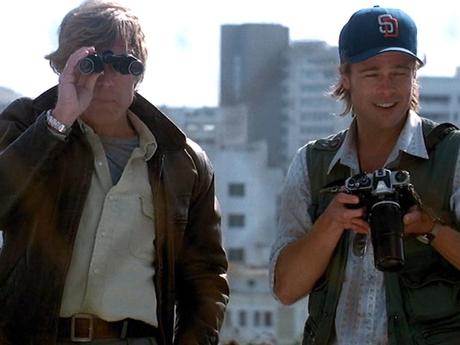 The fellas have a laugh while spying on dangerous terrorists.
The low boots he wears in Beirut are also – you guessed it – distressed brown leather. Muir's boots have a sueded finish, tan laces, and light brown leather soles. He wears them with a pair of dark brown socks.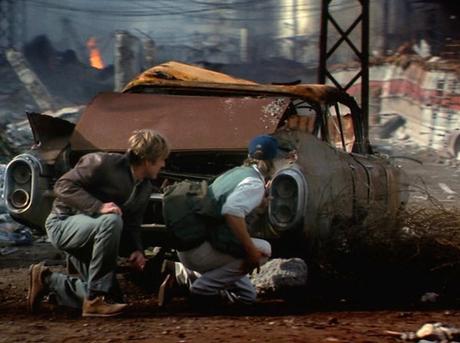 Not a place to wear your finest Oxfords, as a seasoned traveled like Muir would know.
Muir accessorizes more than some of the BAMFs we see on the blog, but it's all mostly functional. The watch on his right wrist is a Victorinox Swiss Army Officer's 1884 with a 41 mm stainless case, white dial, and stainless link bracelet.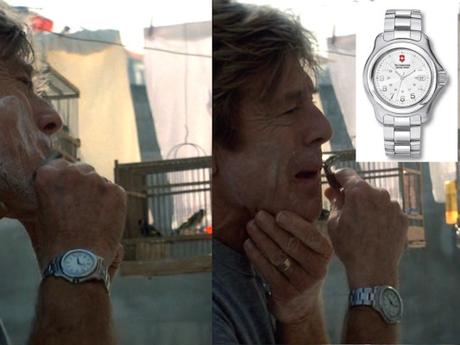 As a Victorinox watch wearer myself, BAMF Style approves this placement.
The one mostly decorative accessory of Muir's is the silver finger on his right ring finger that Redford explained to the Hollywood Reporter last year:
It's a very small silver ring that was given to me by Hopi Indians in 1966… Every film I have done since 1968, I've had that ring on my right-hand ring finger.
We've noticed.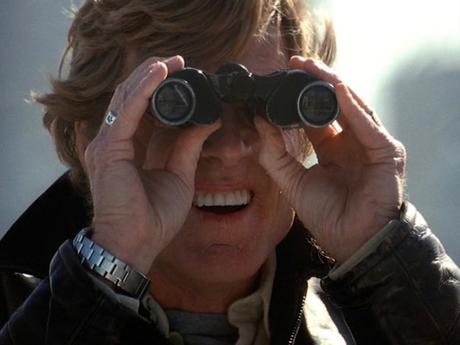 This shot offers one of the best views of Redford's famous silver ring.
On the opposite hand, Muir wears a gold wedding ring, presumably to match his cover as a frice married man.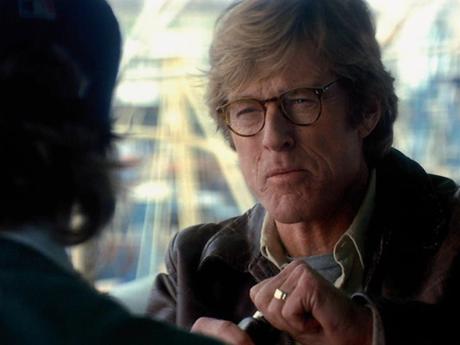 Redford also sports a pair of stylish Oliver Peoples "Riley" brown tortoiseshell eyeglasses throughout the film. Although Oliver Peoples wasn't founded until 1986, the frames certainly look like something a classic spy like Muir would wear. It also makes sense that OP would make an appearance since Brad Pitt is known to be a big fan of the brand himself.
Go Big or Go Home
Muir and Bishop bantering and dodging bullets as they head to breakfast among the rubble is very evocative of a similar scene more than thirty years earlier when Newman and Redford did the same thing in Butch Cassidy and the Sundance Kid (albeit, Butch and the Kid were trying to escape breakfast).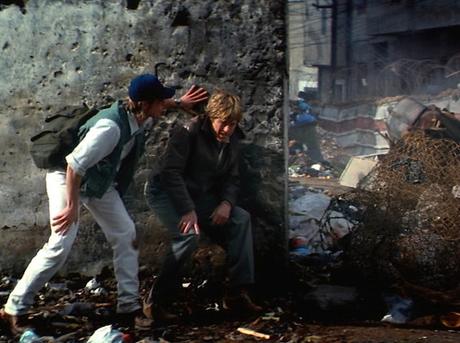 Bishop tries to talk Muir into going to Australia- nope, wrong film. Bishop tries to talk Muir into going for migas.
Once they get there, Bishop impresses his mentor with the gift of a flask, full of Scotch. Almost makes me wish I was someone's mentor…
Bishop: Happy Birthday, Nathan. Did you know Langley has seven different birth dates for you?
Muir: And they're all wrong.
Bishop: I know. Believe me, it wasn't easy. KGB, Mossad, also wrong. Fortunately, I was well trained.
How to Get the Look
Going into hostile territory? You'll want to be prepared with a badass, functional look.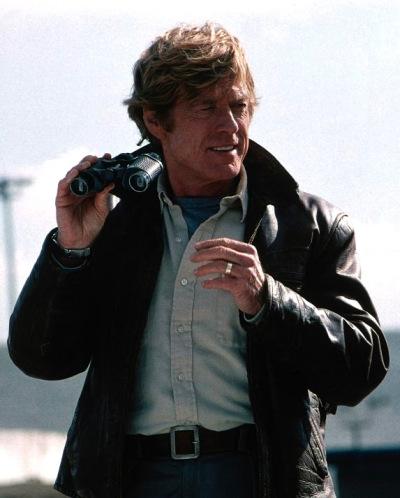 Dark brown cowhide leather jacket with collar, brass zip front, curved front yokes, zip welted breast pocket, slanted hand pockets, belted rear, buckle side adjusters, and plain cuffs
Tan cotton utility shirt with spread collar, front placket, flapped button-down patch pockets, and rounded button cuffs
Heathered gray cotton short-sleeve crew neck t-shirt
Olive gray double reverse-pleated trousers with belt loops, on-seam side pockets, button-through jetted rear pockets, and plain-hemmed bottoms
Thick brown leather belt with large dulled brass buckle
Brown sueded leather 5-eyelet low boots with tan laces and light brown leather soles
Dark brown socks
Victorinox Swiss Army Officer's 1884 wristwatch with stainless 41mm case, white dial, and stainless link bracelet, worn on right wrist
Silver Hopi Indian ring with black imprint, worn on right ring finger
Gold wedding band, worn on left ring finger
Oliver Peoples "Riley" tortoiseshell-framed eyeglasses
Do Yourself a Favor and…
Buy the movie
.
The Quote
Seventy-four casualties, an apartment block leveled, one dead terrorist? Yeah, happy.