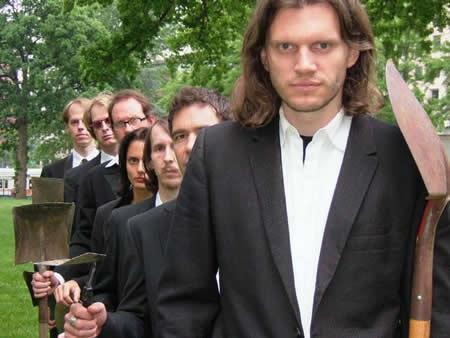 photo: April Sauerwine
Spottiswoode & His Enemies return to The Living Room in New York, playing two sets each night. Each night is dedicated to a particular type of music.
03/09 Rock and Roll Night
Greatest hits and songs from their ffth CD, Wild Goosechase Expedition. Showcasing the explosive rhythm section of Tim Vaill on drums and John Young on bass.
03/23 Lounge Night
Highlighting the brassy lyricism of Kevin Cordt on trumpet and Candace DeBartolo on saxophone.
04/07 Gospel Night
The band will be joined by a gospel backing chorus that includes Alexis England (Stevie Wonder) and the remarkable Martha Redbone.
04/21 Folk Night
Pastoral ballads and anthems from the band's next CD (due for release in late 2012).
With Tony Lauria on accordion and producer Riley McMahon on mandolin.