BEAUTY-SHOPPING
❤ ❤ ❤ ❤ ❤ ❤ ❤ ❤ ❤ ❤ ❤ ❤ ❤ ❤ ❤ ❤ ❤ ❤ ❤ ❤ ❤ ❤ ❤ ❤ ❤ ❤ ❤ ❤ ❤ ❤ ❤ ❤
In this post, know how to spot a fake MAC product so you can save up for your next splurge at real MAC Store. MAC being one of the most popular beauty brands among makeup lovers, MAC has a huge fan following and buyers all over the world. This popularity leads to counterfeiting of the MAC products and 8 out 10 of you readers own at least one fake if you bought MAC products apart from authorized MAC Store.
Counterfeit MAC makeup could be toxic and
putting consumers' health at risk.
eBay has thousands of MAC products for sale and the Internet is filled with sites selling suspect MAC products at ultra cheap prices. the counterfeit products could be harmful to your health because some have been found to contain unsafe levels of several chemicals. They can contain lead, mercury, cadmium, copper, beryllium, so these can be potentially very toxic.
Fake MAC Products Photos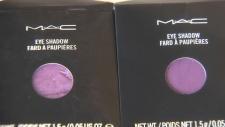 Here are 9 pointers to remember before you buy a MAC product next!!
1. MAC doesn't offer its products through individuals, street vendors, flea markets, internet auctions, independent boutiques or unauthorized online retailers. [1]
2.  Fake MAC will contain product that looks cheap and crumbly. [1]
3. The back of real MAC product has magnet instead of fake leather. [1]
4. The real MAC product has finer net weight lettering. The font on the fake package is thicker and pushed together. [1]
5. Website
CheapSmells.co.uk
  was found to be selling fake MAC products. [Source: 2
]
6. Fake MAC products might have screw top against to real MAC products with flip top.
7. Real MAC products never come with applicator or mirror. 
8. Fake MAC Lipstick. Left one is fake and right one is real. You can spot the difference easily, can't you? [3]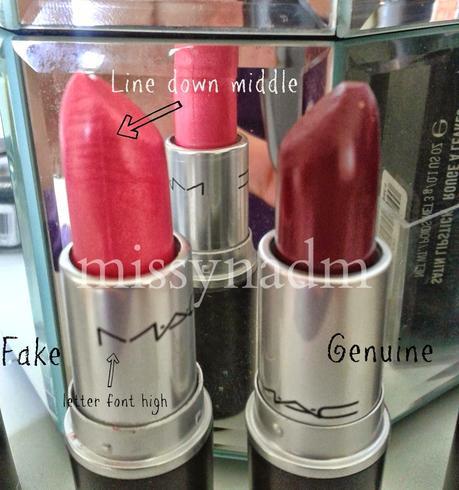 More on fake MAC lipsticks.
9. Fake MAC eye-shadows are usually weighed 1.5g and products looks pale. while real eyeshadows will usually be weighed as 1.5g and 1.3g. [4]
If you suspect someone's trying to sell you fake MAC makeup you can report it to MAC cosmetics by calling 1-800-387-6707. MAC says it takes counterfeiting seriously, filing civil actions in court and partnering with law enforcement agencies to file criminal charges.
Till later…
♥ Jiya
1
2
3
4
Like this Post? Love online shopping? Stay updated via- - See more at: http://www.shoppingstylenus.com/2014/12/livon-moroccan-silk-serum-launch.html#sthash.1h2C4qxn.dpuf
Like this post? Stay updated with more Shopping and Style inspirations.
EMAIL   FACEBOOK      TWITTER      GOOGLE+ 
Disclaimer:
To know more, please read my
Disclosure Policy
.