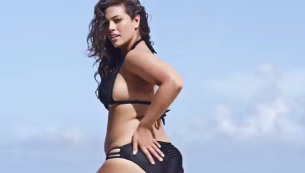 Sports Illustrated is allowing a company that makes bikinis for plus-sized women to 
purchase ad space
 in their upcoming swimsuit issue -- and the internet is acting like the magazine has just discovered a cure for cancer. How progressive! They're allowing a company that makes plus-size bathing suits to pay them to be on their pages. Thank you, Sports Illustrated for sort of giving men everywhere permission to jack off to a beautiful, big ass. As a feminist, this is truly one of the most important days of my life.
Ashley Graham
 is a gorgeous, size 18 model. She's appearing in the campaign #curvesinbikinis. Sports Illustrated is taking money from a company to run an ad with a plus-sized woman in it. 
Bravo Sports Illustrated! Bravo! So Brave!
 Here is a video Bikinis For All made to celebrate her inclusion in SI's famous issue. By the way, this company is the one we should really be applauding. Their bathing suits are awesome.
We are so far gone with this narrative that curvy women are somehow "fringe" and not the status quo, that we are willing to heap a ton of praise on an issue of a magazine that is made 
for men
 and simply serves to reduce women to tits in a bikini, for 
allowing
 a super sexy woman to appear
 in an ad
 on its pages. The Huffpost wrote an article about the ad titled, 
Ashley Graham's Historic Plus-Size Ad Runs In Sports Illustrated's Swimsuit Issue. 
Historic? Why? Is this really an important moment for women? The moment that Sports Illustrated decided it would kind of admit women with curves were sexy by allowing them to appear in the pages of their coveted issue?Sorry to burst everyone's bubble, but this is not a great victory for women. Carry on.I suppose I can't write about the "historic" ad without mentioning the "historic" inclusion of a "plus size model" among the ranks of the the models Sports Illustrated is actually paying to pose on their pages this year. But, I'm totally ignoring this non-news, because this woman...
Do you think this is #plussize. Meet #robinlawley the women inside #SIswimsuitIssue who is a size 12! What ya think pic.twitter.com/RxGSLfvkSo
— Sukanya Krishnan (@SukanyaNYC) February 6, 2015
...
is NOT plus size
. Can everyone just stop drinking the Kool Aid? 
Robin Lawley
 is gorgeous, and a size 12. Look at her! Is there something ground-breaking about that body being on the pages of the Sports Illustrated swimsuit issue? If there is, we really have gone collectively mad.