Photo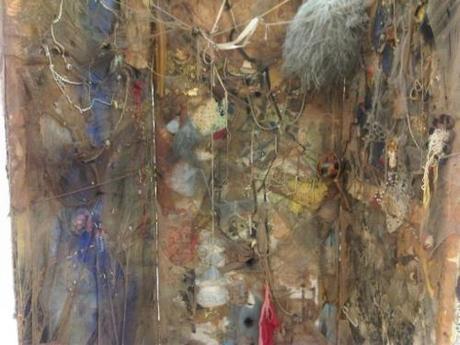 Zoom
SPOOKY THEATRE
This exhibit at the George Pompidou in Paris was a very emotional one for me.
In the photo you can not totally experience its sadness; but subtly hidden under & entwined with layers of stockings which give the effect of many years of dust and spiders web, is a story of times gone by. Hidden in the layers which cover a dressing screen, there are pearls, tassels, feather bowas, bits of costume, hats, fans and much much more. All artifacts from a theatrical dressing room from perhaps the 1920s. It all seemed like it had been forgotten, but I got this eery feeling, i could feel the backstage vibe, hear the music and smell the makeup, the perfume & smoke that would have filled any 1920s setting.
There were theater programs and news paper clippings which you couldnt read due to the stocking layer - which I loved. it was amazing how the artists used the artifacts in a way that it changed the whole feeling of the piece.
xoxo LLM