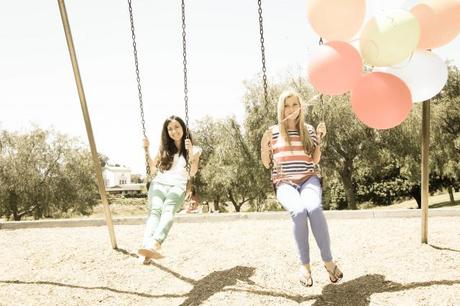 The blogging community is a crazy big place; but as it turns out, it's also teeny-tiny small. While out to lunch with my dear friend, Amanda, last September, she lit up and asked, "Have you heard of The Short & The Sweet of It? It's my friends' blog - you'd love it!" A few months later at the SoCal Blogger Meetup in San Diego, I ran into Kirby and Alexa in person, and we've been in touch ever since. I can't say enough about how sweet and dedicated these girls are to their brand (inspire much)? Read on to learn more about these amazing ladies, and don't forget to stop by their blog to say hello!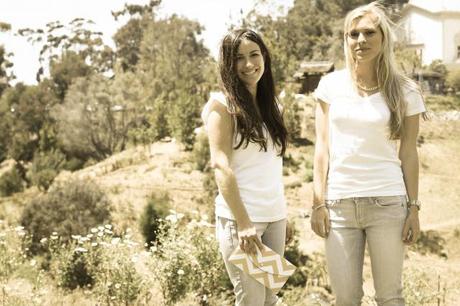 Q: How did you two start working together? Was the blog always in the picture?
A: We met in 2008 while working at the same internet marketing company. Over the next two years, we developed a friendship outside of work and discovered that we were both struggling to find a place to explore our creativity. One day in February 2010 it just clicked - we wanted to start a blog! Two months later we launched The Short & The Sweet of It, and it's developed into more than we ever thought it would be!
Q: Tell us a little about yourselves.
A: Alexa: I always wanted to work for the New York Times. That career change seems pretty out of the cards at the moment, being that I'm a part-time copywriter, part-time blogger and full-time mom! My favorite magazines are The Economist and Cooking Light (because seriously, what's better than in-depth world analysis and low-calorie brownies)? I'm also kind of a wine snob. I like my Dad's Tempranillo the best; then my brother's Petite Sirah, followed by an Argentinian Malbec and a German Riesling. My idea of the perfect dinner is a big bowl of pasta and meatballs with one or two bottles of the above wine selections and 25 Italians all talking at the same time! I used to run 10 miles a week, and then I had a baby. Now we go on long walks, pick flowers and watch the dog chase the ball (which is a decent replacement). I used to travel a lot as well – now I dream of traveling a lot! My husband and I have a nice long list of destinations on our bucket list to explore with our children someday; and a nice long list of destinations that we'll explore someday without our children. I can't wait for it all.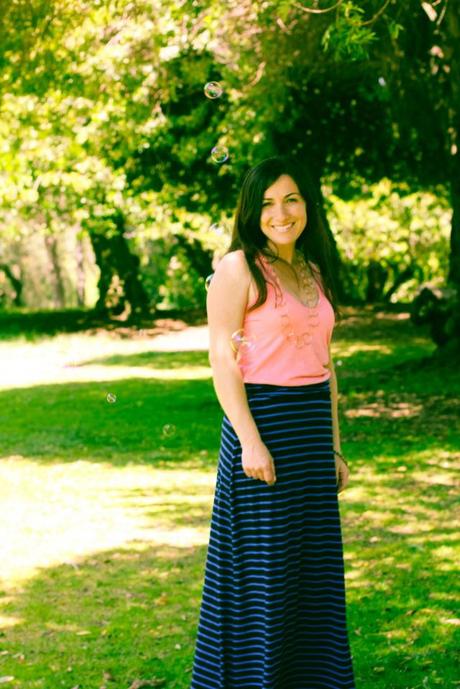 Kirby: I always wanted to work for Vogue. While I still pour over my issues of the fashion magazine every month, I currently work at a digital media company and love my job (a first since graduating college). My company purchased Myspace, so I've been able to see firsthand how we're re-imagining the site. It will launch later this year and I can't wait! Because I spend so much time in front of my computer at work and with working on the blog, I try to get outside and run as much as I can. I was able to study abroad in college and travel to more than eight countries in just three months, so now the beau and I try to go on one big trip each year (we're thinking Australia for 2013)! I also take a trip with my best group of girlfriends each year, and planning both of those trips is half of the fun for me. Aside from traveling, I spent a lot of my time visiting friends and family (like my baby niece and nephew) scattered around the state and country. And I try to see as many concerts and visit as many new restaurants as possible!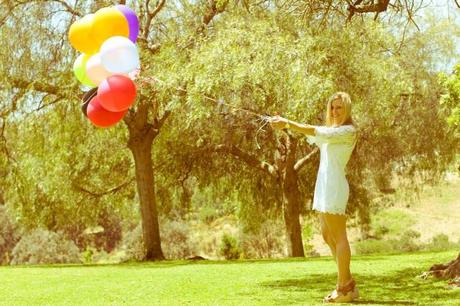 Q: What's it like partnering with each other?
A: It's perfect having a blogging partner because it means sharing responsibilities. Having a blog is a lot of work as it turns out! But each week we stick to our posting schedule and Alexa steps in to help when Kirby is working long hours at her job, and Kirby steps in when Alexa thinks she might go insane with the demands of parenting. We also share an email account and have a Google calendar that helps us plan and organize our guest posts and giveaways. Probably the best part about having a blog partner is "blogging dates," which usually amount to evenings with wine and cheese. And really, what's better than that? :)
Q: How do you stay inspired?
A: Alexa: The main way I stay inspired is through other blogs. I have such an extensive reading list and my favorite ones are those that challenge me to be adventures, to try a new style, to read a book I might have shied from, or to whip out the paint and create.
Kirby: I agree with Alexa. I am constantly in awe of other bloggers. I must admit that sometimes it makes me feel inadequate because I can't devote all of my time to blogging; but my heart still leaps when I see a post I am particularly proud of published!
Q: How would you like to see your brand grow?
A: We've come a long way since the initial days of The Short & The Sweet of It. Our close friends and parents were our only loyal followers, and now that we are nearing the 1,000 mark, it all seems sort of surreal. We love partnering with exceptional brands and shops and I think we are always looking to welcome more advertisers and sponsors. But really, as long as we continue to cater to our readers and keep our true voices, we'll always be proud of our work.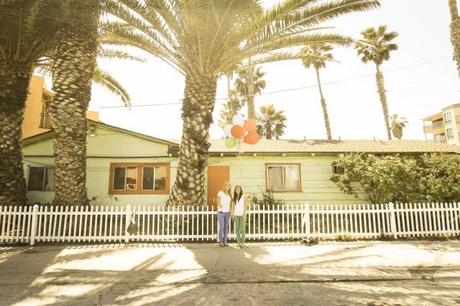 Q: Any exciting plans for the next few months?
A: We recently launched a monthly series where we feature a new guest blogger at the start of each new month. She covers food, drink, fashion, travel, decor and inspiration and we are so excited to have some of our favorite bloggers on board. We also have some pretty awesome giveaways on the books for the rest of the summer!
Q: Do you have any advice for those looking to explore creative careers?
A: It's easy to get stuck in a nine-to-five mold, where life seems to stagnate a little. Whether you're trapped inside a cubicle or whether you're planning dinners, doing laundry and cleaning the house, everyone needs an outlet. The key is to look around and find those little (or big) things in life that catch your eye. Then pick up a pencil, grab a paintbrush or buy a blog URL and start creating!
Interested in becoming a sponsor like Kirby and Alexa? Email nookandsea@gmail.com and download the most recent media kit for rates and advertising information.