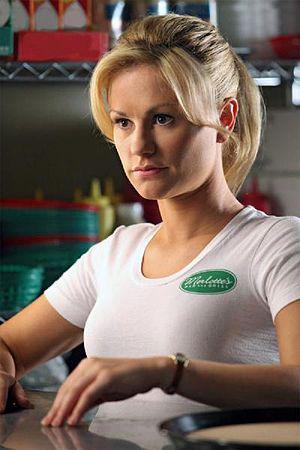 Image via Wikipedia
08/04/2011
Not sure about you but Sunday seems like forever away doesn' it? Ever since last weekends love fest featuring Sookie and our favorite amnesia-having Viking, I am chopping at the bit waiting to see what is next.
Next week brings us more:
Marnie/Antonia witchery – sounds like she is going to kill the security guard since they have "unfinished" business. Not only that but homegirl has a bone to pick with all vampires and with the help of Marnie plans to make sure they all suffer for what she had to go through.
Personally, not really interested in the witch story – even though, I love Jesus and Lafayette's part of it. And guess what, there will be more of Lafayette's embracing his somewhat supernatural self. Never knew folks could bond over witchcraft but this is Bon Temps, after all.
Eric still has amnesia and hopefully he and Sookie are still wrapped in their love bubble. Hopefully, they have moved from the woods to the shower. Oh yes, still on the look out for that scene.
Sexy baby-vamp Jessica is doubting her future with her being able to feel Jason, it is not that surprising. Unfortunately for Hoyt, it doesn't seem like he'll be getting any kind of breaks anytime soon and now, he has to watch out for his best friend! Poor fella.
Alcide & Debbie? Well, they'll be Alcide and Debbie. Not sure how this new pack is going to work out for them but I prefer watching the werewolves over those werepanthers any day.
The rest of the synopsis discusses Luna discovering Sam is not the man she thought he was; Pam gets a body peel and Andy's date with Holly doesn't go as planned.
Truebies, can't wait for this Sunday! Check back next week for the reviews and some more spoiler goodness.
Ep. 43 – Preview