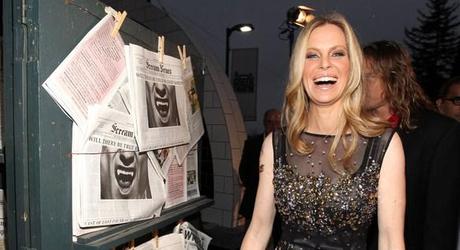 Hey Truebies! I have some spoilers for you and while they aren't about True Blood season five, they are related to Kristin Bauer van Straten's (Pamela Sywnford de Beaufort) appearance on Once Upon a Time. Last week, I reported that Kristin was cast as Maleficient better known to us as the witch who cast the evil spell on Sleeping Beauty. Thanks to Michael Ausiello's Ask Ausiello column, we now have an idea of what Kristin's character will be up to:
My crystal ball is showing me… a catfight of mythic proportions! "In our world, Maleficient is the Evil Queen's oldest friend — and someone she wishes would just drop dead," reveals exec producer Edward Kitsis. "That's what happens when evil befriends evil." Adds fellow EP Adam Horowtiz: "To go to toe to toe with our Evil Queen we needed an iconic character — which led us to introduce Maleficient. And as huge fans of Kristin's we couldn't imagine anyone better to come in and bring her to life."
Aww! It's nice to know that others appreciate Ms. Bauer van Straten just as much as we True Blood fans do! Will you be setting your DVR to see Kristin on Once Upon A Time? Tell me in the comments below!
Source: TV Line.com- "Ask Ausiello: Spoilers on Bones, Gossip Girl,Vamp Diaries, Walking Dead, Glee, SVU and More!"
Image Credit: Christopher Polk, Getty Images