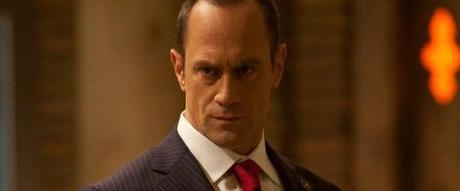 Christopher Meloni opened up about his character Roman, who will make his debut when True Blood season 5 premieres on June 10th, with TV Guide recently. In his first post- SVU television show, Meloni plays the 500 year-old vampire head of the Authority, the vampire government structure and religion and he hit the ground running speaking another language:
 "My first day on set, I recited a prayer in Aramaic."
But creator Alan Ball says that Roman is more than just a religious head, he's also a politician:
"Roman is a politician who has a dream. He was behind the coming-out-of-the-coffin [movement], something that's been in the works for at least a hundred years. But there are factions in the vampire community who want to go back to the Dark Ages and feed on humans. The biggest arc in Season 5 is the future of peaceful coexistence."
However, peace is not an easy thing to achieve according to Roman's portrayer:
"Roman's determined. He wants peace, but others have been trying to stomp out his path. Think Obama with very long incisors."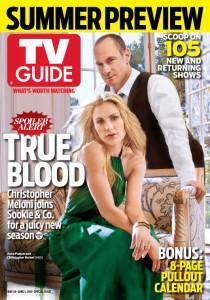 On the night TV Guide's Kate Hahn was on set, Meloni's character was charged with staking a vampire who was a fundamentalist and traitor to the Authority in a sleek conference room that is part of an underground compound Alan Ball nicknamed, "The Vampire White House."
As for how Roman compares to Meloni's former role on Law and Order SVU:
"Elliot was free-form. Roman's more thoughtful — yet unafraid to pull the trigger. He's a man of action. Get the facts; get it done. But they both have a certainty of their view. They both think they're right."
One thing Roman has to deal with is the return of Russell Edgington (Denis O'Hare) which he isn't happy about because he was supposed to be killed and according to Hahn:
A major obstacle to Roman's political agenda has arisen, literally, thanks to two bloodsuckers fans know and love: King of Louisiana Bill Compton (Stephen Moyer) and Sheriff Eric Northman (Alexander Skarsgård). At the end of Season 3, the two buried crazed former vampire King of Mississippi Russell Edgington in cement instead of killing him as ordered. Now he has escaped, and Bill and Eric are dragged before Roman for judgment. (It doesn't help that they also killed the Authority's Nan Flanagan (Jessica Tuck) last season.) They bargain for their survival by offering to track Russell down and bring him in.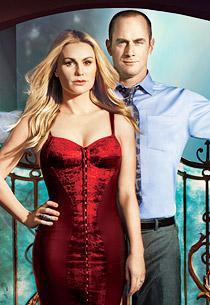 However just because Bill and Eric are working together doesn't mean they've forgotten about Sookie (Anna Paquin) and her choice, Stephen Moyer says:
 "Bill has lost the thing that he believed in most, and he now is trying to find something else to believe in…There is an unlikely liaison at some point."
But don't expect Sookie to fall into anyone's arms. She doesn't team up with Bill and Eric until mid-season when they need her mind reading skills. Paquin says of Sookie:
"She's trying her best to be independent and stand on her own, for better or worse…She wants to eliminate drama from her life."
18 days left and counting Truebies! Excited yet?
Source: TV Guide.com- "On the Set: True Blood Raises the Stakes For Its Most Intense Season Yet"
Image Credits: HBO, Inc/TV Guide