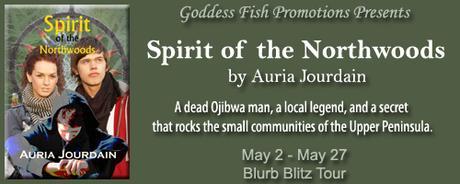 Spirit of the Northwoods
by Auria Jourdain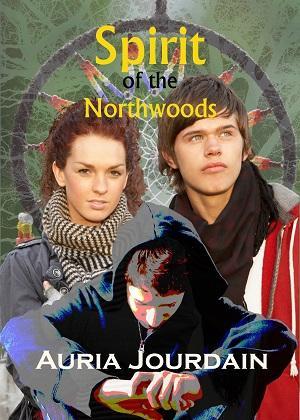 GENRE
: Young Adult
BLURB:
Struggling to settle into a new school, junior Shannon Colfax finds herself entangled in a feud with popular football jock Brent Duray after he bullies her autistic twin brother, Shane. After an unlikely savior comes to her rescue—Brent's friend, Cody Williams—the jock and his entourage devise an immediate retaliation plan: Duray promises to leave Shane alone if Shannon and Cody survive the infamous Paulding Light Challenge on Halloween night. Desperate for vindication, they take the dare...but are the local legends truly paranormal, or are they dealing with something more sinister?
EXCERPT
"Bye Shanna!" Shane yelled again, looking at the ground as he waved at his sister.
"Bye, Shanna!"
 Shannon whipped around, ready to throttle the sarcastic bully that dared mock her brother.
"What an idiot! Who the hell would tease an autistic boy?" Christa stood on her toes, her lips lifting into a sneer. "Idiot is right. Look who it is!"
 As the culprit emerged from the crowd, Shannon glared at Brent Duray, the school's most popular jock. His girlfriend, a petite cheerleader with blonde, blown out hair and a toothpick waist, walked next to him, smirking at Brent's teasing. As usual, the arrogant football player's entire entourage followed close behind—mostly members of the football team. Shannon balled up her fists and cursed under her breath.
Christa tossed her head, scoffing in derision. "Duray's a jerk. Let it go, Shannon."
The tall, blond boy sneered. "Yeah, Shanna, let it go."
Shannon's face flushed with anger as she glared at Brent menacingly. She and Brent had been oil and water from day one when she overheard him teasing her twin. The senior linebacker refused to back down, and they'd been mincing words ever since.
"Leave them alone, Brent. You are acting like an idiot."
Glancing over Brent's head, Shannon frowned, unable to recognize the voice that had called out from the back of the crowd. "Who is that?"
"Cody Williams!" Christa's face lit up as Duray turned toward the dissenting voice, her excited whisper echoing in Shannon's ear.
AUTHOR Bio and Links: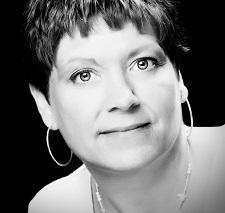 An avid reader from an early age, Auria Jourdain has fond childhood memories of spending quiet afternoons with a book in her hand. She loved the "happily ever after" sweet teen romances, and when she came of age, she plunged into the world of historical romance with fervor, transporting herself to a bygone time. Her favorites were Regency, but as a girl brought up in a common home, she was disheartened that most of the novels of this era focus on the nobility and wealth. Auria set out to write her own romance, encompassing her passion for French Revolutionary history and her innate sense of goodwill for the common man. An idealist at heart, she writes heroes and heroines that struggle to find acceptance in their world.




To go along with this theme, two years ago, Auria wrote a Young Adult novel during NaNoWriMo for her 17 year old autistic son who is struggling to make his own way in the world. Looking to educate people about this mysterious disorder, she wrote Spirit of the Northwoods for him and set it in their hometown in the Upper Peninsula. Her release coincides with Autism Awareness month, April 2016, and all proceeds for this novel will be donated to the Autism Society of America. Auria hopes that someday we can break down the social barriers and forgo stereotypical judgments that harm our world so that people like her son can form positive relationships with others.




Auria lives in the Upper Peninsula of Michigan with her husband of twenty years, her four children (ages eight to eighteen), and two golden retrievers. A rather new transplant to the area, she loves the changing of the seasons, and she is currently working on a contemporary romantic suspense trilogy set in her rough and rugged homeland. Silence the Northwoods is set at a local ski resort in her hometown of Ironwood, Michigan—the ski capital of the Midwest. Silence the Waters takes place during the summer on the dangerous river ways that flow into Lake Superior in the Keweenaw Peninsula; and Silence the Birchwoods is an autumn tale set on Sugar Loaf Mountain, near Marquette, Michigan. All three involve murder, mystery, and romance, of course.




Auria spends her the long winters plotting and scheming her next book, and in the mild summers, she and her husband devote every waking moment hiking and kayaking the Northwoods. An amateur photographer, she lives fifteen miles from the shores of Lake Superior, and her muse has been piqued by the awe-inspiring beauty that surrounds her. Although she hasn't officially acquired "Yooper" status yet, she can't envision living anywhere else.




Find me here!

https://www.facebook.com/auriajourdainbooks/

https://twitter.com/

AuriaJourdain

https://www.auriajourdainromance.com/

https://amazon.com/author/auriajourdain




GIVEAWAY




Auria Jourdain will be awarding a $20 Amazon/BN GC to a randomly drawn winner via rafflecopter during the tour.


a Rafflecopter giveaway