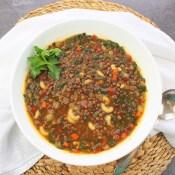 Ingredients:
2 tablespoons olive oil
1 cup chopped onion
1 cup diced celery
1 cup diced carrot
5 cloves garlic, chopped
2-3 bay leaves
1 teaspoon salt
1/2 teaspoon black pepper
1 teaspoon dried marjoram leaves
15 ounce can diced tomatoes, undrained
12 ounces dried French green lentils
10 cups beef broth or vegetable broth
10 ounce package frozen spinach, thawed and drained
1/2 cup uncooked macaroni pasta
Method:
Heat oil in soup pot and saute the carrots, celery, onion, and garlic until onion softens.
Stir in the bay leaves, salt, black pepper, marjoram leaves, can of diced tomatoes, lentils and beef broth.
Bring to a boil, then reduce heat, cover and simmer for one hour or until lentils are tender.
Stir in drained chopped spinach and uncooked macaroni.
Cook for ten minutes more.
From the kitchen of palatablepastime.com