For this month's #Food of the World event, we are going to South Korea. The town we live in has a large Korean population in fact one of our next door neighbors are Korean. We have a very big Korean grocery store in town (actually that is the only store we have in town) and they have pretty much everything you need to make a Korean dish at home.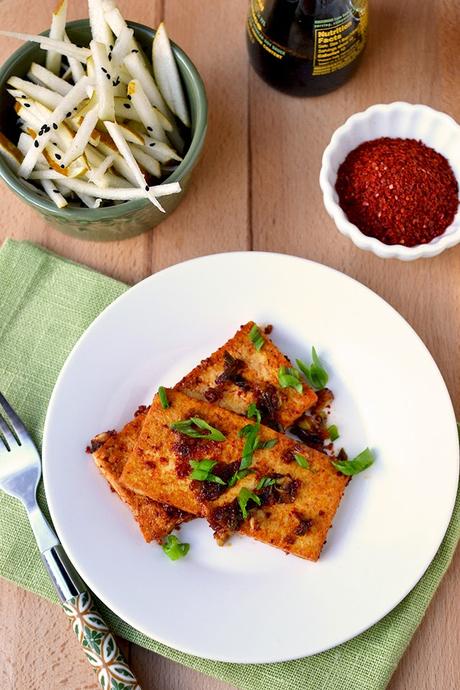 For today, I actually wanted to make another dish and bought the ingredients too. It was a cold noodle dish and the noodles I bought completely clumped up after boiling. Not sure what went wrong and then I had to change plans and make this tofu.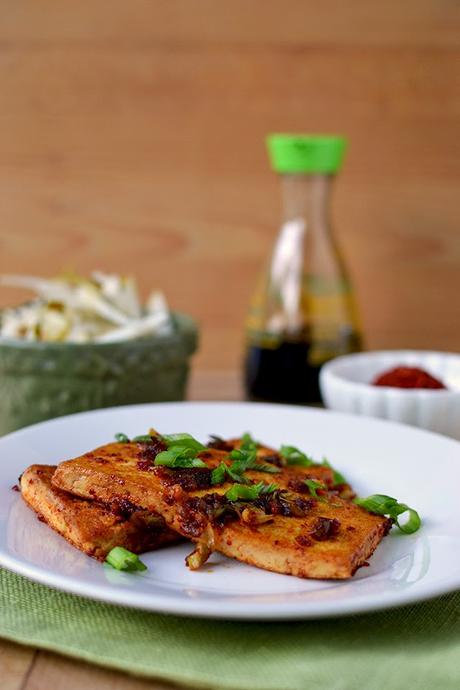 I'm glad I tried this dish because this is probably the best tofu I've ever made. Recipe is from
Vegetarian Times magazine
. It uses Korean red pepper powder called gochugaru -- it has a distinctly sweet heat and is worth seeking out. Luckily I picked it up on my previous grocery trip and it sure makes a lot of difference in the taste.
This is a very easy and quick to make dish that comes together in less than 30 minutes. The spicy braised tofu is served with sweet & crunchy pear slaw. My husband liked the whole dish and this will be featuring on our weekly menu going forward.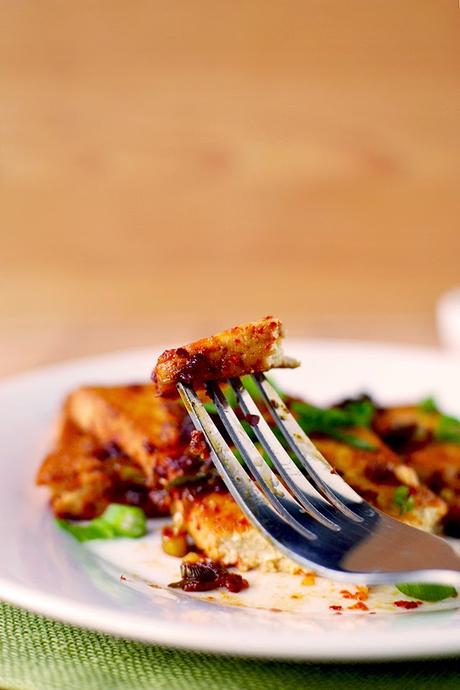 Recipe from here
:
Ingredients
:
For the Tofu
:
Firm or Extra firm Tofu - 1 14oz., pack, drained and patted dry and cut into 8 rectangular slices
Low sodium Soy sauce - 3tbsp
Korean red pepper powder (gochugaru) - 1tbsp (or use 1½tsp red chili flakes)
Maple Syrup - 2tsp
Rice Vinegar - 1tsp
Green Onions - 2, thinly sliced
Garlic - 2 cloves, finely minced
For the Pear Slaw:
Pear (Bartlett preferred) - 1, sliced into matchsticks (I used Anjou Pear)
Rice Vinegar - 1tsp
Black sesame seeds - 1tsp, toasted
Method
:
To make the tofu: Heat 1tbsp toasted sesame oil in a large nonstick skillet on medium heat. Add the tofu in single layer and cook for 7~9 minutes on each side, until golden brown.
In a small bowl, whisk soy sauce, maple syrup, rice vinegar, gochugaru and 3tbsp water. Stir in the scallions and garlic.
Pour the sauce over the tofu, reduce the heat to medium-low, cover the skillet and cook for 5~7 minutes, or until most of the sauce is absorbed. Flip tofu halfway through cooking.
To make Pear Slaw: Toss pear matchsticks with rice vinegar and sesame seeds.
To serve: Arrange 2 tofu rectangles on each of the 4 serving plates and top each with the par slaw. Serve right away!!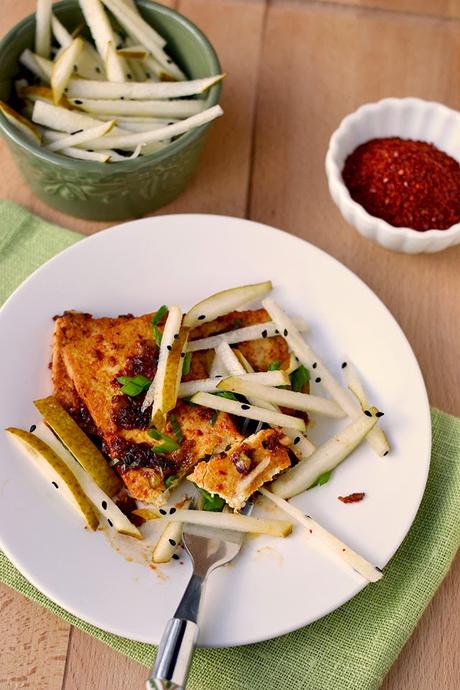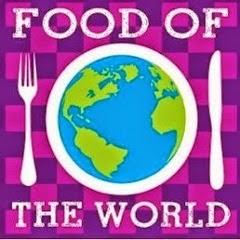 Please visit our cohosts blogs and follow their sites!  Diane: 
http://www.simplelivingeating.com
  Adelina: http://www.homemaidsimple.com  Shey: 
http://justnotthecakes.blogspot.com
  Lisa: 
http://cookingwithcurls.com
  Mireille: 
http://www.eastwestrealm.com
  Usha: 
http://www.myspicykitchen.net
Pavani: 
http://www.cookshideout.com
Submit your Korean recipes using the linky tool below:
An InLinkz Link-up

Subscribe to our mailing list