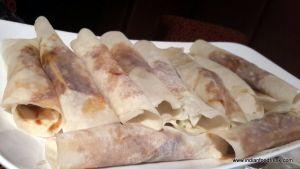 Blue Ginger, Taj Palace's Vietnamese restaurant, has been replaced by Spicy Duck from 10th September, 2016. It is lead by two expat Chefs Cheang Chee Leong and Chee Kuai Oon who specialise in duck and dim sums respectively. So, needless to say, one hopes to see some great duck and dumpling dishes on the menu.
The name Spicy Duck gains its inspiration from the Duck that signifies freedom, happiness and fidelity in China. The cuisine at Spicy Duck reflects the specialties of the Taishan and Chengdu sub-regions of Sichuan and Canton province. Homemade concoctions and infused oils for cooking with minimal use of condiments are used at the restaurant kitchen. Most of the ingredients and raw materials are being sourced from China to keep the food most authentic. For instance, the duck is imported as the ducks here have very little fat on them – the duck should be at least 2.2 to 2.4 kgs to have enough fat. If you are looking for Punjabi Chinese then you are definitely in the wrong place – this is authentic Chinese.
With over 72 covers including the private dining area and the use of orange as a theme colour, the restaurant has a contemporary Chinese look. I had been invited for a chef's table along with other bloggers/journalists. We were seated in the private dining area which had a huge round table.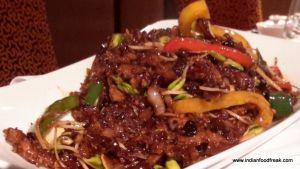 We kick started the afternoon with a welcome plethora of dumplings.  The
Steamed Shrimp and Scallop Dumplings
(crystal dumplings with juicy chunky pieces of shrimps) and
Steamed Prawn and Chicken Sui
Mai
were cooked to perfection with the juice from the meats flowing into your mouth with each bite. The
Shanghai Vegetarian Crystal Dumpling
had a lovely medley of carrots, mushroom and celery with a nice crunch of vegetables and the
Duck Dumpling
had a well seasoned spicy duck inside. The in-house coarse burnt chili paste is so good that I had to get my bottle replenished.
The Crispy Spring Roll with mushroom, milk in truffle oil was definitely the highlight of the meal so far. The crispy and crunchy outer casing was filled with the most amazing cooked mushrooms and condensed milk. They tasted as if one is eating the most creamy, cheesy mushrooms. One can understand why it is their signature dish. One bite and you fall in love.
When one orders the Peking Duck, one gets a duck roll and a choice of a deep fried duck bone spicy, salt and pepper or a stir fried shredded duck with vegetables in black bean sauce. The duck roll had the duck cooked with its crunchy skin on and was served with spring onions, cucumbers and the chef's own plum sauce. The deep fried duck with the bone was nice and crunchy but the bones were really putting me off as twice I bit into the bone. I wish that it was a boneless salt and pepper.
Stir Fried Chicken with bamboo shoot and mushroom in Szechuan chili paste was not as spicy as expected though I enjoyed biting into the Szechuan peppercorns in the dish. Silken Tofu Szechuan was a melt in the mouth dish – the buttery texture of silken tofu is always welcome.
Prawn Stir Fried, Szechuan chili bean paste, deng long chili in clay pot were prawns cooked to perfection with a nice bite to them where they had not gone mushy and the sauce was spicy and sweet.
Steamed Pork Belly, Chinese cabbage, minced garlic, ginger Yunnan style was a dish that totally did nothing for my palate. Being a huge pork lover, I was more than disappointed though the next dish – Wok Fried Duck in black bean sauce – more than made up for it.
The desserts were the crowning glory to the whole meal. I had the most decadent Sticky Date Cake, five spice caramel. This date cake simply makes you fall in love with each bite. I must confess that even though I don't mind skipping desserts, I requested for another helping.
The service was too spaced out and when you thought your meal was over, another dish would pop out of the kitchen. Maybe a printed menu would have prepared both the kitchen and the guests of what to expect.
Ratings (Out of 5)
Food: 3.5 | Ambience: 4.0 | Service: 3.5 | Overall: 3.5
Meal For Two: Rs. 4,000 | Wheel Chair Friendly: No | Credit Card: Yes | Alcohol: Yes
Address: Spicy Duck, Taj Palace Hotel, Diplomatic Enclave, Chanakyapuri, New Delhi | Phone: 0124-4266653/54
Disclaimer: This review was done on an invitation from the restaurant. Due judgement and care has been applied by the author to remain objective and unbiased in the review, but readers need to consider this review keeping this fact in mind