Spiced up Whole wheat Spinach and Cheddar Muffins
…
this recipe has been doing the rounds for forever now
…
right
?
Found the original recipe to be too bland for our taste
…
made a couple of changes to spice it up, switched to whole wheat flour
…
and Voila
!!
Love it now
…
and the texture too
…
unlike the other whole wheat flour stuff, these are not dense and heavy
…
try them
!!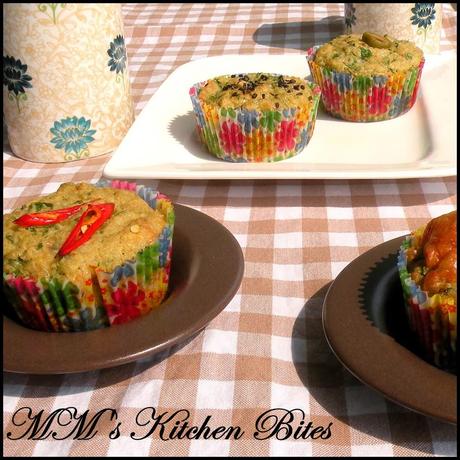 Spiced up Whole Wheat Spinach and Cheddar Muffins
Ingredients:
Atta/Whole wheat flour, 180 gms (you can use maida/regular AP flour or a mix of both)

Baking powder, 2 tsp

Baking Soda, ½ tsp

Salt, ½ tsp

Butter, 90 gms

Milk, 240 ml

Egg, 1

Fresh Spinach, 80 gms

Cheddar cheese, grated, 100 gms (your choice, regular, sharp, herbed or a mix of all…I have also made them a couple of times using regular processed cheese)

Onion, finely chopped and sautéed, 2 tbsp

Red chili flakes, 1 tsp

Black Pepper Powder, ½ tsp

Garlic powder, ¼ tsp

Mustard powder, 1 tsp
Toppings: of your choice, I used
Kalonji/Ngella seeds/Onions seeds

Olives

Red peppers

Cheese

Black Poppy seeds

Sesame seeds
Instructions:
Lightly grease muffin cups.
Preheat the oven at 175C.
Sieve the flour, salt, baking soda and baking powder.
Lightly whisk the egg. Melt the butter.
Stir the egg, butter, milk, spinach, onion, cheese and all the spices together in a mixing bowl until evenly blended.
Stir in the dry ingredients and fold with a few quick strokes. Do not over-mix.
Divide the mixture into your muffin cases, sprinkle with toppings of your choice.
Bake in a preheated for 25-30 minutes till golden brown and puffed.
(Makes about 9 large or 12 medium sized ones)
Notes:
These freeze quite as well. Just pop them in the microwave for a few seconds after.