Spiced Carrot and Parsnip Soup. That's what we're making today. Because it's been like minus a billion here and all I want to eat is soups and stews. Okay, I may be exaggerating slightly. I think it's only -25 today, but -32 with the windchill. However you put it, it's freaking cold! Like want to hibernate by the fire kind of cold. Drink hot coffee and hide under a heated blanket all day kind of cold. Wear flannel pajamas and fuzzy slippers all day kind of cold... (I think you get the idea). 
Unfortunately, even when mother nature likes to play her evil tricks on us, life still must go on. Dogs don't take -30 as an excuse not to go for their walks it turns out. Funny isn't it? They don't want to go out in the backyard to go to the bathroom but they are more than happy to put those leashes on and go out for an adventure. Oh well I am sure all that crisp, fresh air must somehow be good for me right? What doesn't kill you makes you stronger?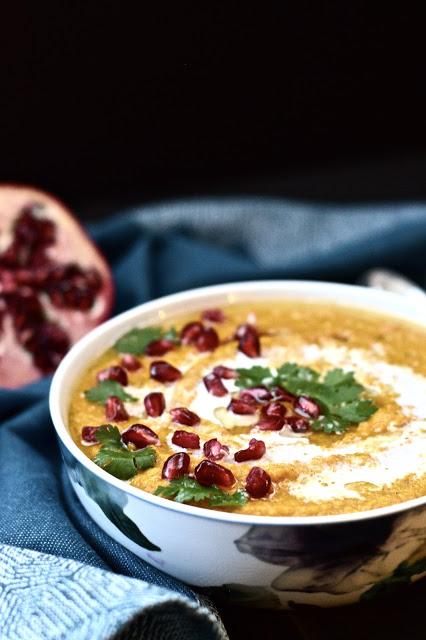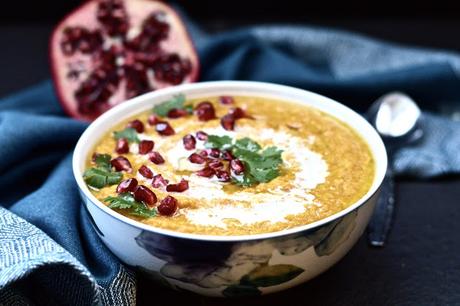 You know what's amazing? Cooking on a gas stove! I have never had one until we moved into our new house. I have been shocked at how much of a difference it makes. So, so much better than the induction elements I was using on the stove we had before. Plus, having to buy those special pans that only worked on the induction elements was the biggest pain. Seriously, they were so hard to find! If you are ever thinking of buying an oven that has induction elements I urge you to think twice. Totally not worth it if you ask me. 
Now, this Spiced Carrot and Parsnip Soup was not created on my new gas stove. I made this recipe weeks ago, when the weather first started turning colder. I actually haven't made any new recipes in the new house yet. I have been relying on my old faithfuls like 
10 Minute Blueberry Pork Chops
and
Slowcooker Apple Rosemary Pork Roast
. We have just been too busy getting unpacked and organized. But we should be more settled soon and I can't wait to start taking food photos in my new pretty kitchen. The light in our new home is amazing. So bright and fresh. Just ask any food blogger and they will tell you that good, natural light is key to getting those beautiful photographs.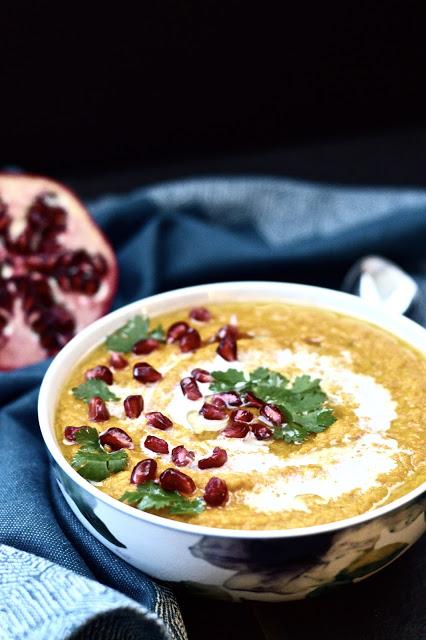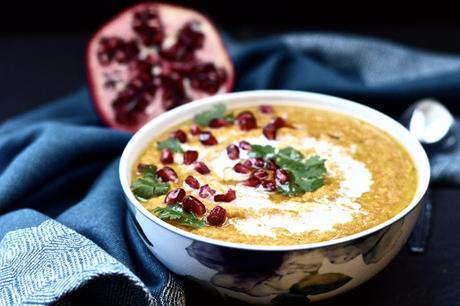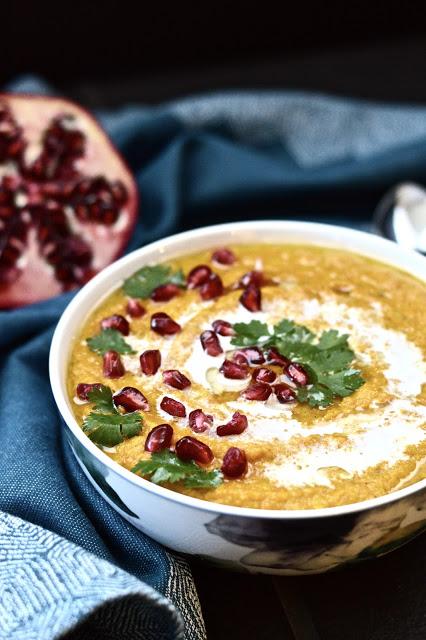 This Spiced Carrot and Parsnip Soup is full of nourishing ingredients like carrots, parsnips, coconut oil, coconut milk and so many flavourful spices like cinnamon, ginger and tumeric.
I have been using tumeric in almost everything since we got back from Bali. It is such a common ingredient in Balinese dishes, I fell in love with this spice while I was there.  Not only does it have an amazing flavour, but it is packed full of health benefits. Did you know that studies have even shown tumeric to be just as effective as NSAIDs (medications like Aspirin, Advil, Motrin etc.) when it comes to reducing pain and inflammation? I kid you not friends. I actually plan on doing a whole post about this topic in the future. I am thinking of calling it "natural alternatives to NSAIDs". Would a post like that interest you? I have patients asking all the time about other options when it comes to pain relief so I figured it was time I really dug into the literature. Because the scientist in me always likes to find evidence if I can.
But for those of you who don't come here to hear my science babble, and only come for the recipes I will move on. Beyond tasting great this soup is also safe for those on the paleo diet, a gluten free diet, vegan diet, or Whole 30 diet. And since I know at least a few of you will have plans to overhaul your eating habits in the new year, you can bookmark this recipe for later. You still need to get through a few more days of holiday feasts first! I actually can't believe that Christmas is only 6 days away. Are you ready? I am totally not. Moving in the middle of December has kind of taken a toll on my Christmas plans. We don't even have a tree up. I know, it's so sad! I did manage to get out and get us some stockings the other day though. And a few poinsettias. So it's not total grinchville at our house anymore. Now if only I could find some pretty stocking hooks to hang our stockings I would be golden. Why are they so hard to find? You'd think that everyone who sells stockings would also sell the hooks to hang them from your fireplace. Apparently that is just too logical. Who knew...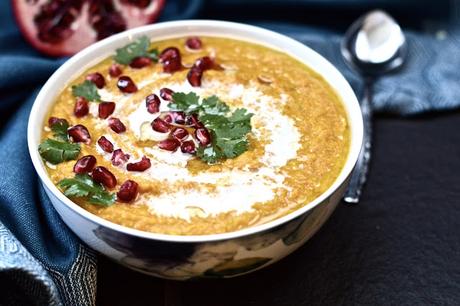 Please let me know if you try this one.
And as always I would be thrilled if you 
followed me on my social media pages on 
Instagram
,
Facebook
, 
Pinterest
 and 
Twitter
Happy eating friends!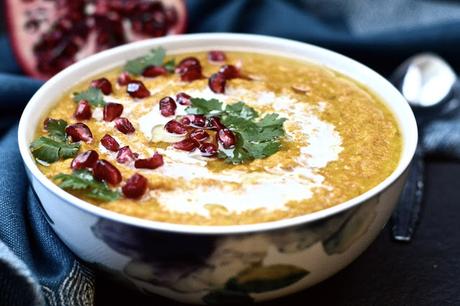 Spiced Carrot and Parsnip Soup Recipe
Ingredients
2 lbs parsnips, peeled and diced2 lbs carrots, peeled and diced2 cups coconut milk
4 cups of water (this yields a very thick soup - if you want it to be thinner add an extra 1-2 cups)3/4 cup chopped green onion (or substitute 1 small white onion, chopped)1/3 cup organic coconut oil (
this brand is my favourite
) 1/3 cup coconut manna (
buy here
) 
2 TBSP ground cinnamon (I use
this brand
)2 tsp ground ginger (I use
this brand
) 2 tsp ground turmeric (I used
this one
)2 tsp ground cumin (
buy here
) 2 tsp ground nutmeg (
This is the brand I use
) 1 tsp sea salt (or more to taste)  
Directions
1. Place a large pot onto the stove on medium heat2. Add all of the ingredients3. Bring to a boil4. Turn down the heat and let simmer for ~45 minutes, or until the carrots and parsnips are soft5. Turn off the heat and let cool for 5-10 minute6. Using your
immersion blender
, puree the soup until smooth7. Serve and enjoy! 
NOTE: This yields a very large batch of soup. I normally freeze half of it but feel free to half the recipe if you want less.
Topping ideas: Cilantro, pomegranate seeds, chopped nuts or seeds
Print Recipe
You Might Also Like:
Paleo Lemon and Coconut Cheesecake Bars
Pin This Recipe For Later: 

DISCLAIMERS: The statements made on this website have not been approved by the Food and Drug Administration. The information is not intended to diagnose, treat, cure, or prevent disease. You assume full responsibility for how you use this information. Always consult with your physician or other health professionals before making any diet or lifestyle changes. 
This post may contain affiliate links whereby if you purchase these products I receive a small percentage of the sale price. This allows me to keep the blog running and I thank you for allowing me to do that!