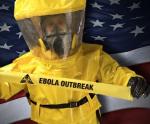 To avoid creating widespread panic with that headline, let me begin by assuring everyone there's NOTHING TO WORRY ABOUT! You did not somehow miss a Brad and Angelina sex tape that was leaked onto the Internet. However, before giving a huge sigh of relief, there's still that whole Ebola thing going on in Texas which, depending on who you ask, is right here in the U.S.
As I mentioned yesterday, being a journalist means I'm trained to recognize subtleties the average person might overlook, such as a reluctant glance, misspoken word or, in the case of yesterday's breakfast, a festive filtration mask wedged between the Egg McMuffin and hash brown in my McDonald's food sack…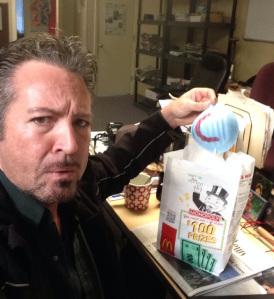 Rumor has it Taco Bell is handing out sombreros with mosquito netting, but I can't confirm that.
My journalistic instincts immediately told me 1) The government isn't being honest with us about the danger posed by the spread of Ebola, 2) The only way to get to the truth was to fly to Dallas and see for myself, and 3) No one at Long Awkward Pause was going to pay for my flight. As it turned out, my instincts were wrong on that last one. Chris was able to call in a favor and arranged for a chartered flight directly to Dallas/Ft. Worth early this morning…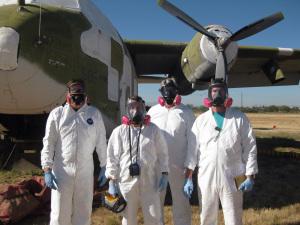 There was no in-flight movie and the peanuts were stale, but someone did hand me a bottle of vodka before duct-taping me to a wall in the cargo bay.
My objective was to remain stealth so I could arrive in Dallas without the typical kind of "dog-and-pony show" often arranged by government officials trying to hide something. The only exception was the time I stood and made that accusation during what turned out to be an actual dog and pony show, causing a miniature Clydesdale to panic and step on a teacup poodle. This time, I was taking no chances and made sure no one knew of my arrival. In addition, I checked made sure there was no type of animal show in town. After landing in Dallas, I arranged for a rental car and immediately noticed something the untrained eye would have missed…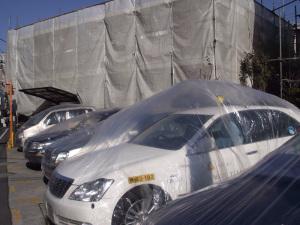 I'm usually lucky if the all the M&Ms have been vacuumed out of my rental car, so I was pleasantly surprised to see that mine was vacuum sealed!
It wasn't until pealing back the plastic and getting into my car I realized how close I'd come to having my cover blown by Karl Rove, who was getting into the rental next to me…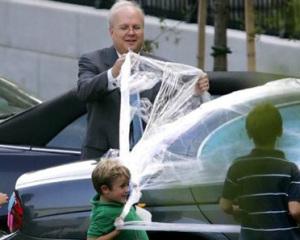 Imagine my shock at seeing Karl Rove next to me with his two children, meaning someone actually had sex with him twice.
As I drove through town looking for a hotel to stage my investigation from, I have to say I was impressed by Dallas' commitment to recycling. These special trash receptacles are available literally EVERYWHERE and are easy to spot thanks to their bright red color and clearly marked "recycling" symbol…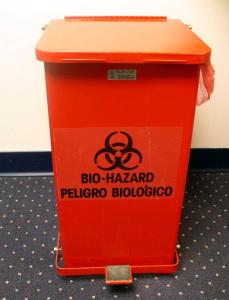 Everything is bigger in Texas… except its carbon foot print!
Instead of driving around and hoping to find a hotel, I decided to save time by asking someone. I followed the suggestion of the this average Dallas citizen…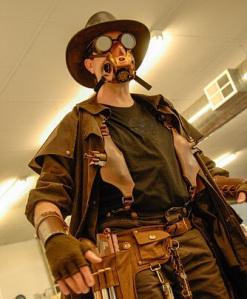 Because his Texas drawl made him hard to understand, I settled for the Ramada across the street.
To my surprise, not only did I get a room, but it was upgraded to a suite for the same price as a single as part of a promotion Ramada is calling its "Pick a Room, Name a Price and We'll Take It" incentive program. According to the desk clerk, the hotel was completely empty. Probably because it was the middle of the week. When the private elevator to the suite opened, I was more than impressed with what my $29.99 got me…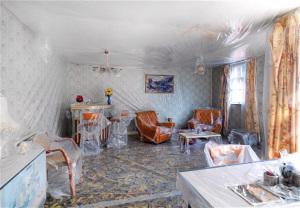 Wow! The room must've been so newly remodeled they forgot to remove the plastic!
As an added touch of class, the hotel provides guests with these in case they forget toiletries. There's even zip-up coveralls for lounging if you happened to forget your robe…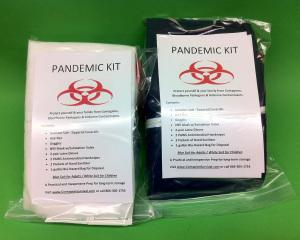 Shower cap, coveralls, hand wipes, laundry bag — it's all in there — and judging from the symbol, completely recyclable!
Given that I had seen no signs of concern from Dallas residents in spite of their close proximity to Gov. Rick Perry one of the deadliest viruses known to man, I couldn't call my investigation complete without a visit to the epicenter of the Ebola threat debate: Presbyterian Hospital. Taking the I75 loop around Dallas, I exited Walnut Hill Lane and came upon the hospital — and a sight that put the last of my fears to rest…

How bad could it be if "The Greatest Show on Earth" is in town?
So rest easy, everyone! As Dr. Anthony Fauci of the National Institute of Allergies and Infectious Disease said: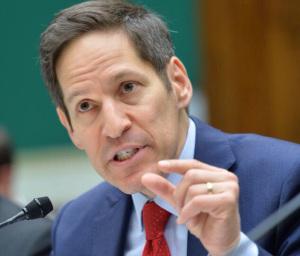 "There's only this much chance of catching Ebola here in the U.S., which coincidentally happens to be the size of my [censored]."
Ned Hickson is a syndicated columnist with News Media Corporation. His first book, Humor at the Speed of Life, is available from Port Hole Publications, Amazon.com or Barnes & Noble.