The holidays provide tons of opportunities for you and your family to dress up and celebrate the season. One of the most fun preparations is the family portrait photography session. This year, gather your family, and a few fun holiday props, and take a photo for a holiday greeting card that your friends and family will be sure to remember for years to come. While formal holiday portraits will always be a fun tradition, consider loosening up a bit this year and creating a less formal, more fun photograph. Select wardrobe elements for each member of your family to create holiday pictures that are sure to delight your relatives while earning a spot on your mantel as well.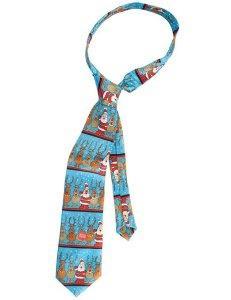 Dress Dad up in a fun, and festive, holiday necktie. One that plays music, like this one, is guaranteed to elicit genuine smiles and laughs from the rest of the family as the photographer snaps away at the camera. A classic white button down shirt is the perfect backdrop for a novelty tie. Stay super casual with your favorite pair of jeans, or dress up just a bit with a pair of khaki pants. For an added bit of extra holiday flair, give Dad a fuzzy Santa Claus hat to top off his outfit.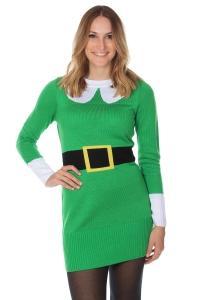 Make Mom the merriest elf of the season with this super stylish sweater dress. Add a pair of black (or red!) tights or leggings to add a bit of warmth to the dress. Of course all elves have to wear appropriate footwear, so be sure to choose carefully. A pair of fashionable ankle boots in black are the perfect pair of shoes for an attractive elf. While elves that call the North Pole home tend to wear bells for a bit of bling, try bangle bracelets or a pair of earrings that sparkle and shine.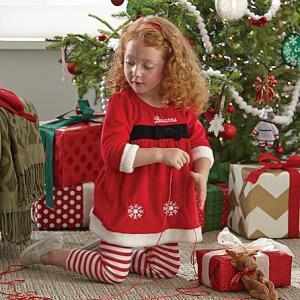 Let your little one's natural cuteness and personality shine through by picking an outfit that fits with Mom and Dad. Choose a keepsake dress that your daughter will be able to remember fondly for years to come. This dress and legging combination captures the spirit of the season and fits perfectly with Mom and Dad's ensembles. Accessorize your daughter's outfit with a headband or small stud earrings if your little girl has her ears pierced.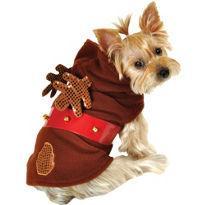 A family portrait is not complete without your favorite furry friend, after all pets are members of the family as well. Find a fun costume for your puppy at retailers such as Party City. A reindeer costume is the perfect addition to your holiday photograph since somebody has to pull the sleigh!
There is no such thing as a "perfect" holiday portrait for holiday cards and greetings. However, it is entirely possible to have tons of fun while capturing pictures that are sure to become treasured family memories. A few well-chosen wardrobe pieces help you and your family create festively themed portraits that are sure to help spread joy to your relatives and loved ones this holiday season.
Breanne is a recent college graduate, blogger, and fashion aficionada.  You can find her over at her blog, Proper & Pink!