When you think of "holiday attire" your mind probably first goes to sparkling cocktail dresses and glamorous pieces that you generally only pull out during this time of year. You want to look your best in flirty, festive outfits that celebrate you as much as they celebrate the season. However, I also find that it is important to stand out from the crowd. So as cute as your go-to cocktail dress for the season might be, you don't want to show up to the party in "just another sequined dress".
A few weeks ago, ZARA posted their monthly lookbook, which is always filled with covetable pieces. Normally named after the month the clothing hits stores, this lookbook was instead (appropriately) named "Evening". Delicate collars, tuxedo pieces, asymmetrical hemlines, and touches of soft pink made this Evening lookbook by far the most wonderful of the year! In fact, it was this lookbook that reinvented the typical "holiday attire" concept for me. Looks like these are more personal, more stylish and yet still fit the holiday party bill. Sleek, chic and just begging to be accessorized, take a look at what I mean!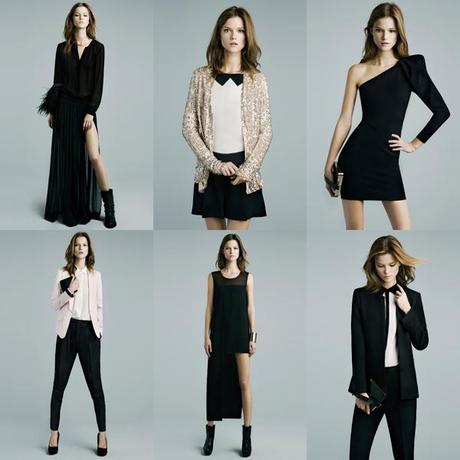 So if you're ready for a new you before the New Year starts, think of what you can spark up your seasonal style with. Here are our top 10 festive fashion pieces for an unexpected holiday look!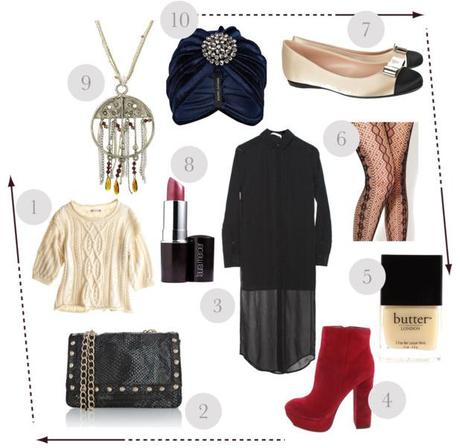 A Cozy Cable Knit- you may not think of a pullover sweater as fancy, but paired with a floor length skirt or a fabulous pair of trousers and you've got a look that is quite luxurious.
LBC- a little black clutch that is all about the details. Snakeskin, chains and studs, oh my!
Sheer Details- add an understated sex appeal to even the most basic of silhouettes.
RED- the color of Christmas and the color of F/W 2011. You really can't go wrong.
Nude Nails- with so much sparkle and shine, tone down your nails to a natural, creamy color.
Laced Legs- the perfect way to spice up your cocktail dress and add a little extra warmth.
Satin Flats- ultra feminine and divinely comfortable.
A Pink Pout- find your shade of plum or pink so you're ready for the mistletoe.
"That" Necklace- accessorize with pieces that are just as special as you are and will have everyone at the party wondering where in the world you got it!
Turban Topper- channel old Hollywood glamour with a unique satin or silk turban to keep your head warm and your style superior.