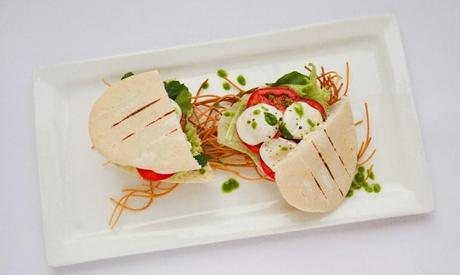 Classic tomato mozzarella panini
Spaghetti Kitchen presents AMORE DI PANE
~A festival celebrating Italian bread delicacies~
New Delhi: May 15, 2014  
Lovers of Italian cuisine experience a rare treat with Spaghetti Kitchen's 'Amore di Pane'; a festival of exotic spread Wraps and Paninis celebrating 'Pane', Italian for Bread, the most loved feature of any Italian meal. The festival presents Italian bread delicacies complimented by fresh and quality ingredients giving guests a true Italian experience in the heart of the city.
On offer is a variety of mouth watering delicious Panini's and Wraps in veg and non-veg.

 

Vegetarians can choose from, Fresh Mozzarella and Bocconcini, fresh tomato and bocconcini with pesto grilled in a soft Panini, Charmoula Paneer Wrap- Strips of paneer, marinated in Moroccan charmoula, cooked on an iron griddle, enveloped in a flour tortilla with mixed mesclun, hummus and jalapeno, Roasted Vegetable Ciabata - Oven roasted mushrooms, sweet peppers, onion and zuccini with tomatoes, enhanced with feta and classic pesto in a crusty Ciabata. The non-vegetarian menu offers Ham and Cheese Panini - honey roasted ham grilled with Swiss gruyere and granny smith, Smoked Chicken Wrap - Grilled strips of chicken smoked on the barbeque, wrapped in a flour tortilla with brie and honey mustard dressing.
 Boun Appetito!
About Pan India Food Solutions
Incorporated in September 2000, Pan India Food Solutions Pvt. Ltd. (Blue Foods) commenced its operations in Mumbai and fast expanded its orbit covering other major cities across India. Being one of the lead players in the organized retail-food business in India, Blue Foods operates in the food & beverage segments with its lead brands– Spaghetti Kitchen, Copper Chimney, Bombay blue Gelato Italiano, Noodle Bar, The Coffee Bean & Tea Leaf, and food courts- Spoon and Foodtalk.
The company's expansion map has an aggressive strategic roll out plan, which aims to initiate many more Restaurants, Gelato Parlours and Food Courts across India in the next 12 – 18 months. In a span of 10 years, Blue Foods is operational across more than over 125 outlets across India and serves more than one million customers monthly.
Pan India Food Solutions has been awarded the prestigious 'Coca Cola Golden Spoon Awards' in two main categories, one in 'Excellence in Food Court Brand – Spoon' in 2010 & 2011 and  2012 and as 'Best Restaurant Chain' for the year 2010.  The Coffee Bean & Tea Leaf also won the Best Café (Gold) Award at India International Coffee Festival 2012. Spaghetti kitchen has won the Times Food Award in Best Italian Restaurant category at Kolkata and Bangalore for 2011.
The mission of Pan India Food Solutions is to wow every customer by providing a delightful eating experience at great value. The team strives hard to meet the expectations of their patrons and promise to deliver services which would compel them to revisit for another special dining experience.
The 'Amore Di Pane' Festival is on till June 10 2014 across all Spaghetti Kitchen restaurants in Delhi and NCR.