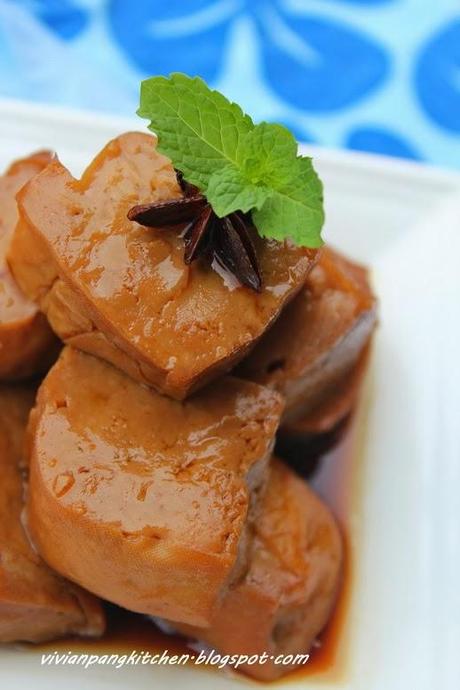 I read this recipe from one of my cookbooks. The main ingredients are soya sauce and firm tofu, remind me of this month

Little Thumbs up

event, baking and cooking with soya beans.
At first I feel very hesitate to cook this dish as it used 1 cup of soya sauce and ½ cup of oil. But after much consideration I decided to cook. Sometimes we just have to step out of the box and try new things. Furthermore, this is an easy and zero fumes dish.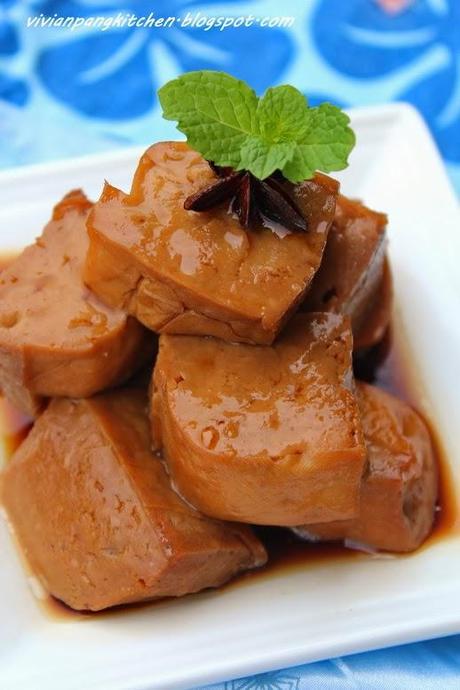 The tofu turns out flavourful with the 
star anise and 
seasoning added. This braised tofu is more on salty rather than sweet. It is great to be served as side dish with porridge.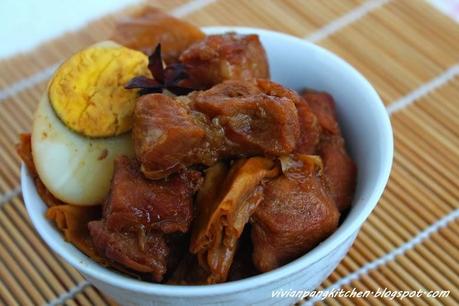 Worried about what to do with the remaining braised sauce? Nothing goes waste in this recipe. I kept 2nd portion of this braised tofu inside fridge. The next day I scoop out the oil that gather on top and keep it for stir-fried dishes. As for the sauce I used it to braise pork. Do refer below for the braised pork recipe.
Adapted from
小小米桶的零油烟厨房cookbook,
蜜汁滷豆干
Soya Sauce Braised Firm Tofu
Ingredients:
500g firm tofu(tau kwa, cut into 6 squares
1 cup light soya sauce (I used Knife brand)
150g rock sugar (I used brown rock sugar)
½ cup vegetable oil
2 pieces star anise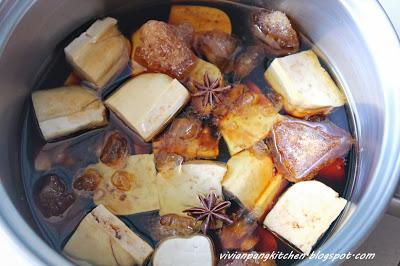 Methods:
1. Bring a pot of water to boil. Add in tofu squares and blanch for about a minute. Remove and drain.
2. Put tofu squares into a pot. Follow by the rest of ingredients. Bring to boil and lower the heat. Cook at low heat for about 20-30 minutes. It can be served immediately or leave overnight for more flavor.
For the remaining braised sauce I used to cook pork with beancurd sticks. 
Recipe from

Vivian Pang's Kitchen
Soya Sauce Braised Pork
Ingredients:
600g pork leg, cut into cubes
2 slices of ginger
1 tablespoon dark soya sauce
Sauce from braised tofu
100g beancurd sticks, soften and cut into bite size
4 hard-boiled eggs (optional)
Methods:
1. Heat up a wok/ pot, place pork cubes inside and seared till both sides lightly browned. Add in ginger slices and dark soya sauce. Stir and cook for about a minute.
2. Add in the braised sauce. Close the lid. Cook at low heat for about 1-1½ hour or till pork tender.
3. Add in beancurd sticks and hard-boiled eggs. Cook for about 5-10 minutes till beancurd sticks soft. Dish out and serve!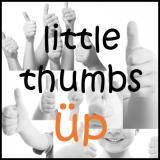 I'm linking this post to

The Little Thumbs Up event

organized by Doreen from My Little Favourite DIY and Zoe from Bake for Happy Kids, hosted by

Mich from Piece of Cake

. Do cook or bake soy related products like tofu, tempeh, soya bean milk, soya sauce only as main ingredient (minimal 2 tsp), miso and linking your related bakes or dishes to October 2013 The Little Thumbs Up event. To find out more do refer to this

link

.
Next month will be me hosting

November 2013 The Little Thumbs Up

event with Oats theme. Oats from whole oat groats, steel cut oats (Irish oatmeal), Scottish oatmeal, rolled oats (regular or quick rolled oats) and even oat flour. Do link up your recipes and have fun!