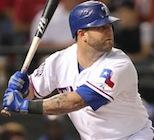 For months, fans and baseball insiders have pondered what strategy the Red Sox will use as they plan to overcome the disaster of the past year.  Make a big splash by signing Josh Hamilton? Trade an established star for a phenom prospect?  Stay conservative?  Today, as Ben Cherington announced the signing of Mike Napoli, he also came clean on his rebuilding strategy.
"We're going after every catcher we can," he said emphatically, as the Sox welcomed their fourth catcher to the major league roster.  "Salty, Lavarnway, Ross, and Nap, they're going to be the cornerstone of our return to prominence, and we're not done yet."
Sources revealed that the Red Sox are very active in the pursuit of AJ Pierzynski, Russell Martin, Jose Molina, and Gerald Laird, as well as most other available catchers. Stats geek Bill James has advised the team to pursue any and all catchers.
"The statistics I've looked at show that starting nine catchers would yield amazing results," James reasoned. "I know it sounds odd, like a lot of things that come out of my mouth, but this one is true." Then he winked and said, "If you CATCH my drift!"
Joining the fun, Larry Lucchino said playfully."We really think this strategy will CATCH on! You simply cannot have enough catchers."
"Uh, actually, yeah you can," said concerned John Farrell. "What the hell am I signing up for?"