NBC is reporting that a school administrator in Southlake, Texas recently cautioned teachers to provide students with positive views of the holocaust and other atrocities.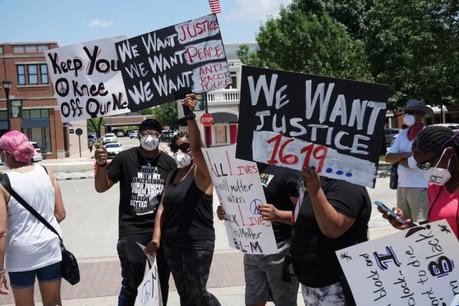 Photo taken at a peaceful March for racial equity in Southlake
According to the report, "Gina Peddy, the Carroll school district's executive director of curriculum and instruction, made the comment Friday afternoon during a training session on which books teachers can have in classroom libraries."
Peddy didn't realize she was being recorded.
"Make sure that if you have a book on the Holocaust," Peddy told the assembled teachers, "that you have one that has an opposing, that has other perspectives."
 Six teachers at Carroll High School decided to make their concerns public. "There are no children's books that show the 'opposing perspective' of the Holocaust or the 'opposing perspective' of slavery," one teacher said. "Are we supposed to get rid of all of the books on those subjects?"
NBC has been following developments I n Southlake ISD after a diversity plan developed by the school board was voted down in a recent election. If you haven't checked out the Southlake podcast, it is an eye-opener.
Peddy's guidance may strike you as bizarre. But it is a fair reading of Senate Bill 3 which demands that teachers present both sides of every historical and social issue.
SB3 is designed to discourage the teaching of America's toxic and tragic racial history. The fear appears to be that white children will be traumatized by the truth.
But the Carroll teacher is asking the right question. If a teacher is forced to present "both sides" on topics like the holocaust or enslavement, there are certainly texts that fit the purpose. Unfortunately, this material was produced by Nazi sympathizers and white supremacists.
The final episode of the Southlake podcast deals with the fate of James Whitfield, principal of Colleyville Heritage High School. Whitfield was accused of promoting CRT. The charge is so preposterous the school board claims he is being disciplined for 'insubordination'. His crime was defending himself when the board would not.
Colleyville Heritage is located just a few miles from Carroll High School in Southlake. The two stories reflect a similar reality. Buoyed by the hysteria created over Critical Race Theory, white parents are pressuring school officials to pretend it's 1951.
The advent of Donald Trump didn't create the racial resentment on display in predominantly white Texas School districts, but his unrestrained bigotry has allowed it to bubble to the surface. This situation will get worse before it gets better.
Southlake school official urges teachers to put in a good word for the holocaust.
Explaining the white opposition to reparations.
Confessions of a Good White Guy