Bunny Williams turns on the charm with her version of an updated classic farmhouse in the hills of Albermarle County outside of Charlottesville Virginia for this year's Southern Living Idea House. 
I was lucky to be invited for a preview as a new Southern Living Designer Network partner. What a treat to see all my favorite vendors and some new ones too. 
Beautiful Entry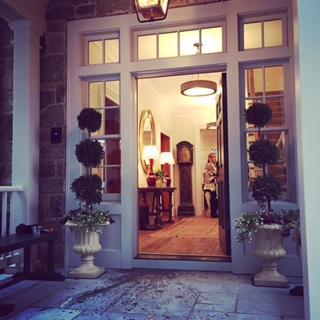 Stone House with metal roof - beautiful porches and patios to enjoy the amazing views. The house was built by Jayson collier of Summit Custom Homes and designed by Rosney Co. Architects both of Charlottesville.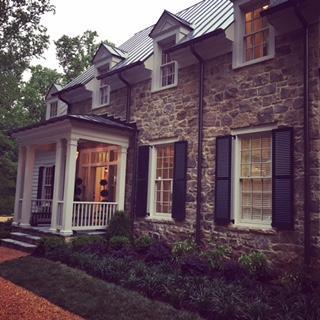 The house is 4,500 sq. ft. built in Albemarle County in Bundoran Farms. The idea house is open from June 27th to Dec. and if you want to buy it, it is listed for 2.395 million.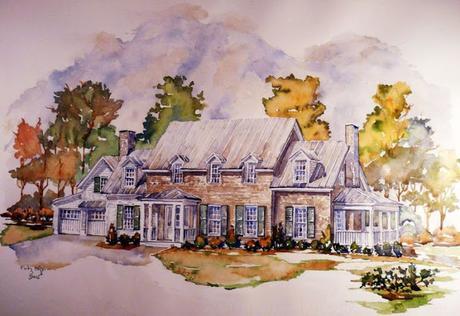 There were some great details throughout the house. Here are a few: 
Love the crewel throw at the bottom of the master bedroom.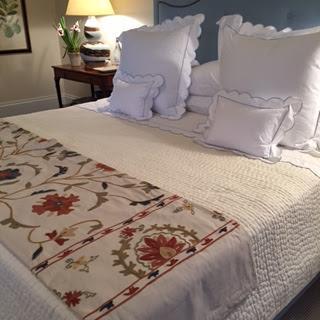 Great styling - mixing old and new on the master mantel.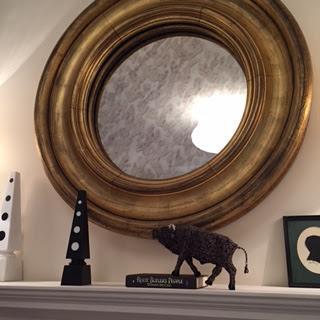 The pine paneled living room filled with a mixture of old and new items. Bunny has a new line with Ballard Designs and many of the accessories were from that collection.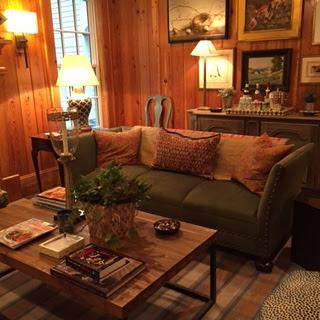 There is always room for a fabulous bar setting.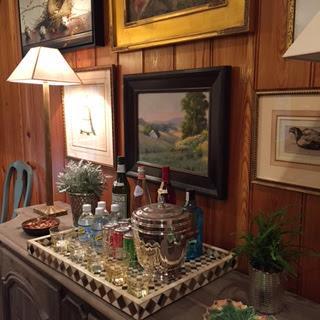 The main family room was my favorite with its tall vaulted ceiling and beautiful views of the countryside. Here Bunny added some contemporary art pieces mixed with antique mirrors and accessories. I loved the wood urns and the Moroccan rug.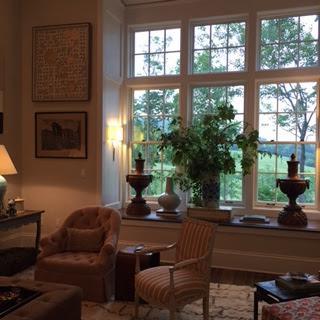 The super tall mirror flanked by 2 modern art pieces - brilliant! She also used wonderful pieces from her own collection - notice the turquoise lamp and the leather coffee table.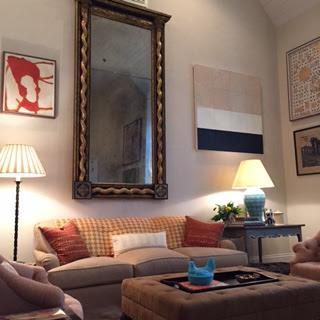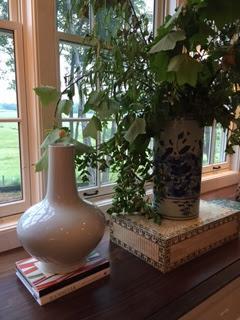 An interesting use of a coffee table as an end table.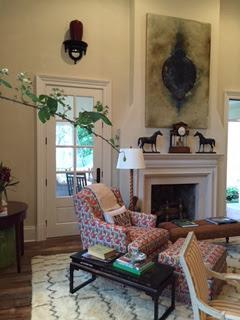 Love that view!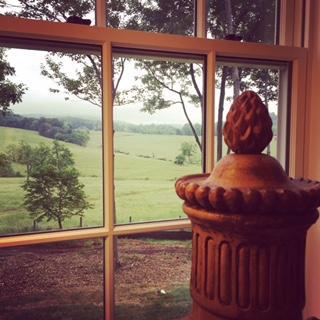 A beautiful porch with lighting by Carolina Lantern.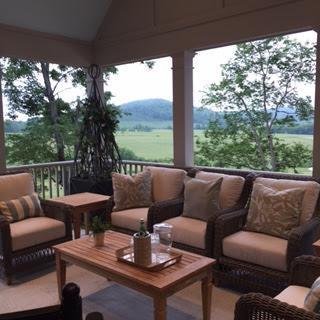 The use of antiques like this luster ware pitcher in the powder room made me want to get out my dusty collection and think of a modern way to use these pieces. They looked great.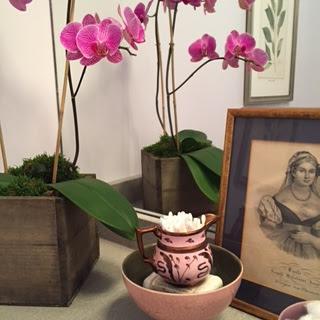 With 2 bedrooms upstairs and this bunk room for kids, this house had something for everyone. I loved her Dash and Albert Rug.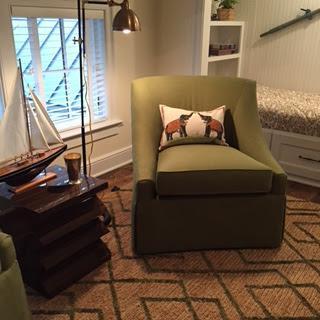 The upstairs TV room - I spy a Tritter Feefer table.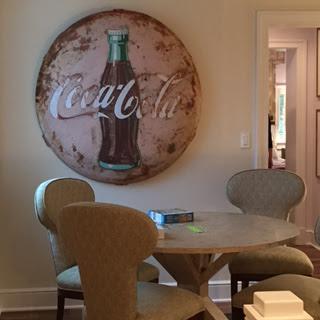 The kitchen was brilliantly done with a wall of windows near the sink and no upper cabinets in that area.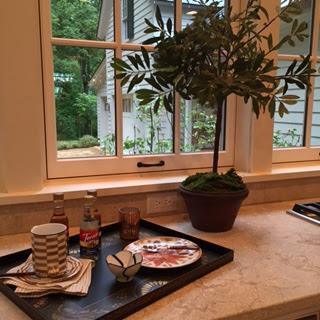 Cabinets along the outside edges and a generous island. Perfect for entertaining.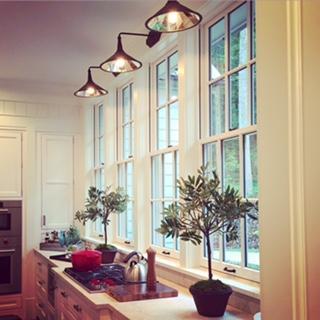 I loved the collage of art around the TV - I almost forgot it was there.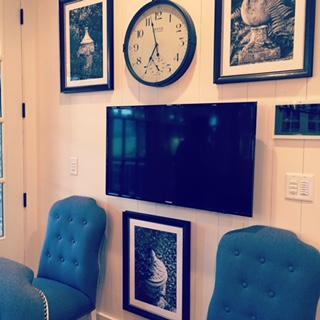 This stunning navy high gloss bar was a hit! A perfect little hidden gem in a closet off the kitchen. Great accessories from Ballard Designs too.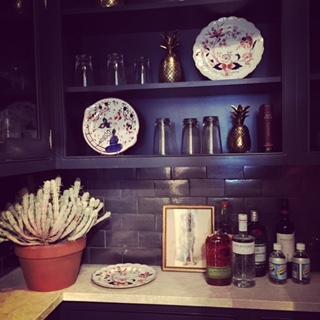 Lots of monograms.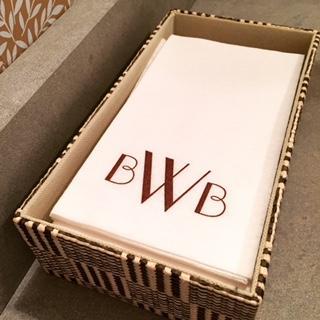 Finally the upstairs bedroom in accents of this yummy purple.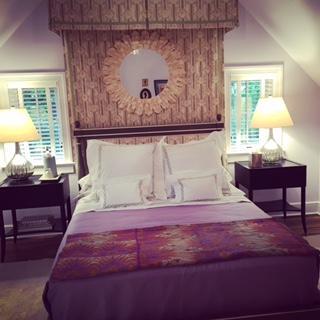 Purple shades mixed with reds and oranges - brilliant.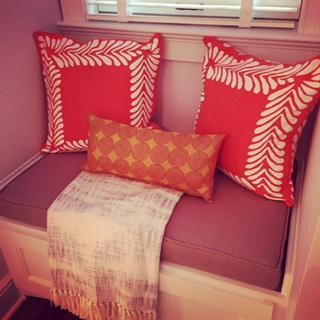 I enjoyed meeting Bunny and hearing all her tips on designing the house. She did a lot of shopping in Charlottesville for local art and antiques. I even spyed an Andy Bality painting in the upstairs TV room.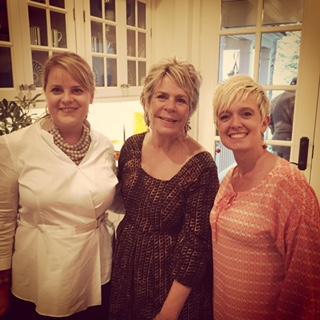 If you have a chance stop by the house for a visit, it is well worth the trip!