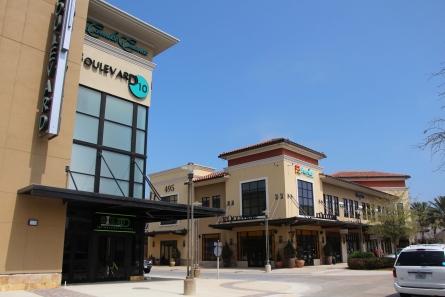 Those living in the South Walton area have eagerly been watching and waiting for the announcement for the opening of the Carmike Cinema at Grand Boulevard.
At long last, the time has come for the new Carmike's Boulevard 10 theater to open its doors next Thursday with a special midnight premiere of the film "GI Joe: Redemption."
"The state-of-the art digital theater at Grand Boulevard at Sandestin has been in the works for about two years. Not only will it be the only theater in South Walton County, it will offer an experience that will draw attention from across the Southeast", said Terrell Mayton, director of marketing for Carmike Cinemas.
"There is nothing like this theater in the entire state," he said. The 10-screen, 1,800 seat theater will have two main attractions. One is the Big D, or big digital, screening room. It will feature a 60-foot-wide, 3-story screen for 2-D and 3-D films and leather, reclining seats. The screen has a proprietary coating that adds to the brilliance of the picture, Mayton said. They use 32 trillion colors for an "ultra-bright, ultra-crisp" image.
The Big D theater also will feature a high-tech digital sound system tuned to a 7.1 speaker array, but with capability to upgrade to 11.1, which doesn't yet exist but will be used to screen films in the future. Mayton said Carmike has been a leader in digital film screening since 2006. "It is truly the cutting edge of presentation in cinema," he said.
This will be the first Big D theater in Florida. Seventeen are planned. Another screening room will serve food and alcohol. The Ovation Dining Club's menu will offer items ranging from crab cakes to grilled sandwiches to steak burger sliders and wine and beer. The theater will have swing-out tables and table side service.
"We're so excited about it," Mayton said. "Menus have been in testing for several months and are getting rave reviews." The entire theater will have a popcorn factory and Coca-Cola freestyle machines that will allow customers to mix and match their sodas from more than 140 flavors. On Stimulus Tuesdays, popcorn, drinks and candy will be $2 each.
Super bargain matinees from 4 to 5:30 p.m. are $5.50. "We really have something for everyone," Mayton said. "The folks from 30A, from Panama City to Pensacola and all the people who come for vacation here, they are going to find a theater that is incomparable. We look forward to hosting them over the next weeks and months and years at Boulevard 10."
Thursday's midnight premiere and grand opening will be held in the Big D theater. Boulevard 10 will open for regular business with a full slate of matinee screenings Friday, March 29.
On the Menu:
Imagine taking in in the latest Hollywood blockbuster while being served succulent dishes that range from a simple cheese plate of gruyere and brie with apple, dried and fresh fruit, compote, and toasted baguette; to seared bay scallops with grilled polenta, topped with micro greens and garnished with basil oil and red pepper drizzle; to a soy-glazed chicken breast wrapped in a tomato herb tortilla, with a sweet Asian sesame slaw, peppers, onion, garlic and carrots. That's about to happen when the curtain rises at South Walton's first cinema the Carmike Boulevard 10.