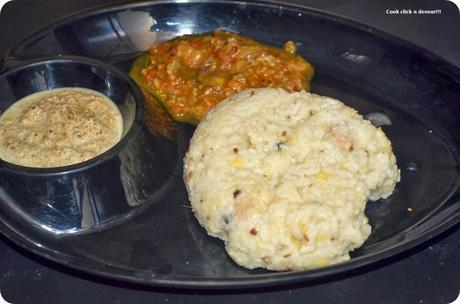 I was amazed and humbled by the response I received for my first post in this series. Poori masal made a rave among readers and that encouraged me to continue this south India breakfast series every Friday as I mentioned last week.This week I am featuring an eternal classic combination of Tamil cuisine ven pongal-kathrikai(egg plant) gothsu and coconut chutney.I have hardly met people who don't like this combo .Pongal is synonymous to breakfast in Tamil nadu just like idly.So let's move in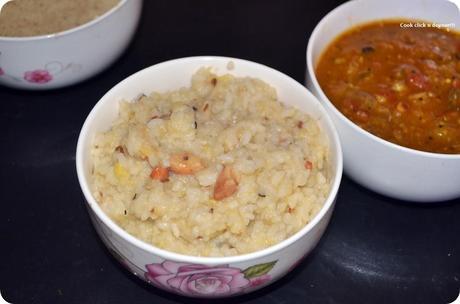 Ven pongal

A complete balanced meal that most doctors prescribe for growing children,carbs from rice,protein from lentils and the ghee gives essential fat.There are more ways of making pongal,the one I am blogging here is what we follow in our home.
Ven pongal recipe
Kathrikai gothsu: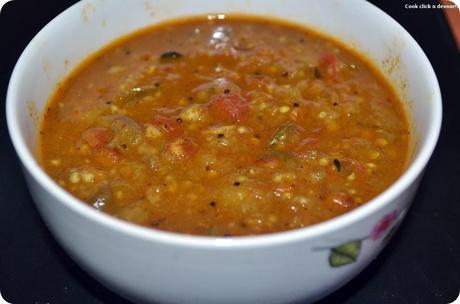 The made for each other combination for ven pongal:
A very simple stew made with egg plant,this githsu is served with pongal piping hot and only by tasting you will know what I mean
Kathrikai gothsu recipe
Coconut chutney:
A simple chutney that goes well with almost any south Indian tiffin. There are N number of ways making this chutney and here I am sharing one recipe.
Ingredients:
2 dried red chillies
1 tablespoon channa dal
1/2 cup shredded coconut
1/4 teaspoon asafoetida
1/2 teaspoon mustard
10-12 curry leaves
2 teaspoons oil
Salt
Method:
1.Heat 1 1/2 teaspoons oil in a kadai and fry chillies,channa dal and asafoetida.Grind to a smooth paste along with coconut.
2.In a same kadai add 1/2 teaspoon oil and temper with mustard and curry leaves.Add to the chutney and mix well.
Notes:
1.Pongal is also eaten with sambar and vadai for breakfast.
2.Ghee is the main ingredient in pongal,so try using best quality home made ghee as far as possible.