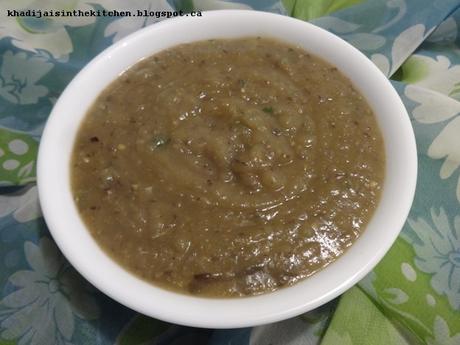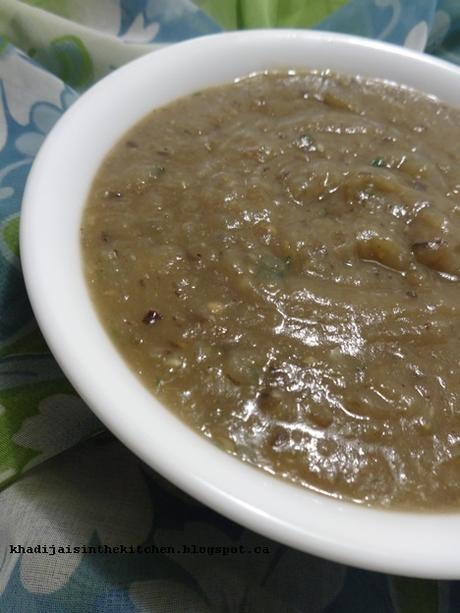 RECETTE  / RECIPE / RECETA / الوصفة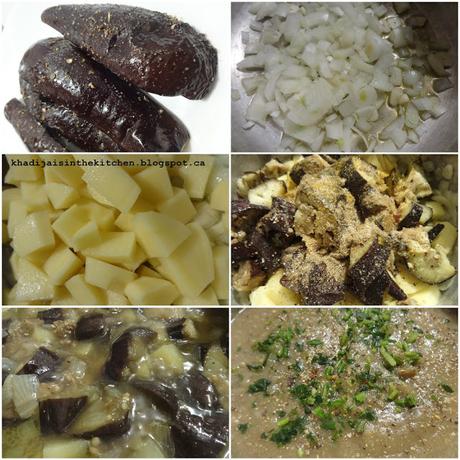 SOUPE À L'AUBERGINE ET POMMES DE TERRE
INGRÉDIENTS:
1 Aubergine (environ 300 g)
1 oignon moyen
400 g de pommes de terre rouges, coupées en dés
3 gousses d'ail hachées
½ cuillère à café de poudre de curry
1 cuillère à café de cumin moulu
650 ml d'eau ou de bouillon de poulet ou de légumes
2 cuillères à soupe d'huile d'olive
Sel et poivre
De la coriandre
MÉTHODE:
1. Couper l'aubergine en deux. Badigeonner d'huile d'olive et saupoudrer de sel et de poivre. Mettre au four pendant 15 minutes, à 350oF
2. Sur feu moyen, faire revenir l'oignon et l'ail dans l'huile d'olive jusqu'à ce qu'ils soient tendres.
3. Ajouter les pommes de terre. Laisser cuire un peu.
4. Ajouter l'aubergine coupée en morceaux et les épices.
5. Ajouter l'eau (ou le bouillon). Laisser cuire jusqu'à ce que les pommes de terre soient tendres.
6.
Passer la soupe au mélangeur pour avoir une soupe onctueuse.
R
ectifier l'assaisonnement. Ajouter la coriandre hachée.
******************************************
EGGPLANT POTATO SOUP
INGREDIENTS:
1 Eggplant (about 300 g)
1 medium onion
400 g red potatoes, diced
3 cloves garlic, chopped
½ tsp curry powder
1 tsp ground cumin
650 ml of chicken or vegetable broth, or water
2 tablespoons olive oil
Salt and pepper
Cilantro
METHOD:
1. Cut the eggplant in half. Brush with olive oil and sprinkle with salt and pepper. Bake for 15 minutes at 350oF.
2. On medium heat, sauté the onion and garlic in olive oil until tender.
3. Add the potatoes. Let cook a little bit.
4. Add eggplant, cut into pieces, and the spices.
5. Add water (or broth). Let cook until the potatoes are done.
6. Carefully, puree the soup in a blender for a creamy soup. Adjust the seasoning. Add the chopped cilantro.
*******************************************
SOPA DE BERENJENA Y PATATA
INGREDIENTES:
1 berenjena (aproximadamente 300 g)
1 cebolla mediana
400 g de patatas rojas, cortadas en cubitos
3 dientes de ajo picados
½ cucharadita de curry en polvo
1 cucharadita de comino molido
650 ml de caldo de pollo, o de verduras o agua
2 cucharadas de aceite de oliva
Sal y pimienta
Cilantro
ELABORACION:
1. Cortar la berenjena por la mitad. Cepillar con aceite 
de oliva y espolvorear con sal y pimienta. Hornear durante 
15 minutos a 350oF.
2. Sobre fuego medio, saltear la cebolla y el ajo en aceite
  de oliva hasta que estén tiernos.
3. Añadir las patatas. Cocinar un poco.
4. Añadir la berenjena, cortada en trocitos, y las especias. 
5. Añadir el agua (o el caldo). Cocinar hasta que las 
patatas estén hechas.
6. Cuidadosamente, pasar la sopa por la licuadora para tener
 una sopa cremosa. Ajustar el condimento. Añadir el cilantro
 picado.
******************************* 
****************************** 

************************************* 



حساء الباذنجان و البطاطس
المكونات
1 باذنجان (حوالي 300 غرام)
1 بصلة متوسطة الحجم
400 غ بطاطس حمراء، مقطعة إلى مكعبات
3 فصوص من الثوم، مفروم
½ ملعقة صغيرة من مسحوق الكاري
1 ملعقة صغيرة من الكمون مطحون
650 مل من الماء أو مرق الدجاج أو مرق الخضار 
ملعقتان كبيرتان زيت زيتون
ملح و فلفل اسود
كزبرة
طريقة التحضير
1. يقطع الباذنجان الى نصفين.يدهن بزيت الزيتون ويرش بالملح والفلفل. يطهى في الفرن لمدة 15 دقيقة على درجة حرارة 350 فهرنهايت
2. يقلى البصل والثوم في زيت الزيتون.
3. تضاف البطاطس.تطهى بعض الوقت.
4. يضاف الباذنجان مقطع الى اجزاء ثم التوابل.
5. يضاف الماء (أو المرق). يطهى الكل حتى تنضج البطاطس.
6.
يخلط المزيج في
الخلاط الكهربائي للحصول على حساء قشدي.تضبط التوابل ثم تضاف الكزبرة مفرومة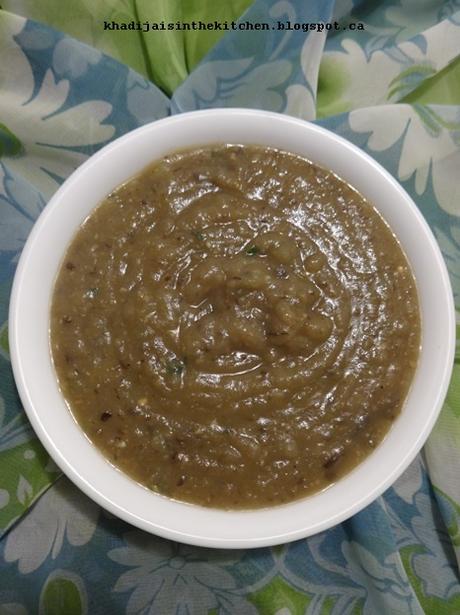 ****************
Hope you'll enjoy!!
*************
Merci de votre visite / Thank you for your visit /Gracias por su visita/
شكرا على زيارتكم
Pour d'autres idées de cuisine / For other cooking ideas / Para otras ideas de cocina /
من اجل افكار اخرى للطبخ
:
Facebook
,
Instagram
,
Pinterest