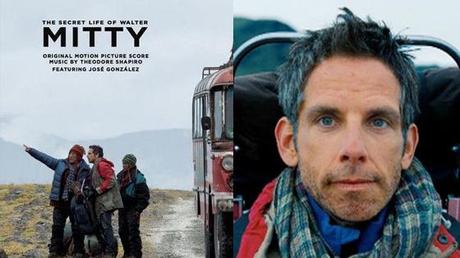 Hey, hey. I know I said I am busy, but I do miss blogging. When I watch or hear something needs to be acknowledged, I still think I need to share it. I've got a little time to share a great soundtrack from a movie I have just seen and I've been trying to find time to see it for a month. It's Ben Stiller's The Secret Life of Walter Mitty (2013). Talking about Ben Stiller, I also love Reality Bites soundtrack, which is his first feature debut, one of the best from the '90s. Now, he's done it again with his current film.
I have divided feeling about the movie itself, but all I can say is, it's a movie with heart. And it reflects on its soundtrack. Some tracks by Jose Gonzalez really encouraging and uplifting, you might want to hear it in the morning to lift up your spirit.
I pick one of the track sing by Kristen Wiig. I was surprised that the gal have good voice, I hope it's her real singing. But she did sing it wholeheartedly with a guitar. It's a great music scene to me. If you haven't seen it, you should just for the sake of that scene.
Anyways, here't the highlights of the soundtrack :
Jose Gonzalez – Step Out

David Bowie & Kristen Wiig – Space Oddity

Of Monsters and Men – Dirty Paws

Jose Gonzalez – Stay Alive

 Full soundtrack list :
1. Jose Gonzalez "Step Out"
2. Of Monsters and Men "Dirty Paws"
3. Jose Gonzalez "Stay Alive"
4. Junip "Far Away"
5. Junip "Don't Let It Pass"
6. Rogue Wave "Lake Michigan
7. Jack Johnson "Escape (The Pina Colada Song)"
8. Bahamas featuring The Weather Station "Don't You Want Me"
9. Rogue Valley "The Wolves & The Ravens"
10. David Bowie "Space Oddity (Mitty Mix)" Featuring Kristen Wiig
11. Jose Gonzalez "#9 Dream"
12. Grace Mitchell "Maneater"
**********************