Well friends, today is the day!
I've got my welcome mat out, my Dutch door is wide open and my special guest has arrived!!If you don't already know Michele Ranard from Hello Lovely you are in for such a treat. Besides being an accomplished DIY renovator (two houses in two years) she is a prolific writer and artist who somehow finds time to maintain a gorgeous design blog. And yet, what makes Michele stand out from the crowd --in my mind--is when she weaves her unique wisdom and serenity into her topics the way she did in this post.  If you've ever been part of a long-awaited home renovation or a simple, blood-and-sweat DIY project you'll want to read Michele's reflections on her own experience.
Reading Michele's post made me stop and realize how our home projects--with all the sacrifices and stress and delays along with way---can be 'gifts' that help us grow into a better person. 
I hope you enjoy this post as much as I did!  --Leslie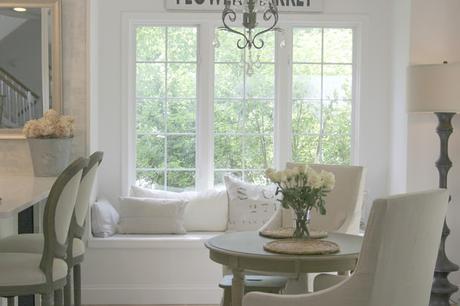 My Kitchen - Hello Lovely Studio
What a treat to be a guest of Gwen Moss today!
I'm Michele of Hello Lovely, and like you,I admire Leslie's design style andlovely heart which has been inspiringmine for years now.Home for me is in Northern Illinois, andwhile I have always been a summer girl.in the second half of life, I havefallen in love with the unfolding beauty of autumn.Fall brings:fresh apples from the orchard,crisps and cobblers bubbling over in the oven,shopping for vintage at fleamarkets,and hiking outdoors where thechanging colors delight.This is the first fall in our homewhere we're not swamped withDIY whole house renovation,and it's a great time to reflecton how downsizing and renovatinghas deepened us in profound ways.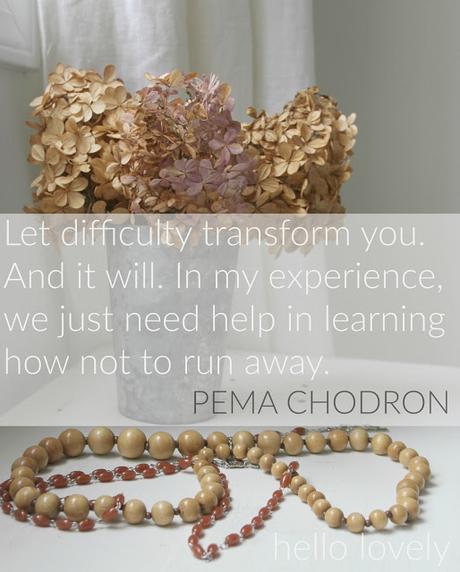 Hello Lovely Studio
The kitchen needed to be completely
gutted, and the reno process brought
disappointments...for example,
learning we wouldn't be able
to lose a wall to create a more
spacious 
hub for our family to gather.
The gift that emerged instead?
Cozy intimacy.
Rubbing shoulders with
people you love is not the worst
compromise one must make.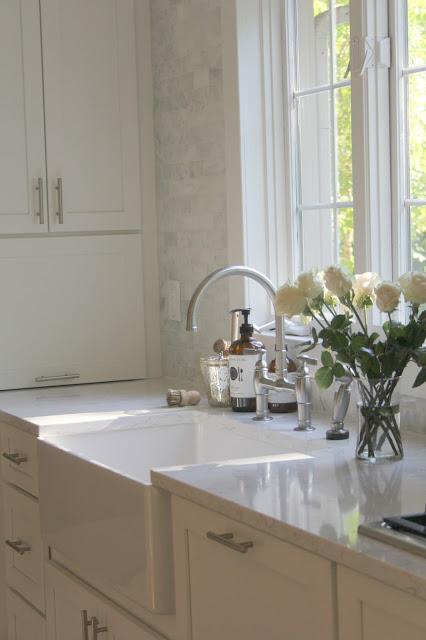 My Kitchen - Hello Lovely Studio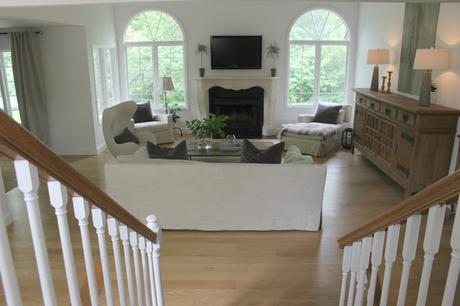 My  Living Room - Hello Lovely Studio
I was not a huge fan of the fan windows
we inherited with this fixer upper,
yet when a blog reader called them
"church-like," I changed my tune.
Slight shifts in perception
can pack a huge punch. 
Church-like is perfect for someone
who longs 
for her place to feel prayerful.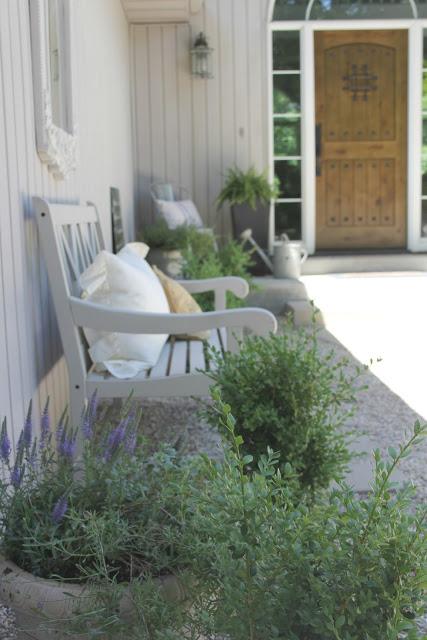 My Courtyard - Hello Lovely Studio
Weeds and dead shrubbery had overtaken
the front entry area, and the remedy?
Subtraction and creativity.
With a limited budget, we simply erased
all but one plant, and brought
in boxwood and pea gravel for an
airy French-inspired courtyard.
Letting go is also good for the soul.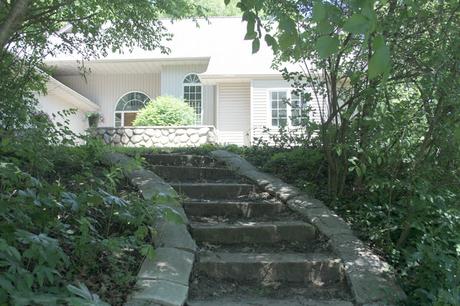 My Home - Hello Lovely Studio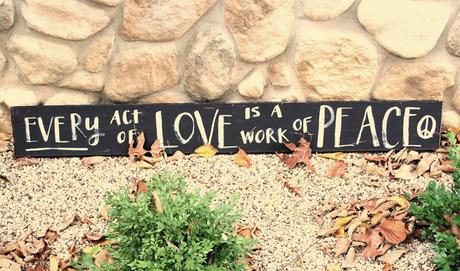 My Courtyard - Hello Lovely Studio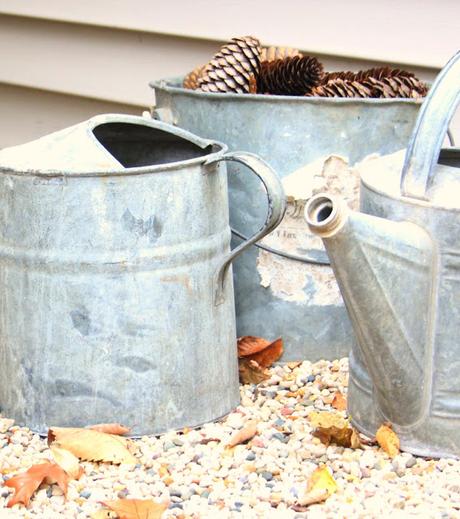 My Courtyard - Hello Lovely Studio

A few more peeks inside...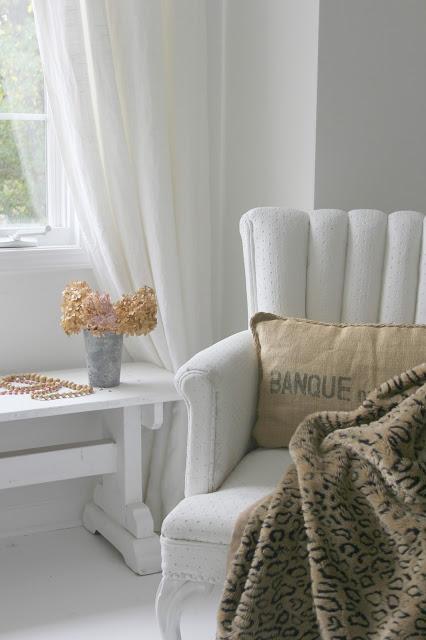 My Studio - Hello Lovely Studio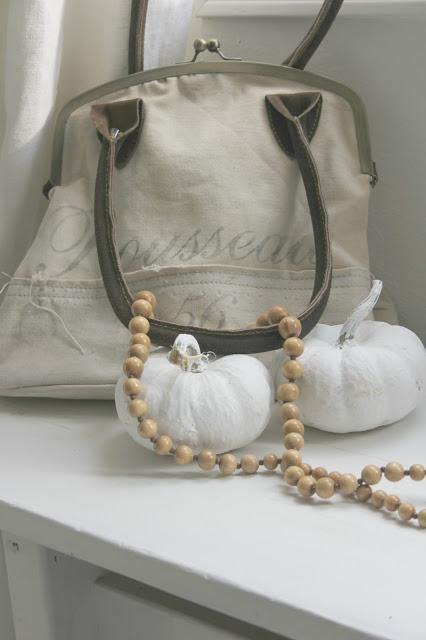 My Studio - Hello Lovely Studio
What's inspiring you this fall?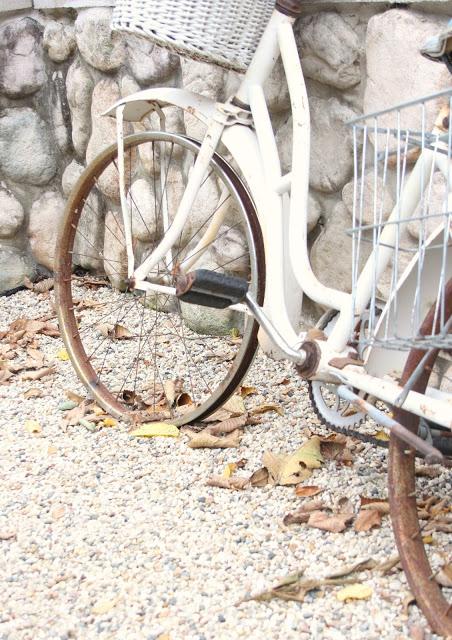 My Courtyard - Hello Lovely Studio
Thanks so much for having me, and
I hope you'll come visit Hello Lovely,
where Leslie is my guest!
Peace to you right where you are.
~MicheleThank you again Michele... for sharing your beautiful home and your inspiring perspective with us!
--Leslie