Hi everyone,
If you are majorly into skincare and are updated with the latest products in the market you would know facial oil is the thing now a days. First there were hardly any now every other brand makes it. I am going to talk about the Souhait Essentials Flawless Skin Facial Oil today which I have used a couple of times already. If you would like to know more about this facial oil and my experience then please keep on reading....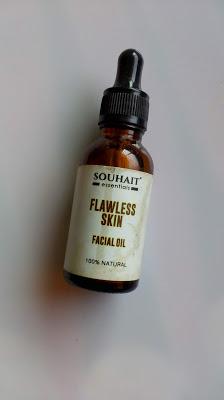 Souhait Essentials Flawless Skin Facial Oil
Price
: Rs.350/- for 30ml. Available online
HERE
Ingredients: Wheat Germ Oil, Tea tree oil, Rose Mary Oil, Lavender Oil, Vitamin EShelf life: 2 yearsWhat does the brand say:Face scars and spots are old monsters and to help you fight with them, we have come with this unique Souhait Essentials Flawless Skin Facial Oil. It helps you get a smooth and glowing skin without any side affects as it is made from 100% natural oils .Claims:Reduces dark spots to give you an even-toned skinRemoves acne scarsCan be used as a primer to protect skin from the side affects of beauty productsProtects skin cells from getting damaged by sun or free radicalsGives a natural glow to your skin making you look youngerPackaging:It does come with an outer cardboard box and the bottle is dark and tinted with a dropper which helps easy application on the face. Price, Ingredients and expiry date is mentioned on bottle itself.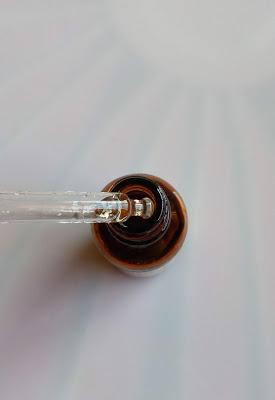 Souhait Essentials Flawless Skin Facial Oil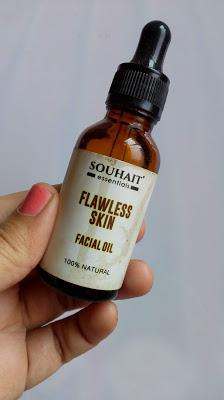 Souhait Essentials Flawless Skin Facial Oil
The facial oil has a prominent lavender scent which is my favorite. The blend of oils as mentioned in the ingredients list have multiple benefits about which you can check out information online. So I have used this oil previously and I can say it is quite emollient and best suited for normal to dry skin. Now I do have combination skin which keeps getting drier now as the season changes hence I prefer using a couple of drops of this oil at night to see a more softer and glowing skin in the morning. 
This oil is definitely not for those with oily skin because I tried using it once in summer and face started sweating. I use it before my foundation whenever I do my makeup in place of a moisturizer and it works really well because I set my makeup with powder later on. Also the oil helps the makeup to adhere to the skin longer which I like. All in all for the price it is an amazing facial oil to try. Regarding the dark spots claims I do not have that issue (touchwood) so can't say about that. Other than that this is a really good facial oil for winters, I do recommend.
MLWM Rating:4.5/5
Thank you so much for reading my review. Please leave your comments in the comments section. The comments on my blog are moderated and approved by me hence promotional/spam and comments with links will not be approved.
Do follow me on my YouTube channel and Instagram handle for more blog and life updates.
Until next time.. Take care xoxo